Gray stages an Opening Night show for the ages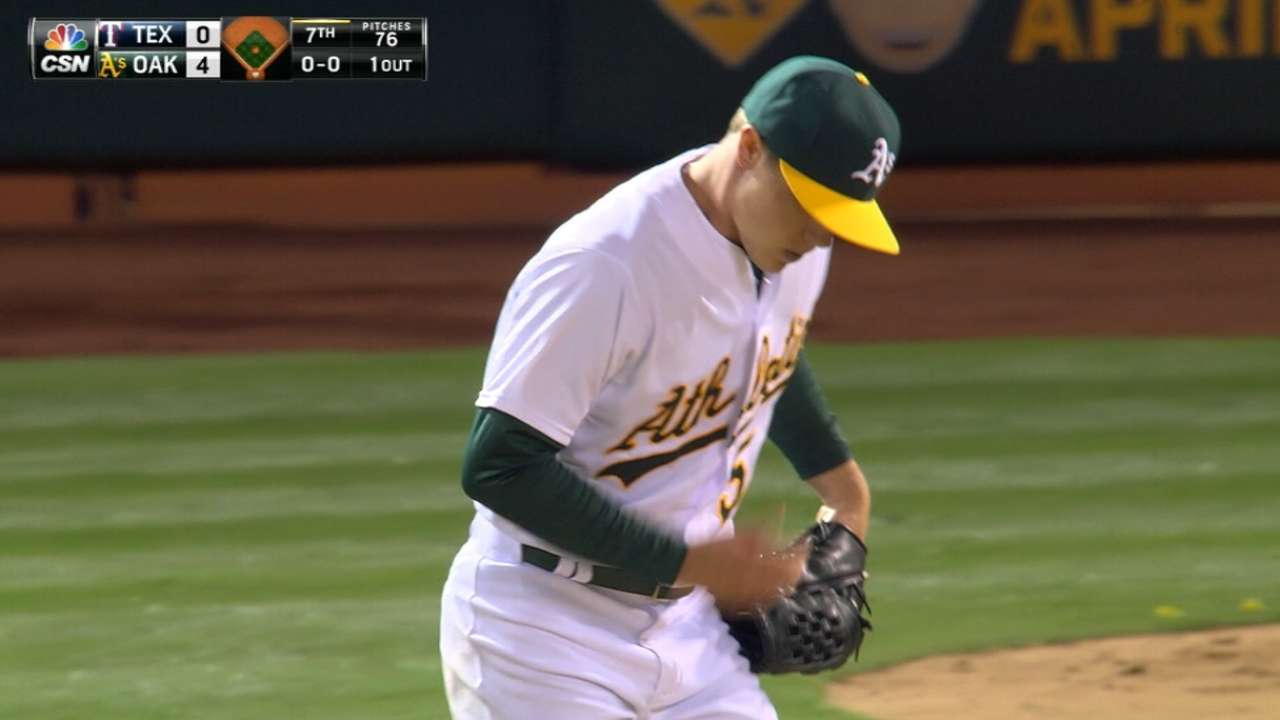 OAKLAND -- Right-hander Sonny Gray sat at his locker on Monday afternoon and threw a ball against the wall, off and on for hours, until it was time to do the real thing. He had arrived at the park three hours earlier than he typically does on start days, and he hardly knew what to do with himself.
"I was just hanging out," said Gray, "waiting for 6:30, when I could go outside."
Just after 7 p.m., he stepped on the mound and put on the best Opening Day show this Coliseum crowd has seen in years. Fueled by superb defense behind him and chants of "Sonny! Sonny!" around him, Gray did not allow a hit through the first seven innings and was only struck for one in eight total frames in the A's 8-0 victory over the Rangers.
"Right after the first inning, the way he came out and just attacked guys and the way his ball was moving and hitting his spots, you knew he was on," said catcher Stephen Vogt, who aided the cause with a three-run homer. "By the fourth or fifth, I was thinking, 'He could do this with how good his stuff is.' I really thought he was going to do it. The only thing that worried me was that they wouldn't let him go out for the ninth regardless."
"It was weighing on me a bit, and I certainly wanted him to get a no-hitter," said manager Bob Melvin, "but it was a little bit of a relief I didn't have to decide."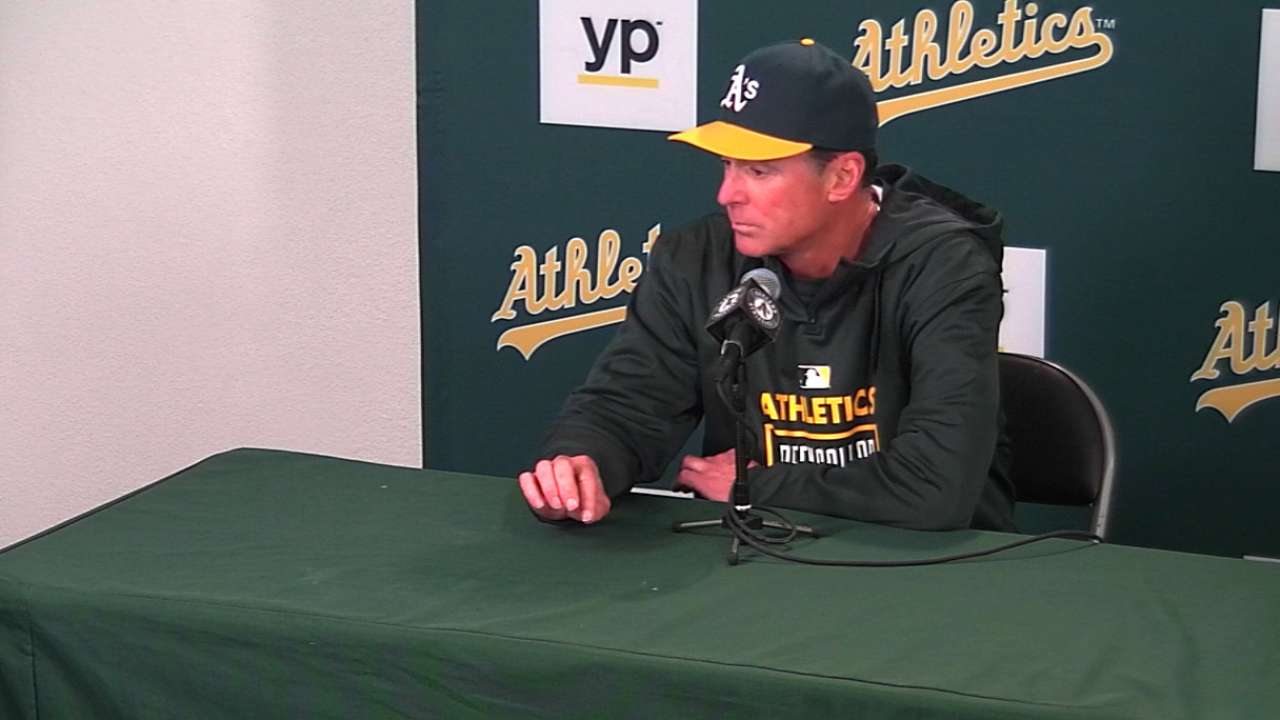 It was a leadoff single off the bat of Ryan Rua in the eighth inning that interfered with history. In no way did it spoil Gray's night, though.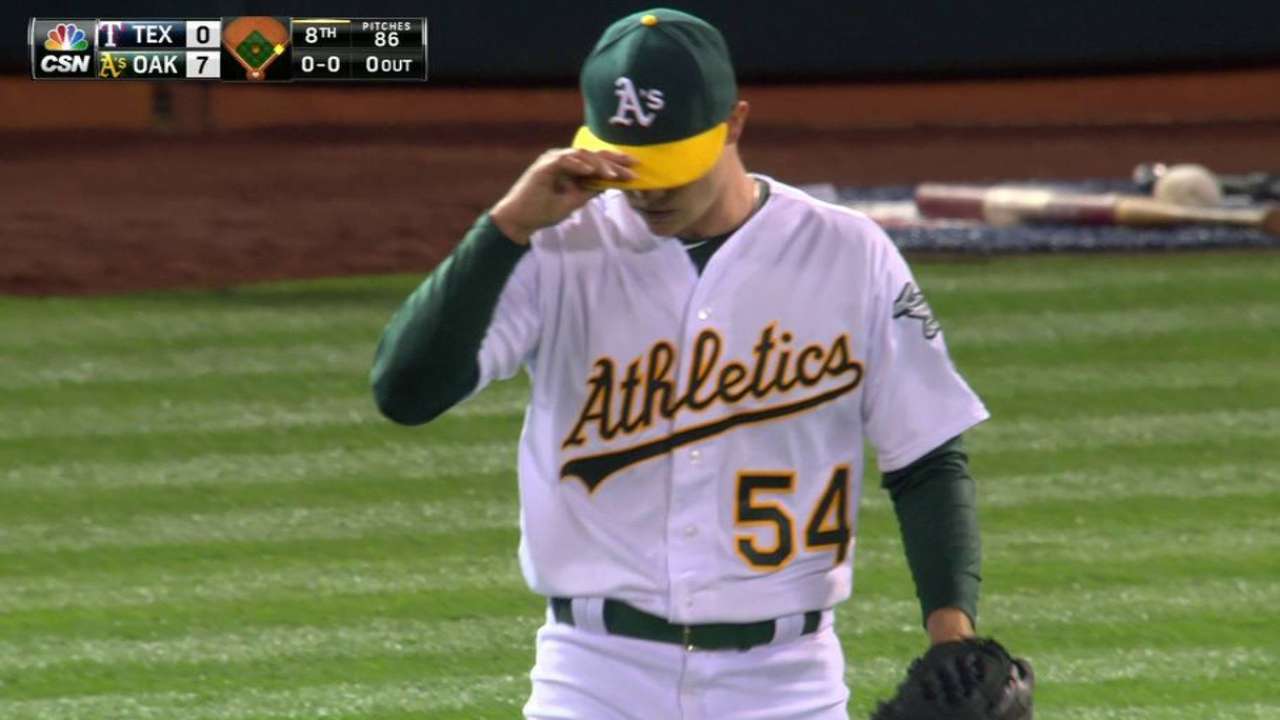 The 25-year-old Gray, who walked one and fanned three in his second consecutive Opening Night start, dazzled under the bright lights, commanding and changing speeds with his fastball and sprinkling in just the right amount of breaking balls and changeups.
"No matter what I put down," said Vogt, "he was going to execute it."
"I was throwing the fastball 95 [mph], I was throwing it 90, I was throwing it 88," said Gray. "I was able to do that really well today. We just kept going with that."
As he was nursing his no-hit bid, Gray kept with routine and chatted up Melvin in the dugout between innings, as he usually likes to do. The topic on this night? Walk-up music.
"[He was asking], 'Did you hear my walk-up song? Did you like my walk-up song?' In the past I've given him some ideas for walk-up songs," said Melvin. "He's not the type that sits in the corner. He's walking up to me in between innings and talking about songs, and I'm like, 'Get away from me. Nobody wants to talk to you right now.' But that's how he keeps himself loose. It's just who he is.
"I said all along, he's made for this, and he showed us why."
Jane Lee is a reporter for MLB.com. Read her blog, Major Lee-ague, and follow her on Twitter @JaneMLB. This story was not subject to the approval of Major League Baseball or its clubs.