Trouble with the curve: Hill confounds hitters
Left-hander having breakout season in first year with A's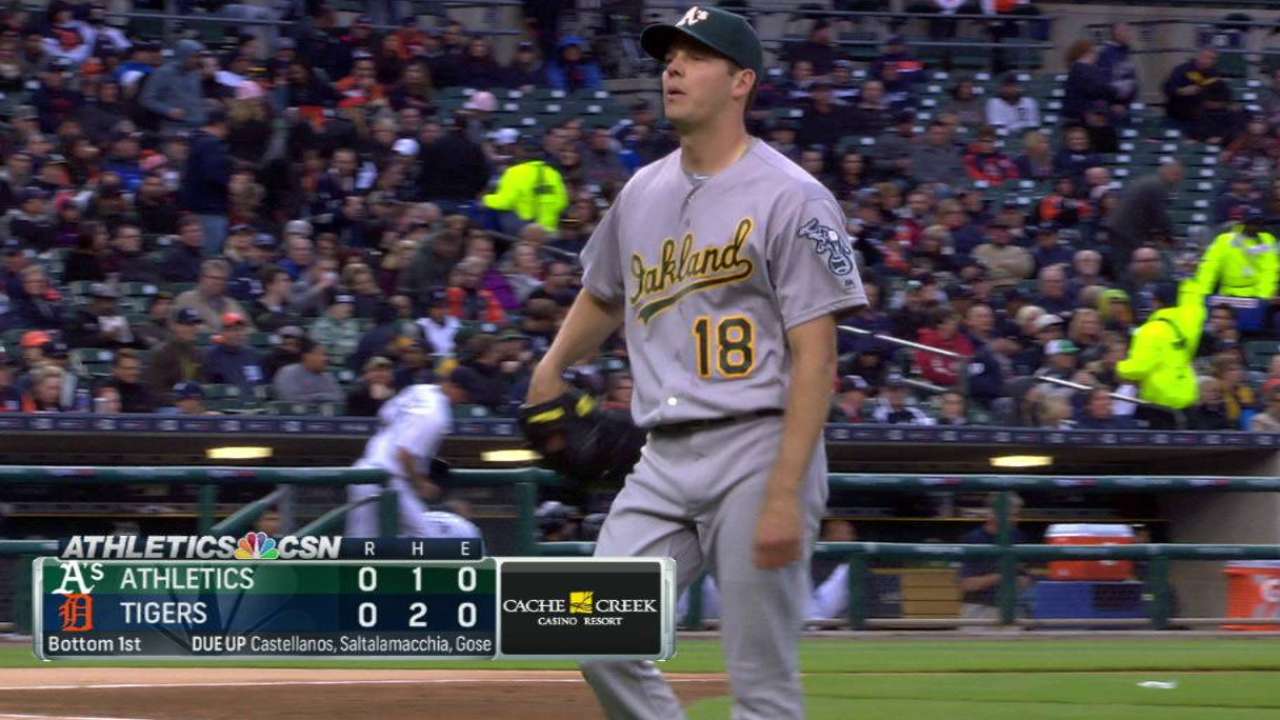 DETROIT -- Rich Hill had a few former University of Michigan teammates in the stands Tuesday night, and he put on a show in a 5-1 A's win over the Tigers.
Hill pitched seven scoreless innings, allowing just four singles and striking out eight.
"It goes back to the way [catcher Stephen Vogt] called the game and kept Detroit off balance," Hill said. "That's a great lineup, and those guys can do some damage. If you keep getting ahead and get the right mix of pitches, you figure out a way to come out on the other side."
The Tigers use a bevy of right-handed bats, but A's manager Bob Melvin said the lefty Hill's mix of curveballs can make things just as hard on them as lefties. Hill threw 25 of 39 curveballs for strikes and 28 of 43 fastballs, according to BrooksBaseball.net.
"I thought it was his best fastball we've seen, and he actually mixed in a few changeups, even got a strikeout with it," Melvin said. "But it's his breaking ball that keeps everybody off balance. Even when he throws them back to back, they don't necessarily do the same thing. Then when you sit to wait for a breaking ball, he can get a fastball in there. With his quick arm, you see 91 [mph], but for the hitters, it's playing a little better than that."
Hill's comeback season for the A's follows four strong starts with the Red Sox at the end of last season -- his first starts since 2009 -- which came after his release by the Nationals last summer.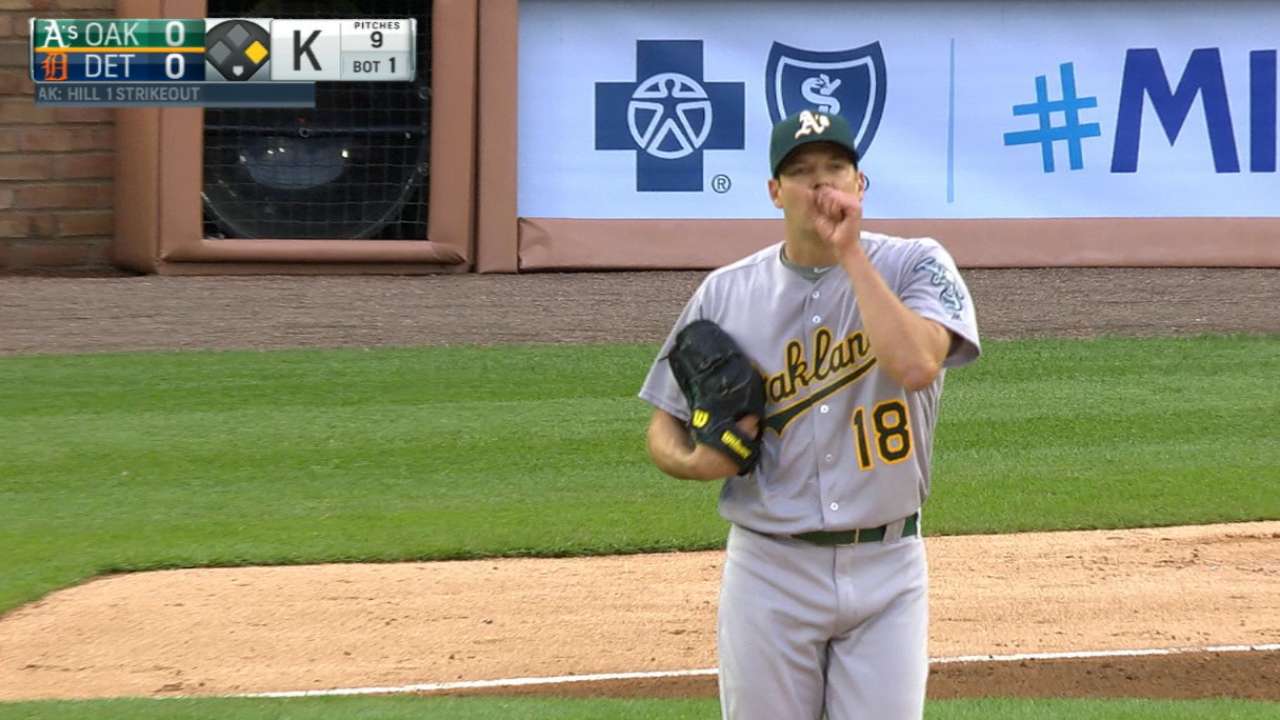 The win moved Hill to 3-2 with a 2.42 ERA and 37 strikeouts in 26 innings. Melvin said you don't see many lefty starters who can use the curveball like Hill, and Oakland has gotten the pitcher the club hoped for when it signed him in the offseason.
"There are relievers that do, but very few starters," Melvin said. "He can, at times, go 2-0 on you and drop a curveball in there, and hitters aren't prepared to look for that. When he's throwing his fastball for strikes like tonight, then he can really keep you off balance."
Hill saw only one Tigers baserunner reach scoring position. It came in the first inning, and he struck out J.D. Martinez looking with the curve to end the threat.
He throws the curveball at different depths when he's got a good feeling of the ball, and Tuesday was one of those nights. Hill's had a few of them this season.
"It's something that comes with feel. As the game goes on, depending on the feel for that day, it's the biggest key," he said. "It's like how guys have a different feel for the changeup, so they shorten the stride and maybe not use the back leg. It all depends on that day. That's the best way I can describe it."
Hill added, "You can shape the curveball and shape the slider differently. As long as you're creating depth on the breaking ball, you're giving yourself a chance."
Chris Vannini is a contributor to MLB.com based in Detroit. This story was not subject to the approval of Major League Baseball or its clubs.