Bassitt's latest rocky outing raises concern
Right-hander allows seven runs over 3 2/3 innings in loss to Tigers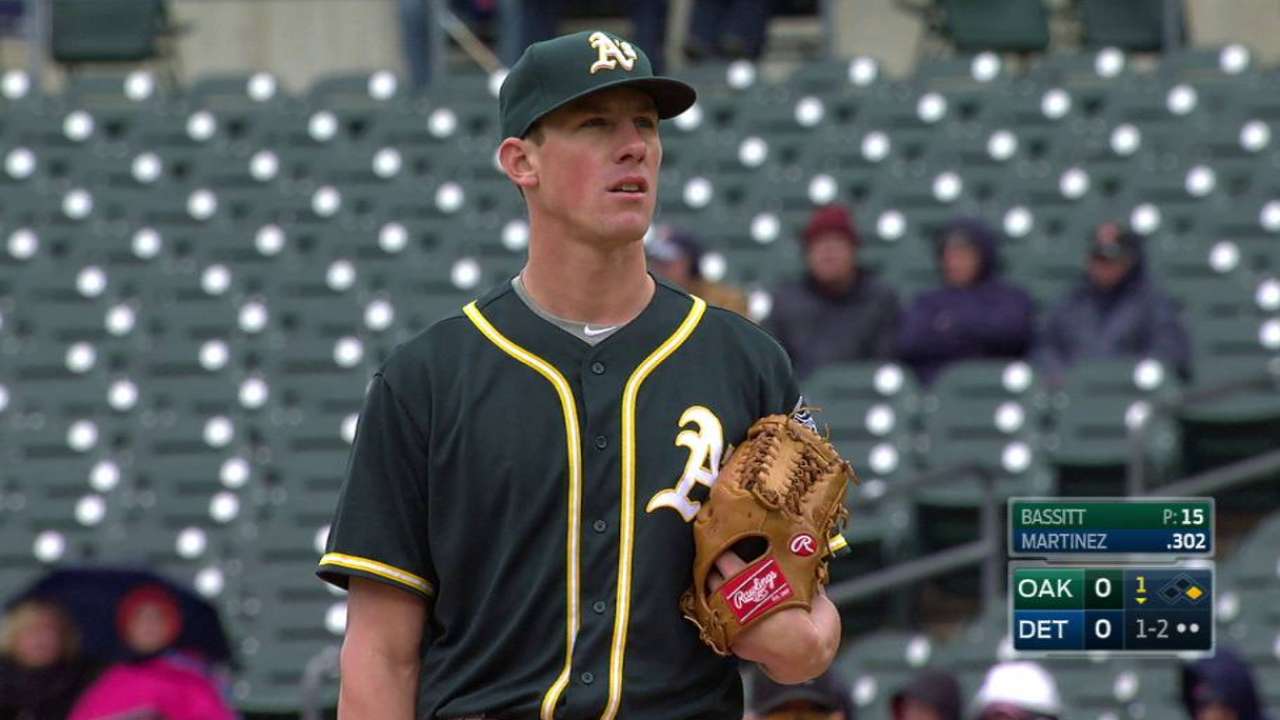 DETROIT -- After a second straight poor start for Chris Bassitt, A's manager Bob Melvin admitted he's a little concerned.
Bassitt allowed six earned runs total over his first three starts this year, but allowed six in his last outing at Toronto and then seven runs over 3 2/3 innings in Thursday's 7-3 loss to the Tigers.
"I know the velocity dipped, and that's concerning. But I've got to get him out of there, 90-something pitches in 3 2/3 innings," Melvin said. "It's one thing when you know you've got to eat some innings up for your team, but it's another where you're throwing too many pitches. I didn't want to go too far with it."
Melvin said he doesn't think Bassitt is physically hurt -- and Bassitt said the same -- but he'll be checked out in Oakland.
Catcher Stephen Vogt noticed a lack of life in the pitches, too.
"Obviously any time a starter has back-to-back tough starts, you hope he's OK," Vogt said. "We all know how good Bass is, and how his stuff is. It hasn't been there the last two starts. There is some concern there for him and for us. You hope there's nothing wrong and hope it's something he can fix in the next five days."
The A's bullpen has been taxed in the past week, and Rich Hill was the only starter to go deep (seven scoreless innings on Tuesday) in the four-game series with the Tigers that saw Oakland drop three. Relievers Ryan Madson and Sean Doolittle each pitched an inning on Thursday.
"Our bullpen needs some rest a little bit. By no means did I help them out," Bassitt said. "Having both of our closers and [Fernando Rodriguez] throwing in a meaningless game down five runs is just unacceptable. The way I'm pitching, I'm putting them in roles they're not in roles for."
Only 54 of Bassitt's 94 pitches were strikes, including just 23 of 39 sinkers and 14 of 24 fastballs, according to BrooksBaseball.net.
"It's just making pitches," Bassitt said. "I have guys 0-2, make bad pitches, they get hits, then fall behind a hitter and they get hits."
Bassitt also brushed off any idea that the dreary weather had an effect.
"No. I grew up in it. I threw it in college [at Akron]. In high school, I threw in snow most of the time," he said. "The weather has nothing to do with it. It is what it is."
It's been a difficult stretch for the A's rotation, which will add highly-touted prospect Sean Manaea on Friday, but Melvin isn't planning any other changes.
"We like our guys," Melvin said. "You're always going to go through some rough patches."
Chris Vannini is a contributor to MLB.com based in Detroit. This story was not subject to the approval of Major League Baseball or its clubs.