Gray eager for World Baseball Classic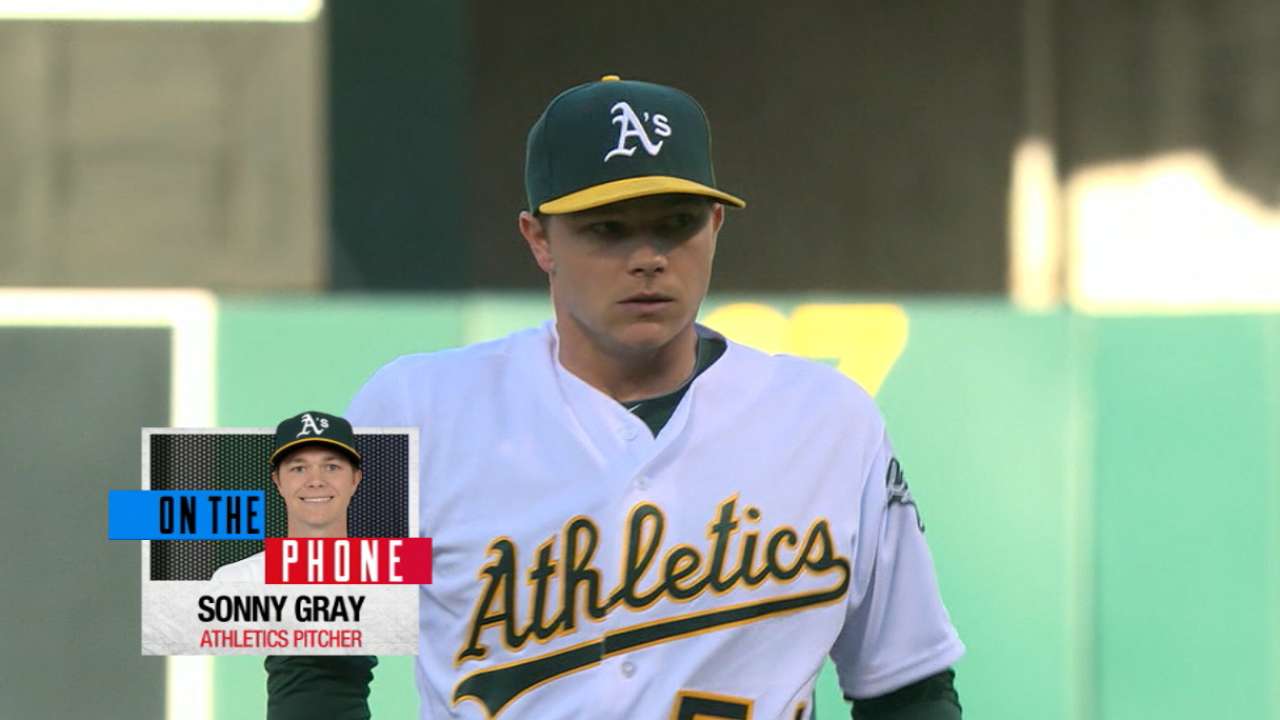 MESA, Ariz. -- There was already plenty reason for the A's to keep close watch on their ace this spring, and now even more so, with Sonny Gray electing to participate in the World Baseball Classic.
Gray's first official spring bullpen session in front of organizational faces was moved up a few days -- he will throw off the mound on Wednesday instead of Friday -- as he readies for a potential trip to San Diego to join Team USA mid-March.
As a designated pitcher, Gray will only go if Team USA advances to the second round of the tournament, per new rules: A team can use up to 10 designated pitchers but can't have more than two on its active roster at a time.
"Just the fact that you get to potentially put on the jersey again is a cool feeling," said Gray, who played for the U.S. national team in 2009 and '10 while at Vanderbilt. "It's something I've done in the past and I really enjoyed, so if that opportunity does comes, I'll be very excited for it and more than ready."
Four other players on the A's 40-man roster are expected to play in the Classic: left fielder Khris Davis (Mexico) and pitchers John Axford (Canada), Santiago Casilla (Dominican Republic) and Liam Hendriks (Australia).
The invitation allows Gray the chance to hurriedly return to his old form, after he struggled to the tune of a 5.69 ERA while dealing with several injuries last season. Moreover, his ability to do so will be crucial to a team that will heavily rely on its young starting staff this year.
"There's a lot for the starters to accomplish this year, and it's going to be one of the most important, if not the most important, aspects of the team," Gray said. "The starting rotation really needs to get deep in games, and if we can consistently hand the ball over to our bullpen tied or with the lead, then we're going to win a lot of games.
"Expectations aren't really high for any of these guys or for any of us really, and we can go out there and do our thing and hopefully by the end of it put together something pretty cool."
Gray's expectations for himself, however, differ, which made last year's woeful stretch all the more maddening.
"I expect myself to go out and compete like I always have, so if I get out there and stay healthy, I know the end results will be there," he said. "Last year was just the first time I went through any type of adversity that way."
"The stuff was still there, just not in the right part of the zone," catcher Stephen Vogt said. "Whether that's health or confidence or a little bit of both, I think that's kind of what it was, but when that kid is on mound healthy and confident, there's no one in baseball I would rather have pitching for us."
Lambo in the clear
Outfielder Andrew Lambo, who missed the majority of last season after undergoing surgery for testicular cancer, was given a clean bill of health by his oncologist, Dr. Leslie Ballas, in December.
"She smiled and said, 'Get out of here. I'll see you in six months. You're good,'" Lambo said. "That was a big relief."
Lambo, who broke camp with the A's last year, is back as a non-roster invite on a Minor League deal.
"He looks like he's in good shape," A's manager Bob Melvin said. "God bless him. He's here, he's healthy. I know he's excited. He's always a very vocal guy, and I'm not trying to speak for him, but whenever you go through something like that that's bigger than baseball, when you get back to doing what you love to do, there's a certain amount of passion that goes along with it."
Worth noting
• Right-hander Daniel Mengden, no longer in the rotation running after succumbing to right foot surgery last week, said Tuesday there's no timetable for his return, but he's expected out of his walking boot on March 26. He opted for a knee scooter, rather than crutches, in the meantime.
• Starters Chris Bassitt and Felix Doubront (Tommy John) threw off the mound for the first time Tuesday, totaling 20 pitches each from a distance of 55 feet.
• Casilla did not report to camp Tuesday. As a late sign, his visa paperwork was slowed, but he's expected to join the team by week's end.
Jane Lee has covered the A's for MLB.com since 2010. This story was not subject to the approval of Major League Baseball or its clubs.