Opportunity abounds on A's mound
Melvin to reward pitchers who stay ready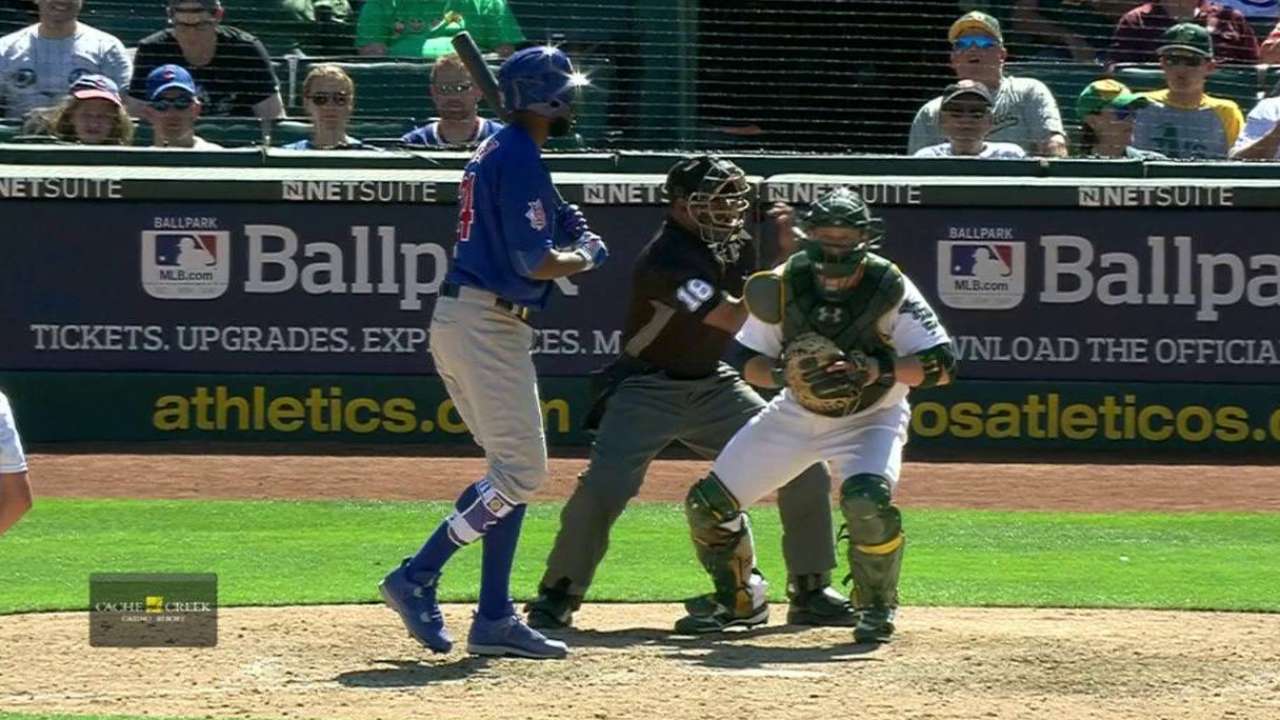 MESA, Ariz. -- The message was simple and succinct: "Here," A's manager Bob Melvin told his pitchers on Wednesday morning, "everybody gets an opportunity."
A whopping 34 pitchers are in A's camp this year -- accounting for roughly half of the 70 players expected in attendance by the time full-squad workouts begin Sunday -- and Melvin and Co. have every reason to keep eyes on each one of the pitchers.
Recent history suggests the A's will call on the majority of them at some point during the season. Last year, a horde of injuries forced the A's to use 27 pitchers, tying the 1915 Philadelphia A's and 1955 Kansas City A's for second most in A's history. The record is 30, set in 2015.
• Spring Training: Info | Tickets | Schedule | Gear
"I don't want anyone to feel left out," Melvin said. "That was part of my message, don't feel like you're going to get lost in the shuffle if you don't make this team. You have to stay ready because depth is awfully important these days, and we reward guys that are pitching well."
Exhibit A: Chris Smith. The right-handed reliever, hardly a blip on the screen as a non-roster pitcher in camp last year, emerged from the Minors to pitch in his first big league game since 2010, making 13 appearances for the A's.
The 35-year-old is back on another Minor League deal, hoping to force his way onto the roster again.
"Not only does he get to the big leagues, it takes him six years to get back," Melvin said. "You talk about perseverance and what he did for us. He started out just as a long guy and ended up pitching some leverage innings at times. The message really was, it's all-inclusive here, and if you perform well, you'll have a chance to pitch for us at the big league level."
The A's made a total of 179 player moves in 182 days from Opening Day through the end of the 2016 season, many of them set in motion to patch up a decimated rotation. Fingers are crossed for better health this season, especially when it comes to Sonny Gray, who endured two disabled list stints during a turbulent year.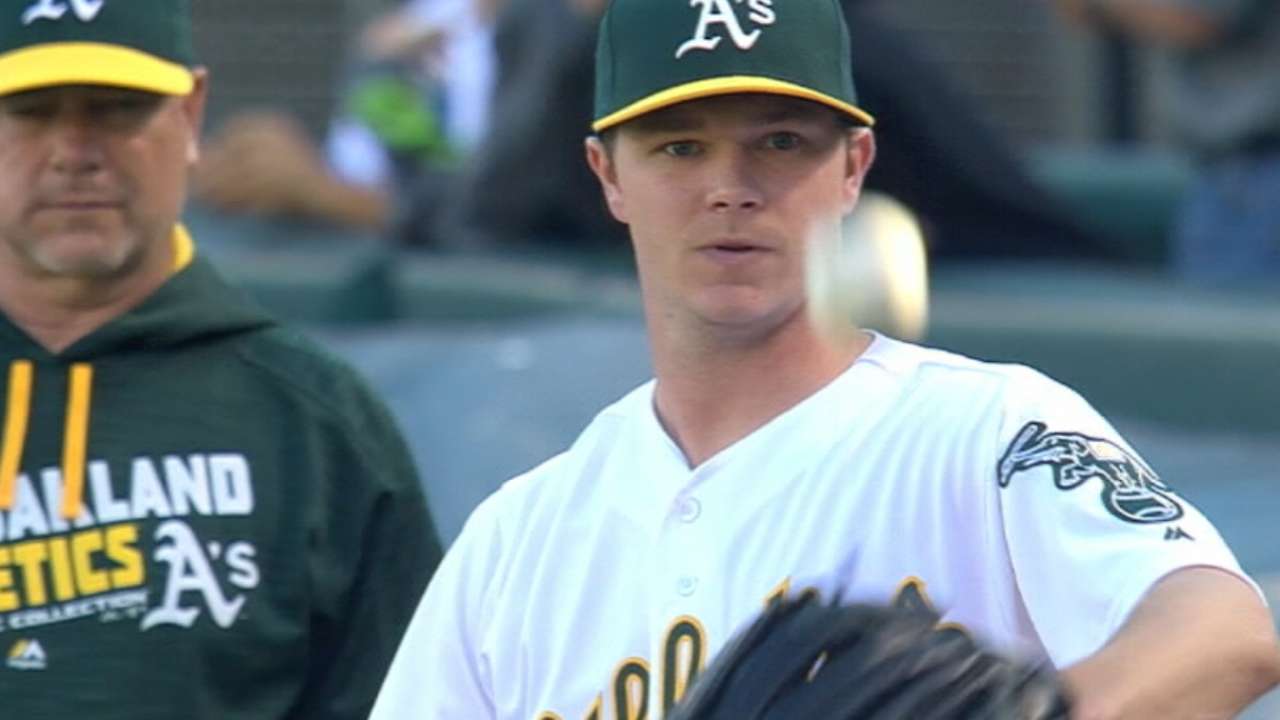 On Wednesday, Gray was one of several pitchers to set up shop in front of organizational faces and throw a bullpen session as part of the club's first official workout for pitchers and catchers. To his left: Kendall Graveman, who will likely slot behind him; and his right: Sean Manaea, penciled into the No. 3 spot. Jharel Cotton is favored to pitch fourth, while the fifth spot will breed competition amongst a bevy of arms, including right-handers Andrew Triggs, Frankie Montas and Jesse Hahn.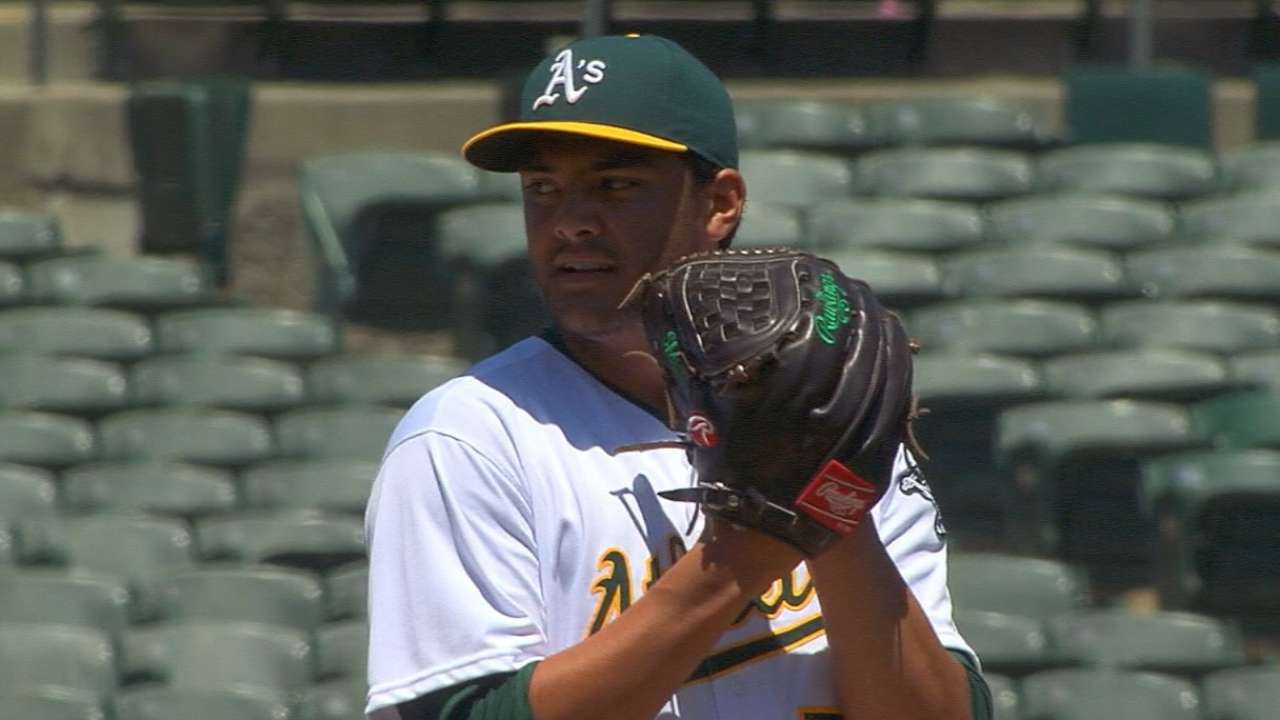 "With the amount of young starters that we have, I'm comfortable with some competition here," Melvin said. "You look at the roster overall and can probably forecast where it's going, but you never know how things go during spring based on injury and any number of things, so I think it's important to have some competition, especially at the back end of the rotation.
"It used to be, you heard about the five starters, and nowadays you're writing about eight or nine deep, because you know that that's going to happen. I was skewed my first year in Seattle when I had five starters the whole year, and that hasn't happened since."
Jane Lee has covered the A's for MLB.com since 2010. Follow her on Twitter @JaneMLB. This story was not subject to the approval of Major League Baseball or its clubs.