Healy prepping for shifts around diamond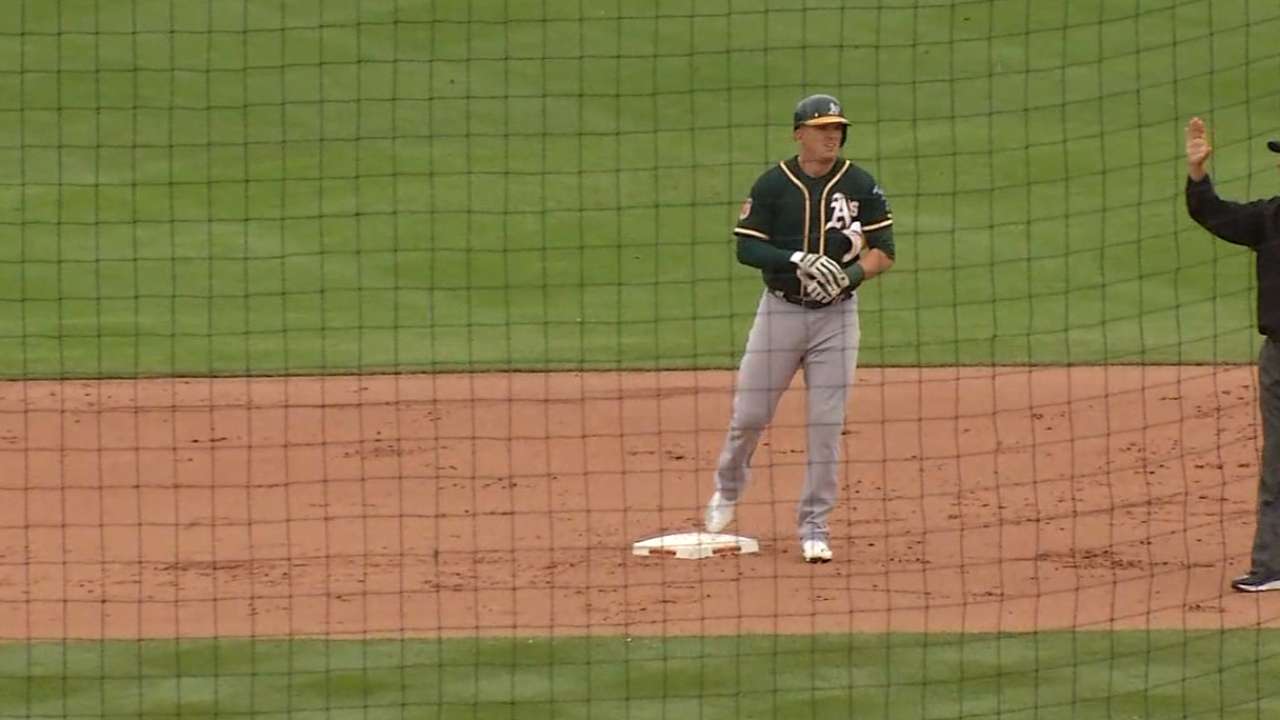 MESA, Ariz. -- If Ryon Healy's seamless transition to the Major League level is any indication, the A's youngster should manage another significant adjustment just fine.
Healy, who unseated Danny Valencia at third base and hit .305 with 13 home runs upon his promotion out of the All-Star break last year, is acclimating to a multifaceted role that will require him to be ready to do any one of three jobs this season: first base, third base and designated hitter.
Healy took up third base in the Minors and fared well there on the big league stage, but first base is his natural position. He has been making the rounds at both this spring and was granted his second start at first in Thursday's 5-1 win over the Rangers.
"It's just making sure you get the proper reps over there, putting in the early work and learning from guys like Yonder [Alonso]," Healy said.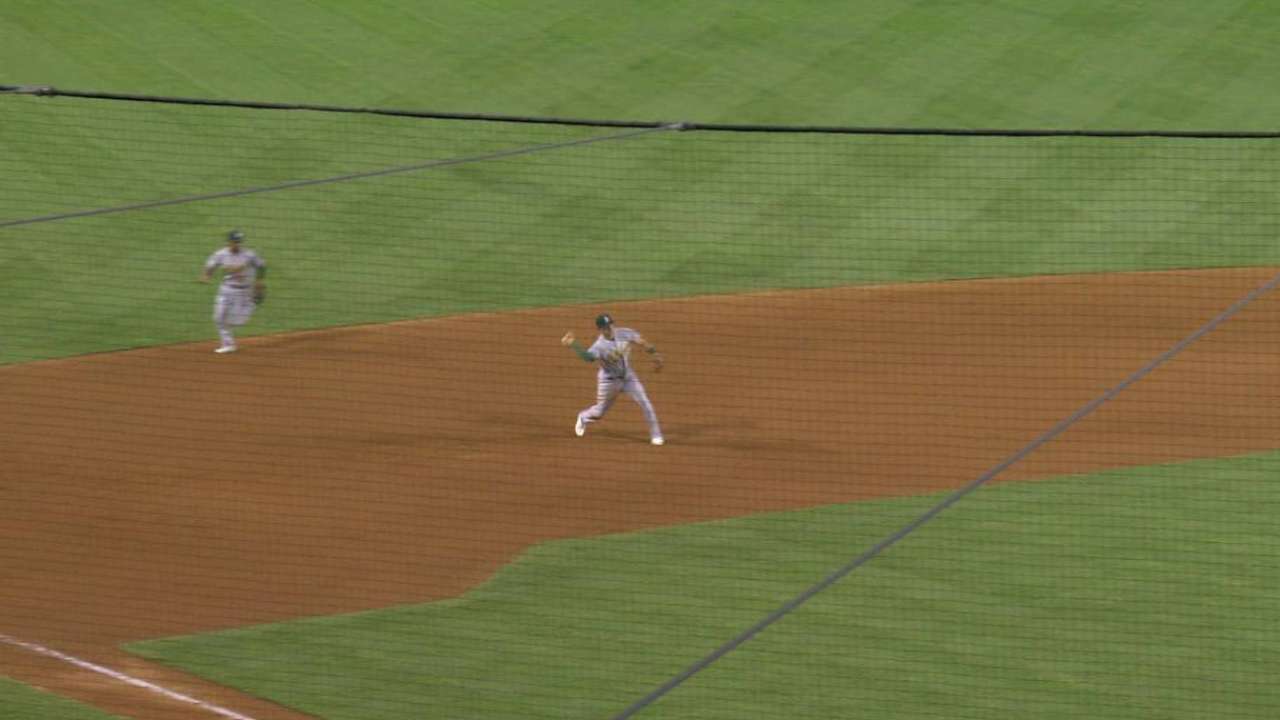 Alonso, a top-tier first baseman, noted Healy has the proper instincts required of the position and said, "He's asked a lot of questions. He also knows he's going to be moving between two positions on the field, and we've talked a lot about how that will make him a better player in general."
Healy is expected to platoon with Alonso at first and back up veteran Trevor Plouffe -- signed to a one-year deal -- at third, but it's plausible he sees most of his at-bats in the DH spot. Manager Bob Melvin assured "it won't be an exclusive DH thing," which would seemingly prove difficult for a 25-year-old.
"Shoot, everybody wants to get into a routine and have one spot to play and hit one place in the lineup," Melvin said. "That's just not the way we do things here, so you have him prepare for the role he will have. And he'll prepare very well for it."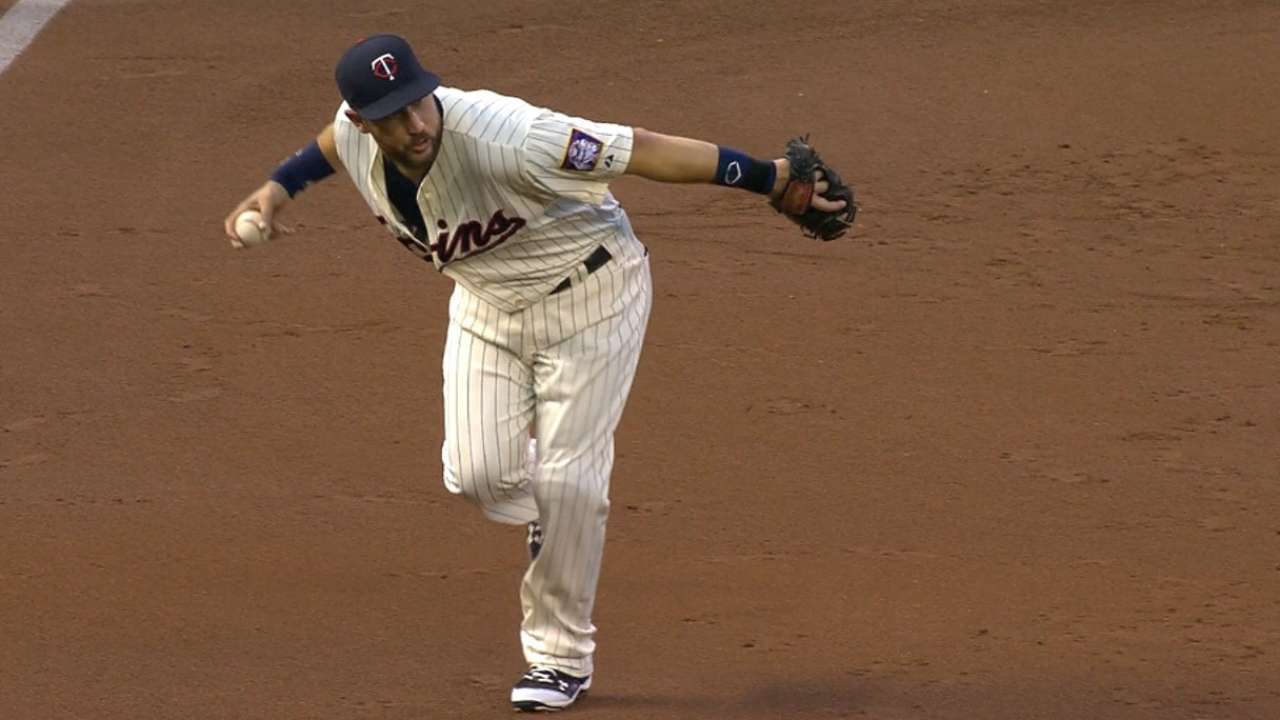 The shift in roles was expected, albeit sooner than later; Healy was set to move to first base, anyway, upon third baseman Matt Chapman's impending callup.
"Going into the offseason, I already planned on doing my work at first base, so I don't think it was really a total shock," Healy said.
At first, Healy is learning to lessen the aggression necessary of a third baseman, instead letting the ball come to him and waiting for a good hop. Alonso said he will "help him with anything he approaches me about, or if I see anything wrong, I'll let him know as well."
"He keeps me smiling, but he's also very focus-oriented in his career," Healy said, "so that's something I really idolize in him, and I really love the way he goes about his work. Him and I really try to do our early work together mostly for my sake, so I can learn as much from him. He's a really good veteran presence for me to use."
Jane Lee has covered the A's for MLB.com since 2010. Follow her on Twitter @JaneMLB. This story was not subject to the approval of Major League Baseball or its clubs.