Prospect Barreto sent down, but future still bright
Talented shortstop will work on playing second base in Minors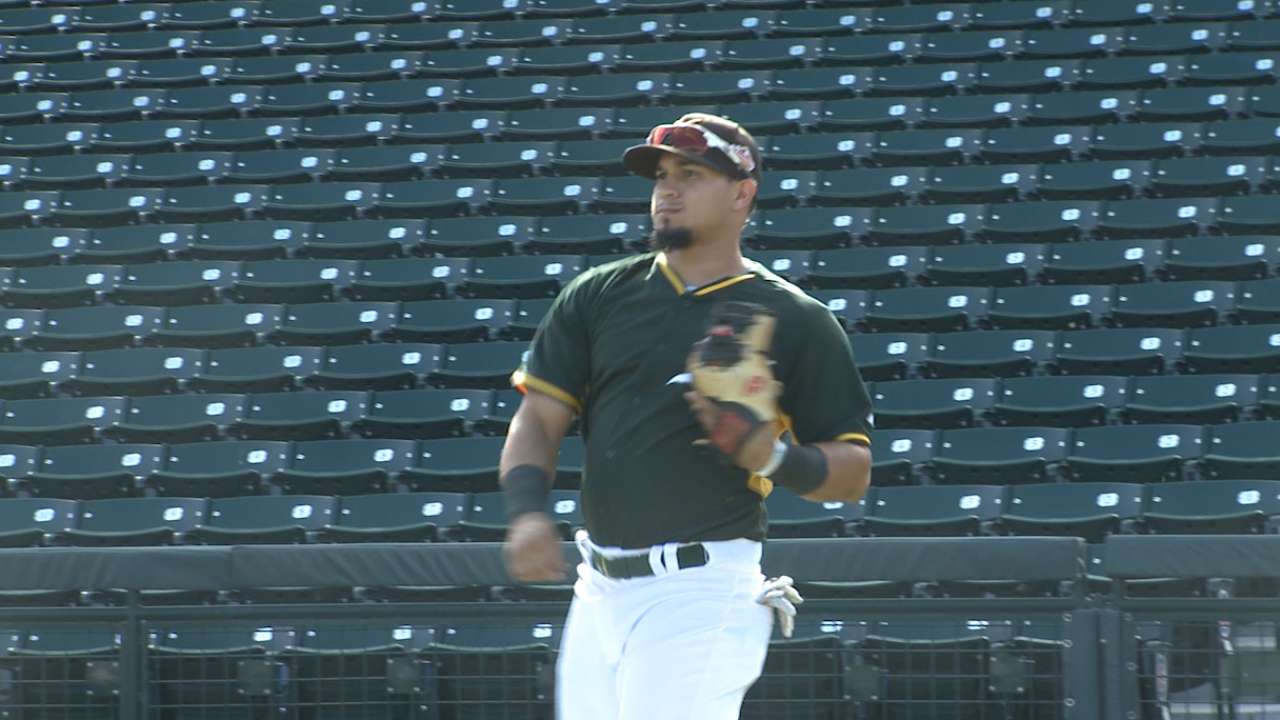 MESA, Ariz. -- The A's resumed camp without Franklin Barreto on Saturday morning, one day after their top prospect was optioned to Triple-A Nashville -- a move that will guarantee him more playing time as Oakland's regulars ramp up their workload ahead of Opening Day.
But excited talk of Barreto resumed, too.
• Spring Training: Info | Tickets | Schedule | Gear
A's manager Bob Melvin hardly knew what to say when sending down the young infielder after Friday's game, even though Barreto "knows it's coming," he noted. Barreto, who turned 21 less than a month ago, was 13-for-27 (.481) in his second big league camp.
"I'm the one that has to send him down, but what do you say? 'Well kid, you ate way too much,'" Melvin joked.
"I'm sure he wanted to be here a bit longer," he said, "But he needs to get everyday at-bats and starts and so forth. Like I told him, I don't know what I would tell you that would suggest I need to send you down, but just go do your thing, and with him, it's not a matter of if, it's when."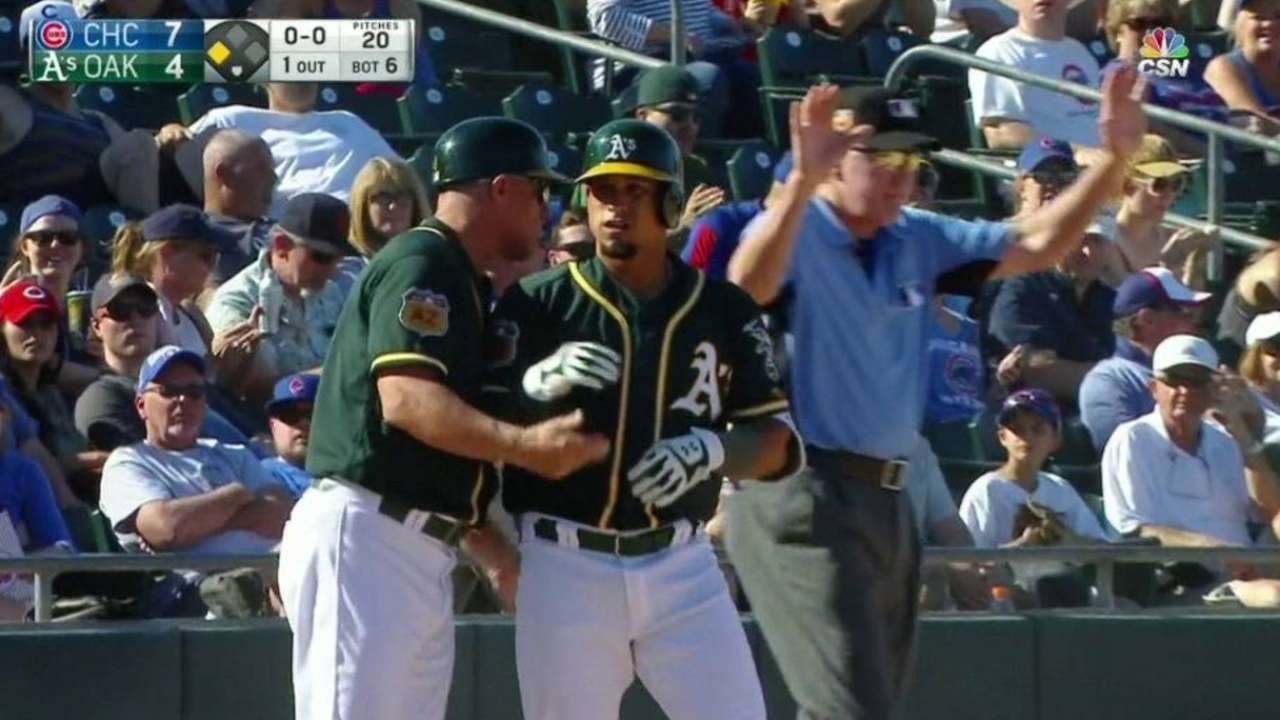 That will be sooner than later, Melvin believes. Barreto, paramount to the Josh Donaldson deal, has spent the majority of his professional career at shortstop, but he has seen extended time at second base of late and is expected to split his time between the positions at Nashville, where he played just four games upon his late-season promotion last year.
The A's already have Marcus Semien entrenched at shortstop for the foreseeable future, meaning Barreto's path to the big leagues will presumably be quickened by his ability to handle second base.
"He's had a great camp, and you can see he's a pretty talented guy," A's vice president of baseball operations Billy Beane said. "But he only played a month at Triple-A last year. He probably needs some more drills at second base. He seems to be pretty comfortable over there right now.
"Once we get into the season, assuming he continues to improve and play the way he does, he'll be putting pressure on us."
Said Melvin: "Based on what I have to go on, it already looks like he's big-league ready. But, like school, you do want to make sure you get all your grades and pass your classes and move on to the next level. My guess is it won't be long."
Wendle slowed by shoulder injury
• A's infielder Joey Wendle has been missing from game action since March 7 because of a right shoulder injury that's preventing him from throwing, Melvin said.
There is no timetable for Wendle's return. He hit .260 in 28 games upon his call-up last year, impressing on both sides of the ball.
"I think he showed tenacity, certainly made significant strides defensively, played great defense for us, and the overall numbers don't blow you away offensively, but he got some big hits for us," Melvin said. "I was pleasantly surprised and really felt like coming into camp this year would get an extended opportunity, and obviously because of the injury has not to this point. But he really impressed us last year."
Jane Lee has covered the A's for MLB.com since 2010. Follow her on Twitter @JaneMLB. This story was not subject to the approval of Major League Baseball or its clubs.