Chapman forms friendship with Davis in A's camp
Both A's sluggers attended Cal State Fullerton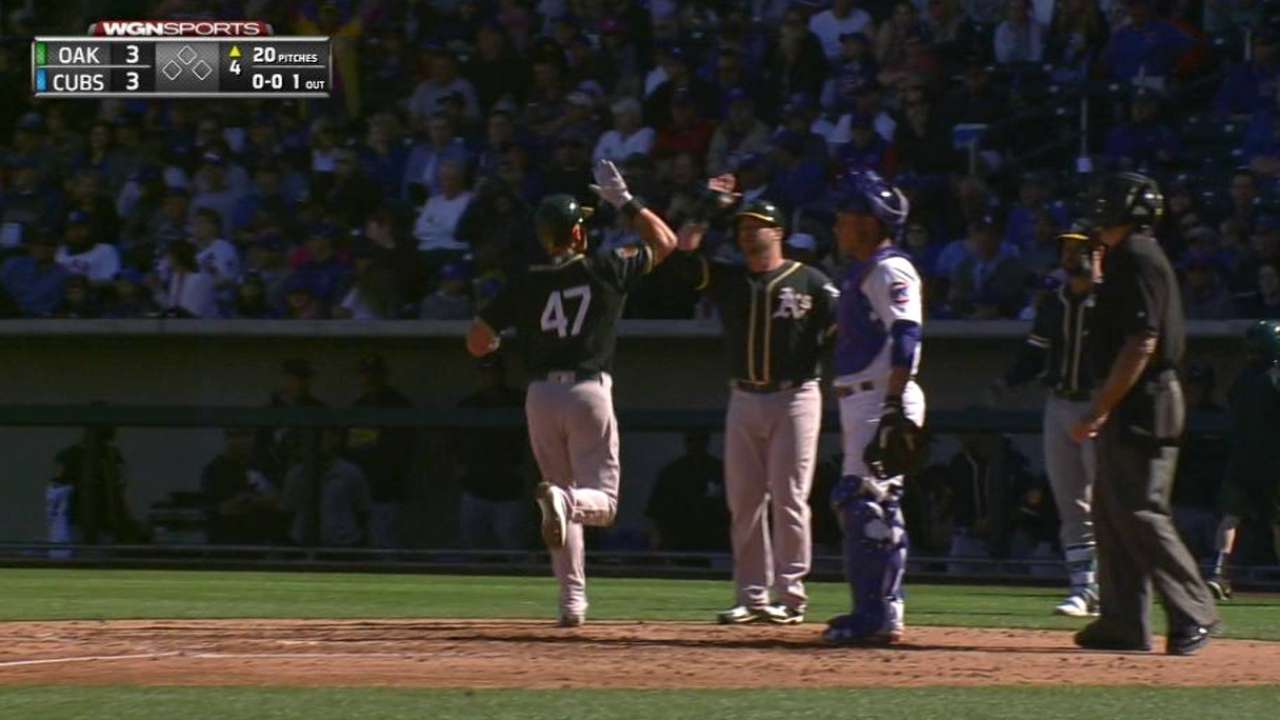 MESA, Ariz. -- Matt Chapman could hardly contain his excitement. Khris Davis hardly knew who the kid was. The meeting proved memorable for both.
"He told me he went to [Cal State] Fullerton, and that kind of took my breath away," recalled Davis, a fellow Titan. "It was pretty cool to have this kid come up to me, really excited to be in big league camp."
Davis and another former Titan, Oakland bench coach Mark Kotsay, treated a wide-eyed Chapman to dinner at Mastro's City Hall -- an upscale steakhouse -- shortly thereafter:
"I had never been somewhere like that before," Chapman said, smiling, "and that was just kind of normal for them, so it was a cool experience."
That was a year ago. Chapman, Oakland's No. 4 prospect per MLBPipeline.com, arrived to camp last month to find his locker sandwiched between Davis and veteran Matt Joyce.
"You try not to step on anyone's toes, keep my stuff neat, stay out of their way," Chapman said.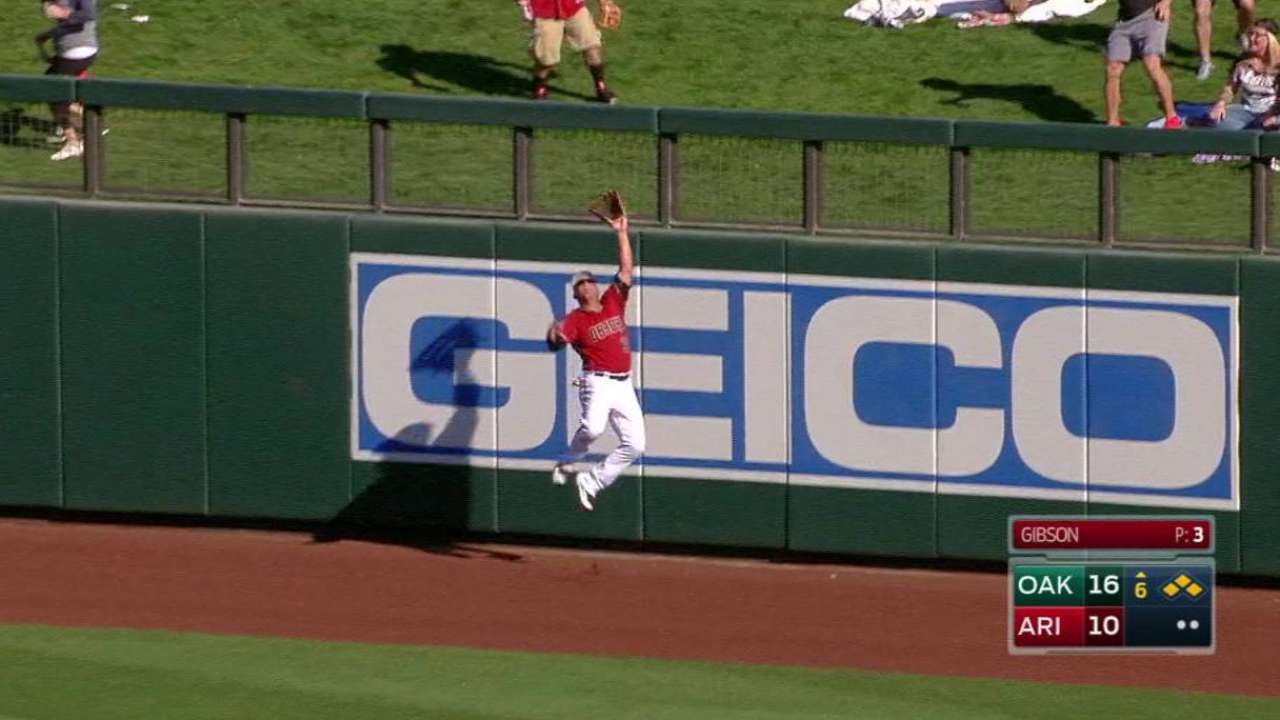 But Chapman has emerged from his shell during his second stint in big league camp.
"Last time," Chapman said, "it was probably the least amount I've ever talked in the span of a month or two."
Along the way, Chapman has also formed a close friendship with Davis, between them an immense volume of power.
It's only a matter of time before they'll be able to also call each other full-time teammates. The 23-year-old Chapman, selected by the A's in the first round of the 2014 Draft, is expected to be promoted by the end of 2017.
"He really is a five-tool-type guy," A's manager Bob Melvin said. "He just needs to play and get the experience in Triple-A, and he'll knock the door down at some point, for sure."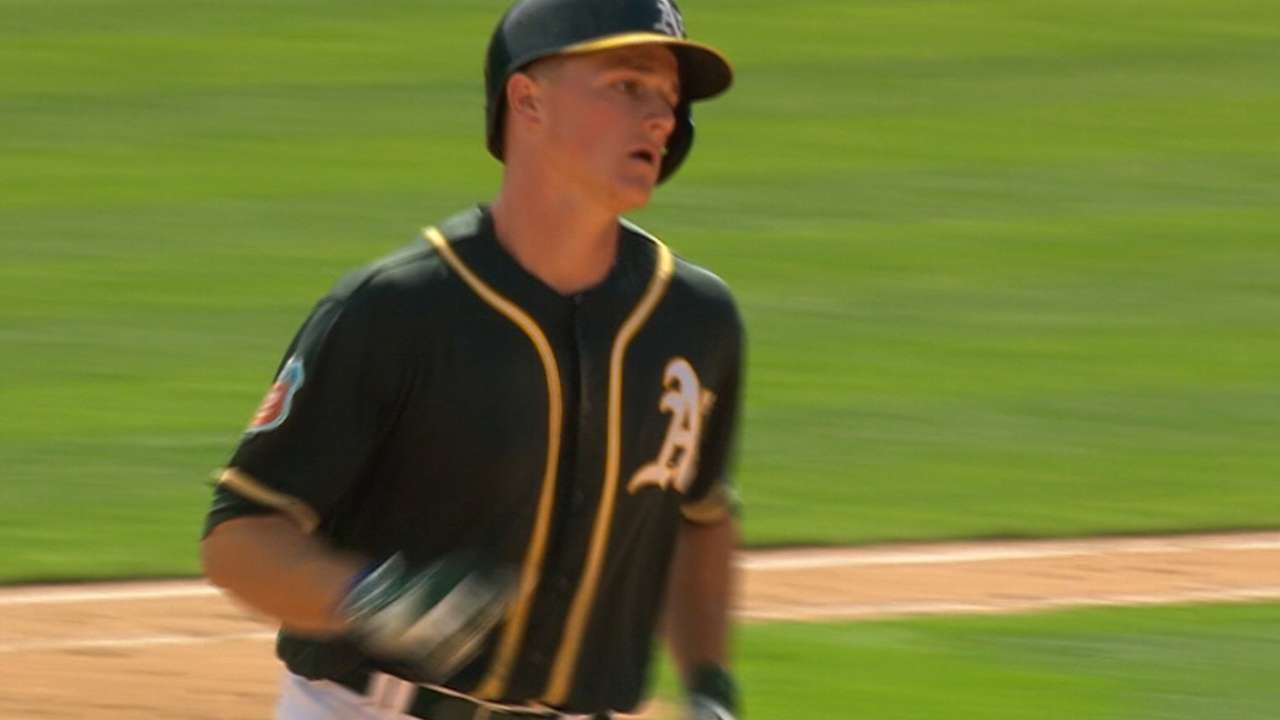 Chapman attended high school less than 30 miles away from Cal State Fullerton, went to weekend games with his dad as a fan and was even a bat boy for the Titans from 2003-05.
Davis arrived to Fullerton in 2007, leaving two years later upon being drafted by the Brewers -- a few years shy of Chapman's arrival to the school, where he began showcasing the kind of raw power that has since become a spectacle during batting practice.
Davis, no slacker himself, having hit 42 home runs for the A's last year, is continually mesmerized. He said Chapman reminds him of former big league slugger Matt Williams.
"It's special," Davis said. "I've heard some nice compliments in BP, but his, I mean, it's impressive. The strength he shows, just the ability to control the bat, it's pretty amazing."
Remarkably, Chapman's defensive skills are considered even better.
"I'd wanna be Matt Chapman," Davis said. "He's younger, he's got a hose at third. Give me that."
Jane Lee has covered the A's for MLB.com since 2010. This story was not subject to the approval of Major League Baseball or its clubs.