Semien has cast taken off, eager to return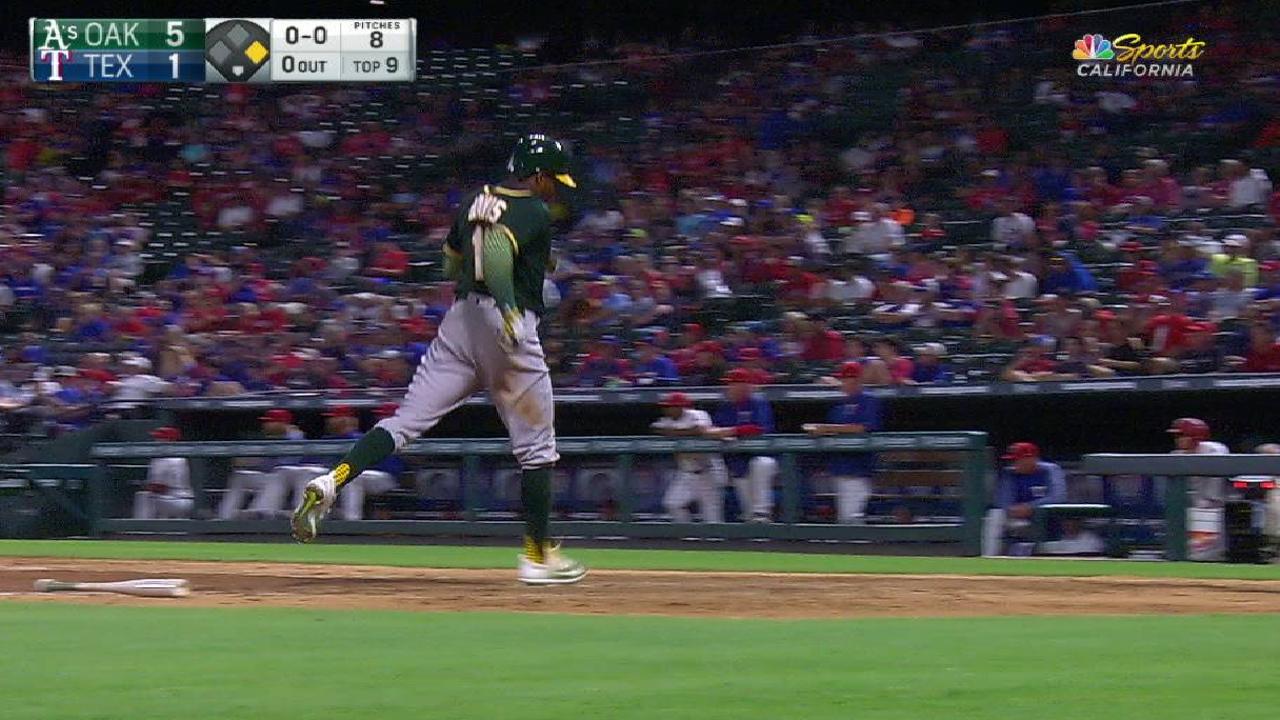 OAKLAND -- Rehabbing A's shortstop Marcus Semien jet setted to Los Angeles and back Friday, returning without a cast on his surgically repaired right wrist.
Semien, who underwent a procedure to repair a fracture of the scaphoid bone April 18, was pleased to learn his CT scans showed immense healing. Cast-free, he'll ease into the next steps as he eventually readies for advanced baseball activity.
"Get the pain and the stiffness out. It hasn't moved for a month," Semien said. "I never had surgery. This is all new to me. My goal is to be back as soon as I'm allowed to play. I have 30 days. I just want to hit and feel ready and be available once I'm off. I also want to be smart."
Semien is eligible to return from the DL on June 14, and it's unclear whether he could realistically be cleared for big league play by that date. But the A's are encouraged by his progress.
"He's a little bit of an eager guy and will probably have to go through some strengthening first before he starts to play catch, but he's kept himself in great shape in the interim, taking ground balls, one-handed hitting off the tee and so forth," A's manager Bob Melvin said, "so it's just about getting that hand strong enough to play catch, and then he'll be on his way."
Rushing Semien is neither prudent nor necessary. Substitute shortstop Adam Rosales, typically limited to a utility role, has performed admirably on both sides of the ball.
"He never really had an opportunity, and you worry about the durability part of it," Melvin said of Rosales. "But he's been durable. I talk to him every couple days about how he's feeling, as far as physically for a guy that hasn't played that much. He feels great. Defensively, he's been absolutely terrific, and if you look at his numbers, they're very respectable what he's done at the plate, too."
Added Semien: "Definitely one of the best arms I've seen for a shortstop. He's doing a great job, considering he hasn't had an everyday role for a while."
Axford on verge of return
Reliever John Axford, who made his third rehab appearance with Triple-A Nashville on Thursday, is expected to be activated from the DL either Saturday or Sunday, per Melvin.
Axford, who has been sidelined by a shoulder strain, said Friday he feels great.
Worth noting
• First baseman Yonder Alonso (knee) remains day to day. Melvin said it's possible he's rested through Monday's off-day but wouldn't rule out his return before then.
Jane Lee has covered the A's for MLB.com since 2010. This story was not subject to the approval of Major League Baseball or its clubs.