Smith upbeat despite missing first W since '08
A's pitcher goes 7 strong in 'terrific' spot start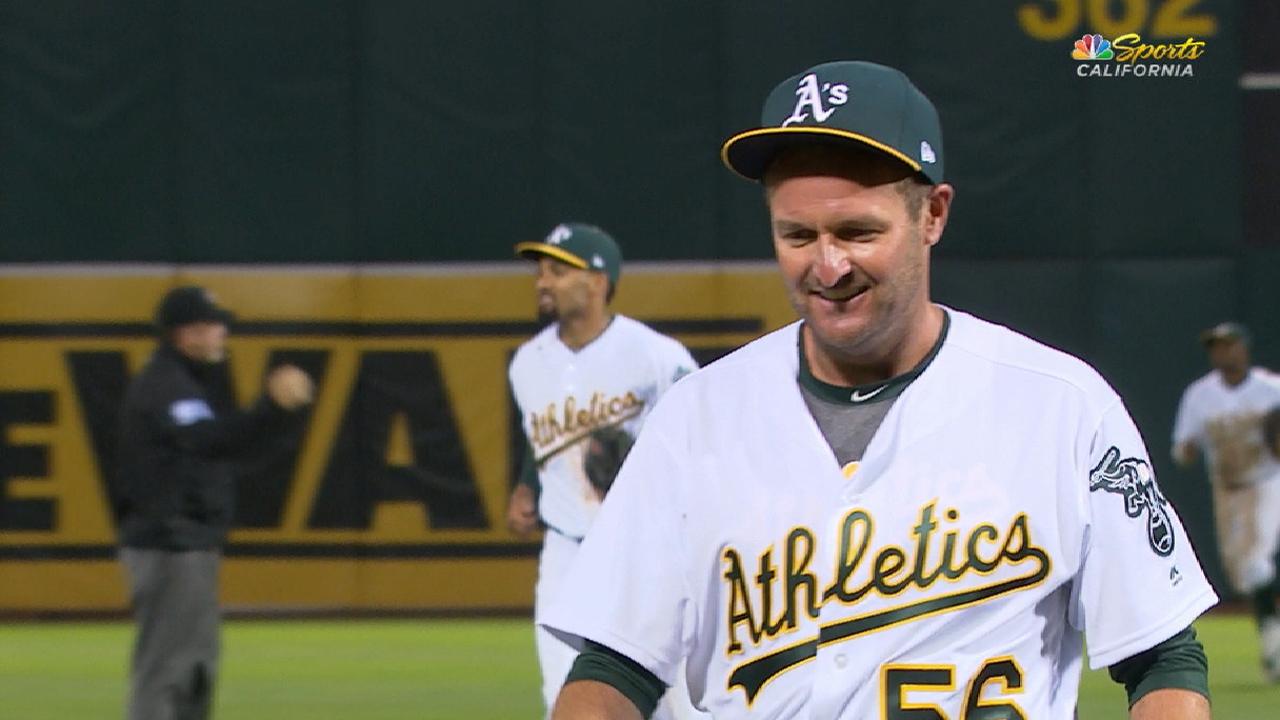 OAKLAND -- One out separated Chris Smith from his first Major League victory since 2008.
Then misfortune struck under the watch of closer Santiago Casilla, and Smith and the A's were denied a win, instead shocked by a 4-3 loss to the Rays on Tuesday night.
Though the win was stolen away, the 36-year-old Smith predictably preserved his smile. The journeyman, whose only Major League win came as a Red Sox reliever on June 24, 2008, refused to let Tuesday's happenings dampen his joyride.
And what a ride it's been. Only last year, following a six-year hiatus from the big leagues -- Smith's detour included a stint as an assistant pitching coach at UC Riverside -- did he first taste an opportunity he never dreamed of getting again. The A's called up Smith for the final two months of the season, then signed him to another Minor League contract in the offseason.
On July 8, he was summoned, yet again, and this time for the first start of his career. Then he got a second on Tuesday, and Smith is still reveling in it all, despite not having a win to show for it.
That's why his thoughts were elsewhere when Casilla took the mound in the ninth and fumbled after two quick outs, blowing the save with two runs allowed.
"I was thinking about all the tickets I left and all the people that wanted to see me," Smith said. "I was staying out in the dugout to see them and take pictures, then I was thinking about running the bases with my daughters. Kind of took my mind off of what was going on."
Pitching in place of Jharel Cotton, who was placed on the disabled list before the break with a right thumb blister, Smith gave the A's seven innings, departing with a 3-2 lead.
The right-hander mostly made it look easy, with help from several nifty defensive plays behind him. Rookie third baseman Matt Chapman, who was 15 years old when Smith recorded his first big league win, starred in the show, rebounding from a costly error in the second to make a handful of phenomenal plays thereafter.
"What was working for me was Chapman," Smith quipped.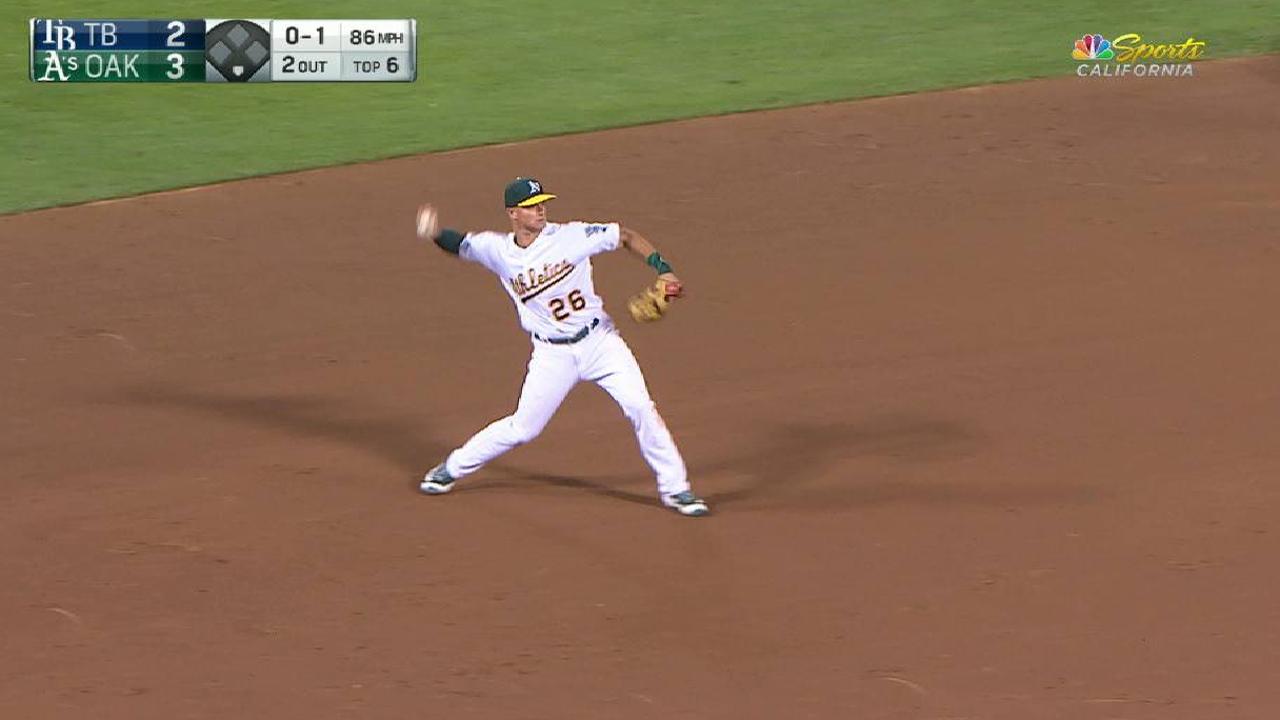 The pitcher held the American League East-contending Rays to just three hits, the only damaging one smacked to left field by Stephen Souza Jr. for a solo homer in the third. He walked two and fanned four in an effective, 89-pitch showing.
"That was terrific," A's manager Bob Melvin said.
It's unclear if Smith will draw another start for the A's, with Cotton expected back soon, but a bullpen job could be in the cards for this not-long-ago stay-at-home dad, who has all he needs without a second win.
"I was hoping that they would understand that I already got a win and I didn't need a shower full of ketchup and mustard," he said, laughing. "I said, 'Hey guys, I already got one of those. Back in the first Bush administration.'"
Jane Lee has covered the A's for MLB.com since 2010. This story was not subject to the approval of Major League Baseball or its clubs.