Boog comes up huge with blast, speed and D
Rookie delivers game-tying homer, flashes leather in walk-off win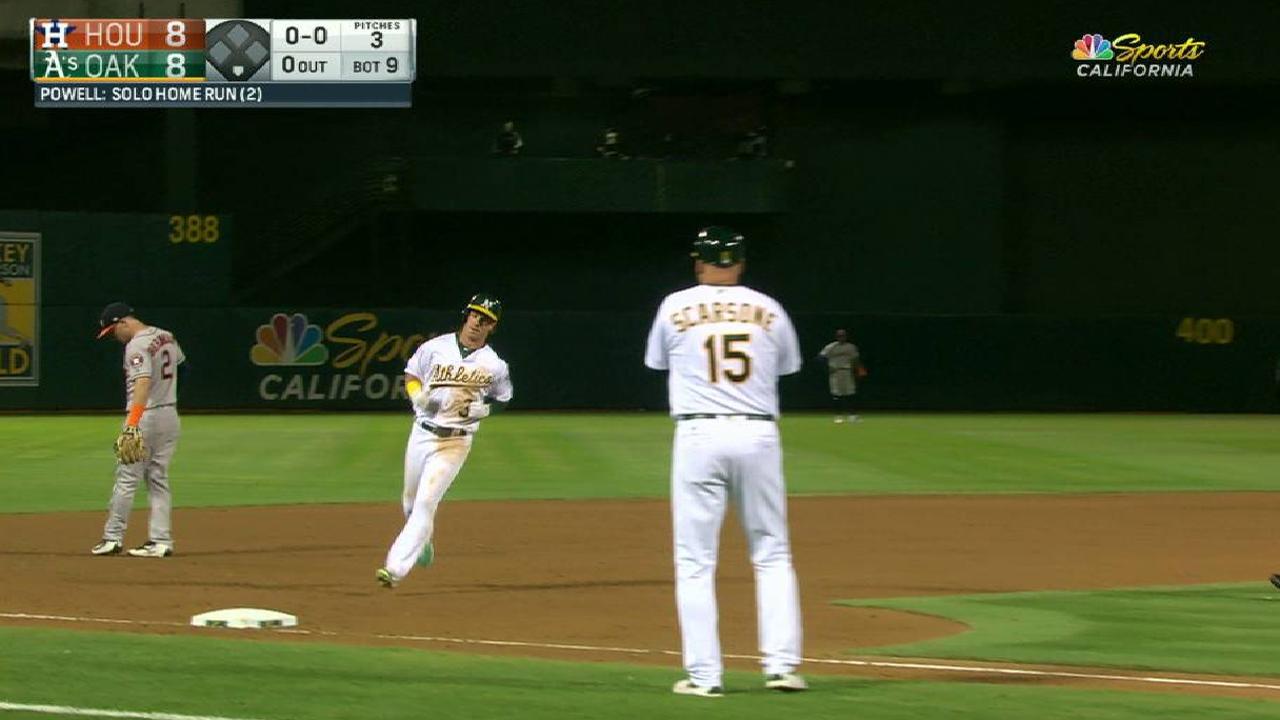 OAKLAND -- The return for the trade of Yonder Alonso has been a good one for the A's, who like what they're getting from young outfielder Boog Powell.
Powell, acquired in the August deal from Seattle, has done his part to keep pace in the conversation regarding next year's outfield picture in Oakland, showcasing speed, dependable defense and a capable bat.
All three were on display in Oakland's 9-8 walk-off victory over the Astros at the Coliseum on Friday night, with Powell at the center of several game-changing plays -- notably a leadoff homer opposite Houston closer Ken Giles that tied the game in the ninth.
It was just the second home run of his young career.
"I just wanted to get on base," Powell said. "I knew he had the heater, and he throws hard, so I was just trying to go the other way with it, then he threw me a slider right where I liked it, and it ended up going out."
"Great swing," said Jed Lowrie, who provided the game-winning hit. "That's a guy who's got overpowering stuff, and I'm sure he would say it was a mistake, but that's what you're supposed to do as big leaguers, is hit mistakes, and that's exactly what he did."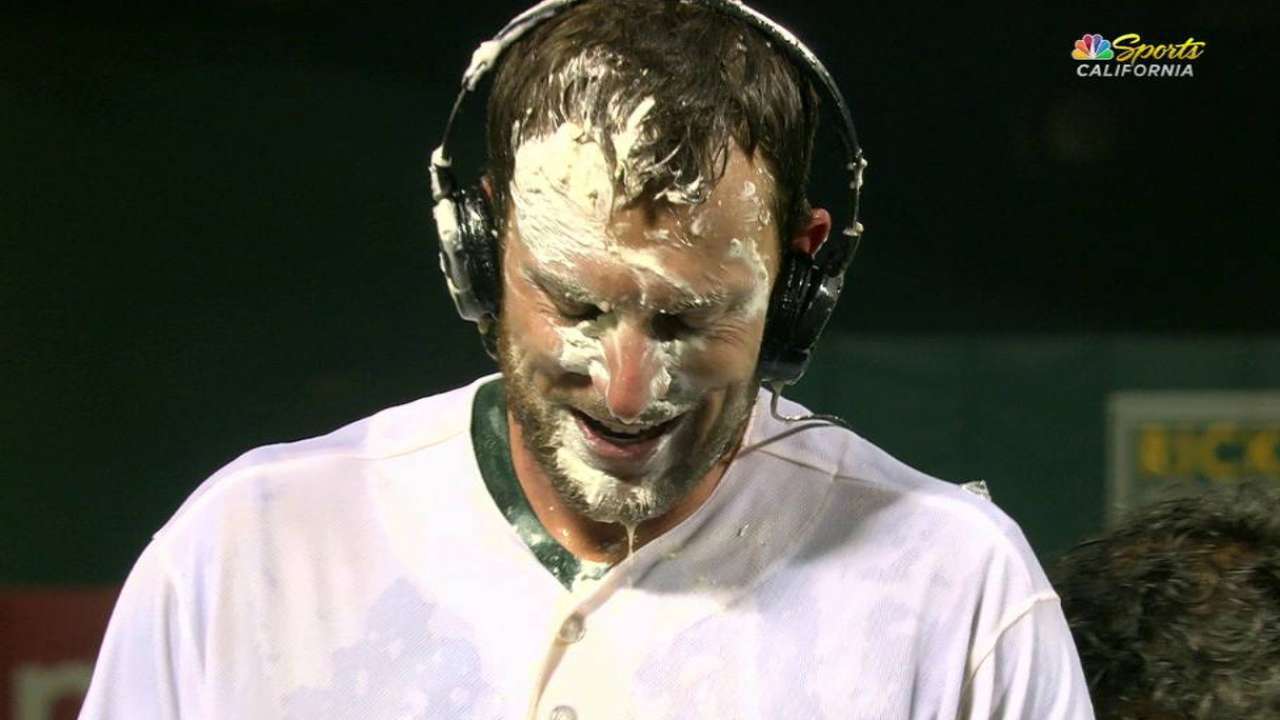 Fans serenaded him with chants of "Boooooog," to which the 24-year-old Powell thought, "That was one of the most amazing things of my career so far."
Earlier in the game, it was Powell's head-first slide into first base -- "If I keep running straight," he joked, "bad things happen" -- that loaded the bases for Marcus Semien, who delivered a game-tying grand slam. Powell also made a remarkable catch in center in the second inning, robbing Marwin Gonzalez of extra bases.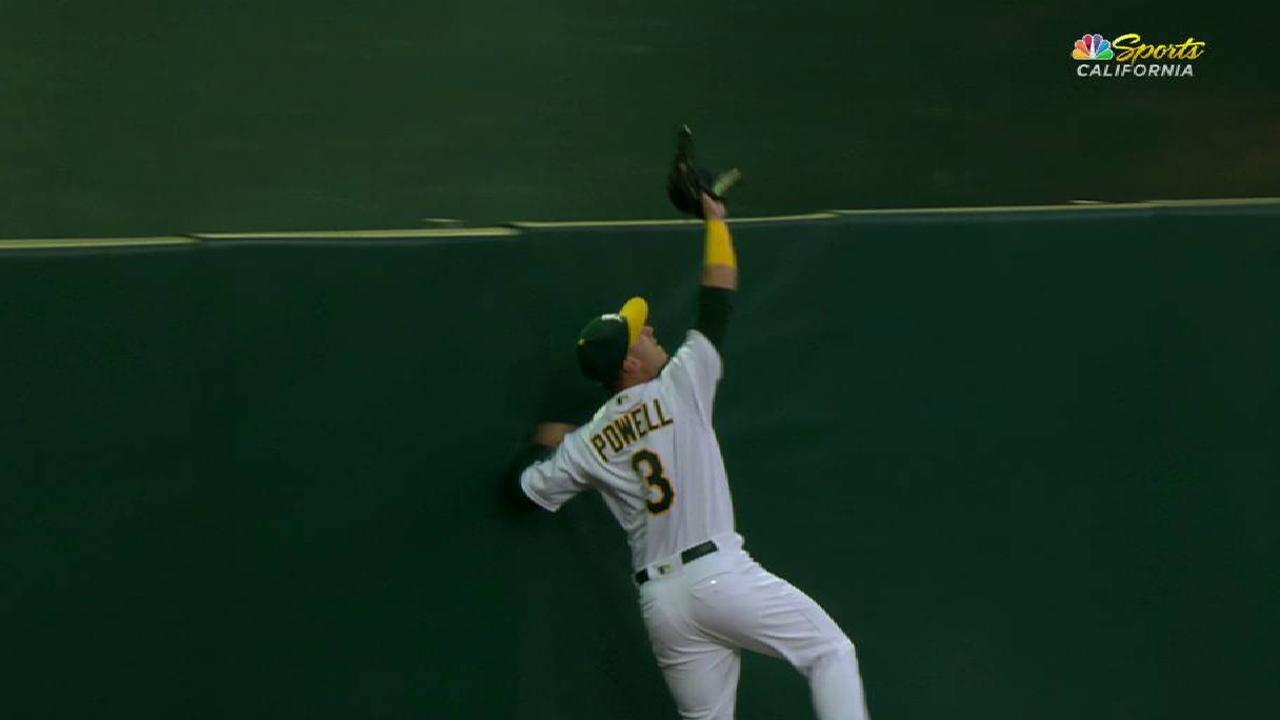 "We had heard from the moment we got him back that he played the game really hard," A's manager Bob Melvin said. "The slide into first doesn't surprise you, he's played a really good center field for us, and when you have a close game like that, those plays are significant."
Jane Lee has covered the A's for MLB.com since 2010. This story was not subject to the approval of Major League Baseball or its clubs.