Inbox: How will A's best find balance on roster?
Beat reporter Jane Lee answers fans' questions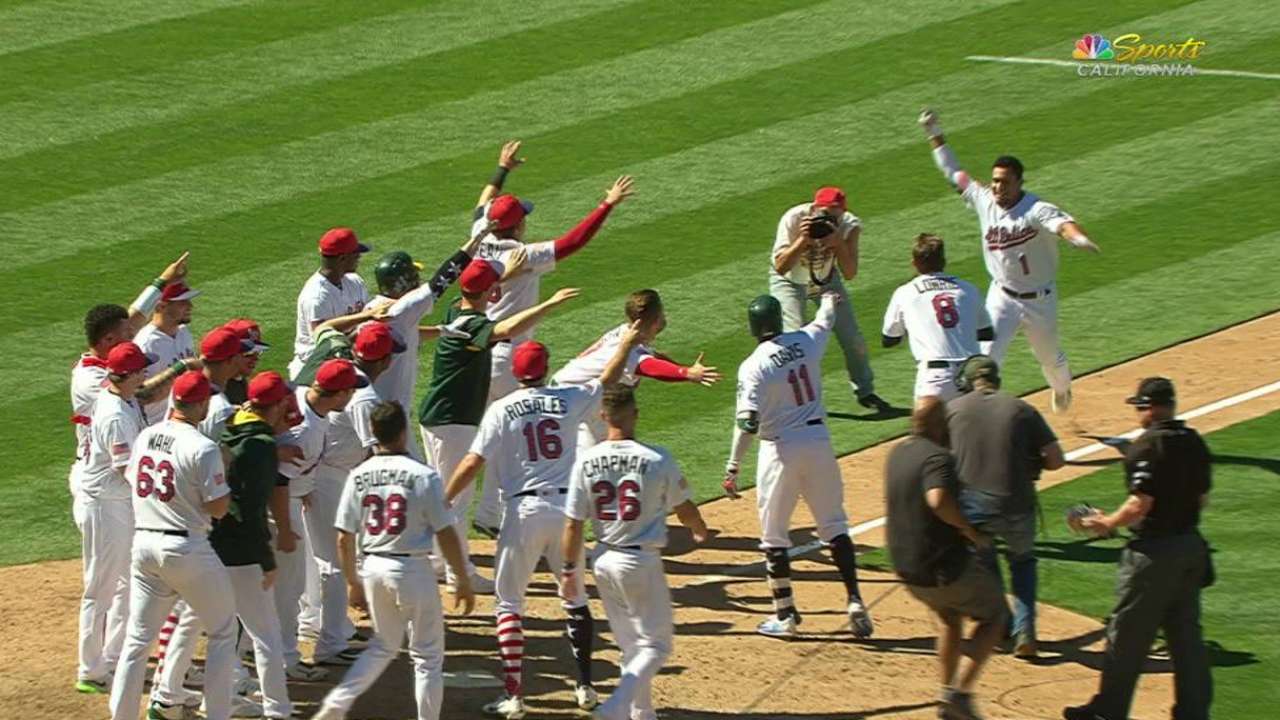 My question involves one of the things Billy Beane and David Forst are best at: Trading for value. There are plenty of youthful players who are considered untouchable. However, what do the A's do, considering there needs to be a balance between youth and veterans? Do the A's trade Franklin Barreto for pitching help and hope Chad Pinder can be the ultimate Ben Zobrist, or do they trade Ryon Healy so that Khris Davis can be the full-time DH?
-- DJ C., Hayward, Calif.
Barreto isn't going anywhere, but Healy and Davis are arguably expendable, meaning one of them could potentially be dealt this winter. Healy, it seems, is more likely to go, given the current roster configuration. Squeezed out of an infield job this year, Healy mostly fits in a DH role -- a job the A's would likely prefer to have Davis handle on a full-time basis, which would allow them to make a defensive upgrade in left field. Healy's on-base number dropped this year, but he still has the type of power that will likely draw interest from several clubs seeking a low-cost offensive boost. The A's, meanwhile, could use him as trade bait to evaluate outside relief help.
• Submit a question to the A's Inbox
Do you expect Jed Lowrie to be on the A's roster for the entirety of the 2018 season, or do you expect him to be dealt at the Trade Deadline? How does the uncertainty of Jed's future affect the plans for Franklin Barreto, Chad Pinder, Joey Wendle, etc. to eventually take over second-base duties?
-- Michael C., Castro Valley, Calif.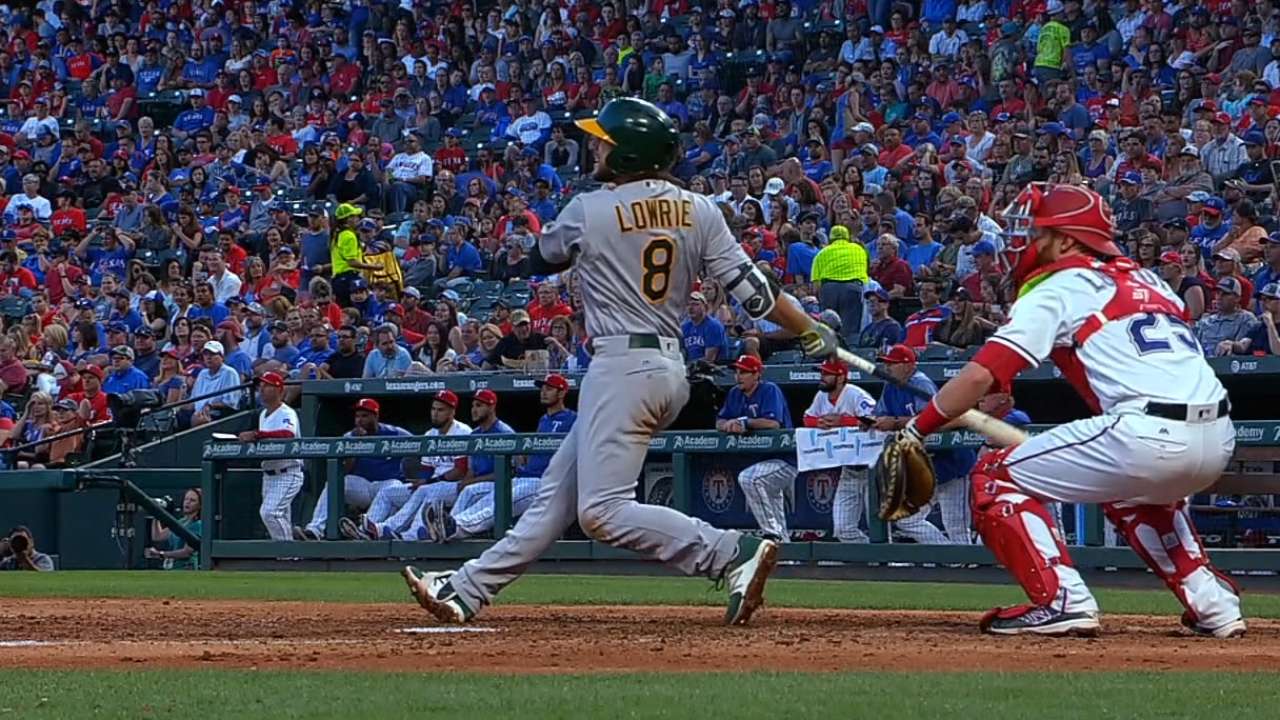 I was probably asked a similar version of this question a dozen times heading into Spring Training and was confident in saying Lowrie would more than likely be dealt at the Trade Deadline, opening a window for Barreto. This was always assumed but, as you know, never transpired. Lowrie enjoyed one of the best seasons of his career, leaving the A's no choice but to keep him on board through the Trade Deadline and all but guarantee they'll pick up his club option for 2018.
Now, my answer is again the same. I do think Lowrie will be dealt at the Trade Deadline, only because we know he'll be a free agent at season's end, and the A's long-term plans at second base revolve around Barreto. That, of course, could change if Lowrie is fueling a contending A's team midsummer.
Why does everyone seem to think the A's won't contend until the new stadium opens? I take a look around the diamond and see a winning combination of players. Put Dustin Fowler in the outfield mix, add a top starting pitcher and a few key bullpen pieces, and you have a contender. What do you think?
--John W., South Glen Falls, N.Y.
I think that's the general consensus, but it's obviously easier said than done. No position is more volatile than pitcher, which is why the A's will be quite cautious when deciding whether to add a veteran arm to an otherwise youthful staff this winter. They're rather confident in the current mix -- a group that collectively endured growing pains this year while intermittingly showing great potential for the future. The hope is that they will only get better; should this be the case, there's no reason to believe this offense-powered A's club couldn't at least contend for a Wild Card spot.
Are there any updates on Chris Bassitt? He was so impressive early in 2016. Do you think he has a chance to still pitch for the A's next year?
-- Charlie G., Surf City, N.C.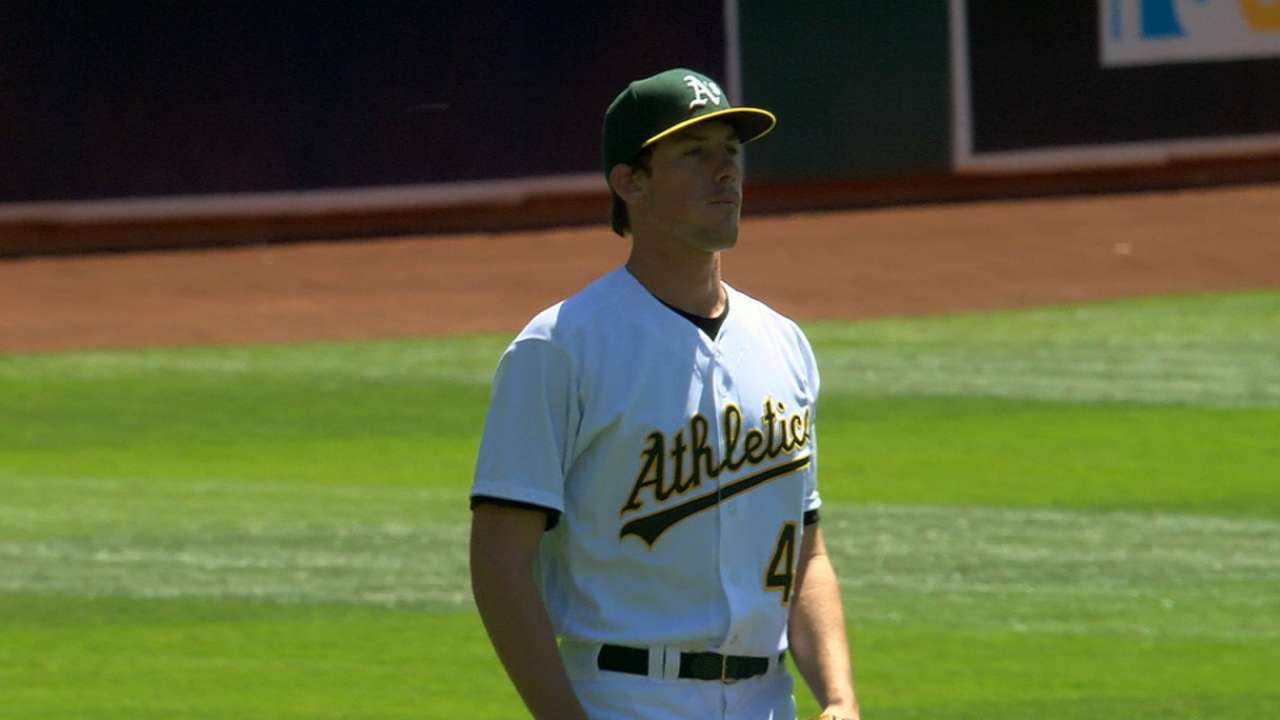 Bassitt could definitely pitch his way on to the roster next spring, but it's yet to be determined if he'll be able to do so in a starting role. While working his way back from Tommy John surgery this year, Bassitt managed to get in 50-plus innings in the Minors -- most of them in a relief role. As a starter, Bassitt would be asked to essentially triple that count, which probably doesn't make sense from a health standpoint. So I'm guessing the A's would feel most comfortable keeping him in the bullpen, and Bassitt could potentially thrive there in a long-relief role.
What happened to Jaycob Brugman? I thought he did fairly well in his big league callup, but then he was left off the September expansion roster. What gives?
-- Jenna K., Lafayette, Calif.
Brugman undoubtedly proved he can handle big league pitching, but his defense wasn't always up to par in the outfield, which is why the A's -- who were rounding into a better defensive club around him -- turned to Boog Powell. Both players are still considered to be in the mix for an outfield job next year, but the competition will be stiff, especially with Fowler expected to enter camp fully healthy.
Jane Lee has covered the A's for MLB.com since 2010. This story was not subject to the approval of Major League Baseball or its clubs.