A's to seek complements to young core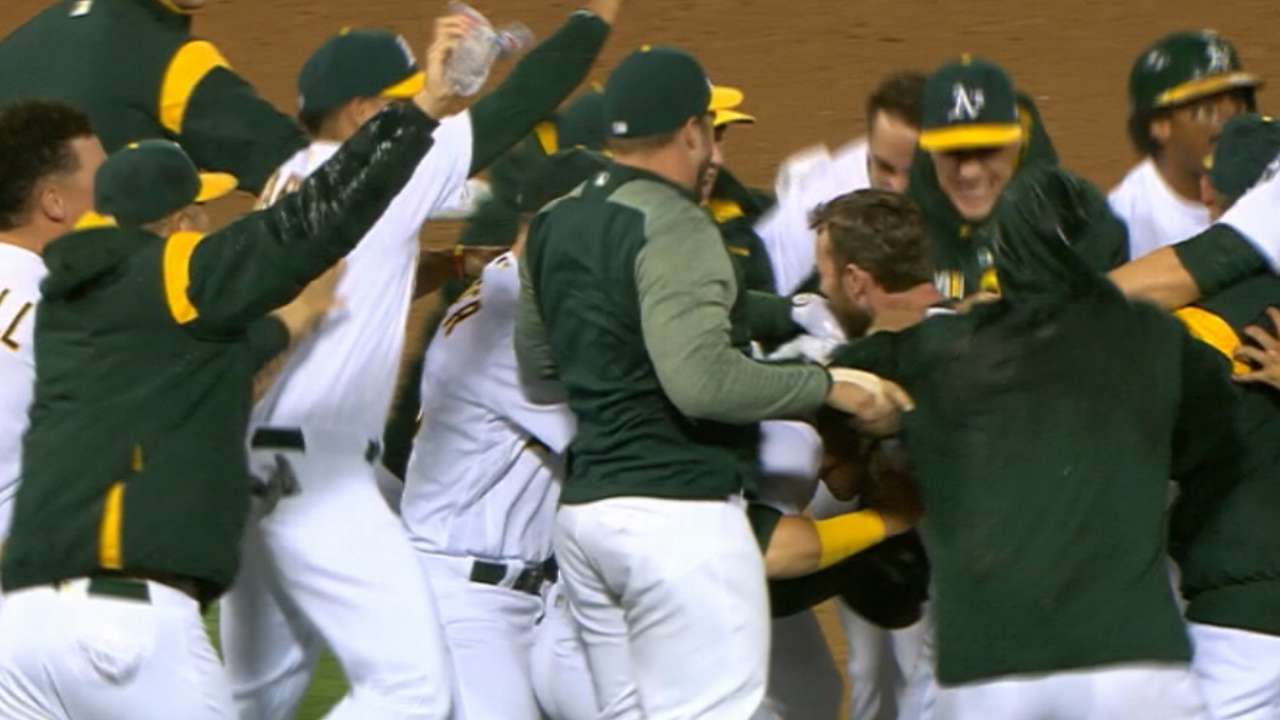 OAKLAND -- The A's are readying themselves for the future, collecting young talent that can help them bring winning baseball back to Oakland.
That process, of course, is already underway, the A's equipped with many pieces they believe to be at the center of this core. Identifying the missing parts is the next step, a measure that will keep them plenty busy this offseason.
Oakland finished 75-87, marking a six-game improvement on 2016, but still came in last place a third straight year.
"We still have a long way to go to get to where some of the other teams in our division are," A's general manager David Forst said. "But we'll spend the next month or two evaluating and analyzing exactly who the guys are who are everyday players, who we can write in every day and where we have to upgrade."
A's executive vice president of baseball operations Billy Beane committed to a rebuild just months ago, but he also has a sustained track record of doing his part to field a competitive club each year. He plans to tread this balancing act carefully.
"One of the advantages of having a young team is usually it's a lot less on your payroll," he said. "We'll be fluid, but listen, I think we still have to be opportunistic. I think David and I are both so competitive, we're not just going to accept the fact that, hey, this is part of a multi-year plan, and as it relates to the budget, there may be opportunities [to say], 'Hey, he might not be a young guy, but he fits who we are right now and would be a good addition with these young guys.'"
Arbitration-eligible: OFs Khris Davis and Jake Smolinski; INF Marcus Semien; C Josh Phegley; RHPs Kendall Graveman, Blake Treinen, Chris Hatcher and Liam Hendriks
Free agents: None
Potential free-agent targets: Expect the A's to at least monitor the starting pitcher market, though they insist major additions aren't likely. Even though the A's young starters collectively struggled this year, the club's decision-makers plan to stick with this group, maintaining that an organic approach historically breeds the most success. At the same time, the A's rarely sit idle in the winter, leaving open the possibility of a low-cost signing. Free-agent veteran starters who fit this mold include Doug Fister, Andrew Cashner and Scott Feldman.
Wild card scenario: The A's tend to lean heavily on the trade market, which is the route they'd likely take should they make any big headlines this offseason. Ryon Healy could potentially be had in a deal, and the A's could also dangle Davis, who is projected to earn $11 million in 2018. He's easily their most valuable chip, but his value is also the reason the A's would prefer to keep him.
Jane Lee has covered the A's for MLB.com since 2010. This story was not subject to the approval of Major League Baseball or its clubs.