Weeks returns to A's unsettled second-base battle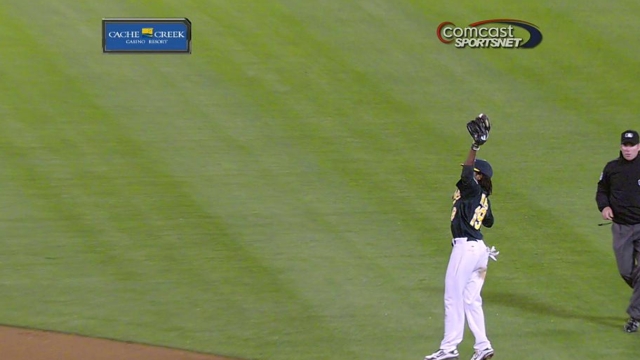 PHOENIX -- Oakland's roster remains largely unsettled just 17 days before it must be finalized.
More specifically, the club has yet to identify its middle-infield starters up to this point, and those decisions might even carry into April, manager Bob Melvin said Thursday.
There are almost too many contenders at second base, and the leading competition between Jemile Weeks and Scott Sizemore has seemingly been a bust. Weeks lost two weeks to a shoulder injury and will be in the starting lineup Friday for the first time since March 1. Sizemore, meanwhile, is hitting just .125 after going 0-for-3 with two strikeouts and stranding seven men on base in Thursday's 6-2 loss to the Rangers.
Typically, teams don't put too much stock into spring performances, but the A's have no choice but to do so this year, with so many question marks surrounding their roster.
Jed Lowrie, then, could ultimately appear in the Opening Day lineup at second base, should the A's not feel comfortable with Weeks or Sizemore by then. Lowrie is having a dynamic spring, batting .375 with two home runs and nine RBIs for his new team.
But could Lowrie also be needed at shortstop? It's possible, since the A's don't yet appear to be sold on Japanese infielder Hiroyuki Nakajima, who has simply proved to be subpar on both defense and at the plate.
Melvin, it seems, is only certain of one thing.
"Certainly Jed Lowrie is a guy that we're going to have to find a spot for him somewhere the way he's playing now," Melvin said. " He's certainly making a case for himself to be in there somewhere. Whether that's every day at a position or moving around, which you've seen him do here in spring, that's still open for debate, too."
For the four infield spots, the A's are likely to carry six bodies. Josh Donaldson is expected to start at third base, with Brandon Moss manning first. That leaves four spots for these five: Nakajima, Lowrie, Weeks, Sizemore and Adam Rosales, a mix that doesn't even include other options Eric Sogard and Andy Parrino. In the end, it's likely going to be Weeks or Sizemore who is sent down to start the year at Triple-A.
Melvin, of course, isn't ready to have those discussions, though, with a little more than two weeks still on his side.
"Even maybe when we get [the season] started, we're not sure the exact formula where everybody goes," he said. "We're pretty consistent in saying we're going to take a good hard look at everyone.
"The one thing we will know, at the end of spring, we'll be down to 25 guys."
Jane Lee is a reporter for MLB.com. This story was not subject to the approval of Major League Baseball or its clubs.