Comfort level eluding Nakajima in first spring foray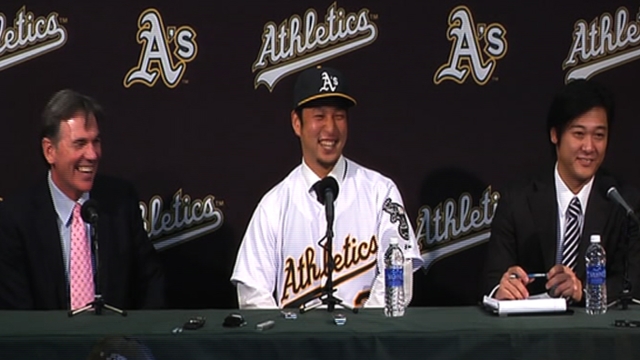 PHOENIX -- On a day when he made a pair of wayward throws, one which resulted in an error, A's shortstop Hiroyuki Nakajima stood at his locker and expressed confidence in his defensive progression. It's his offensive game that's lagging, he believes.
"I've been wondering and thinking," Nakajima said. "I'm definitely not at the comfort level I was in Japan."
The infielder believes that will come with time, but there's not much of it before the regular season begins, and it's unknown whether the A's are intent on sticking with him on an everyday basis when it does.
"More experience will help me understand the flow of the game better," Nakajima said. "I want to make those necessary adjustments while learning from these experiences."
Through 11 spring games, Nakajima is 6-for-25 (.240) with 10 strikeouts and just one extra-base hit. His on-base percentage, manager Bob Melvin noted, is much higher at .387, the result of three walks and three hit-by-pitches. But Nakajima is here to hit.
"Right now, there's always that slight-second pause in my mind," the shortstop said. "Everything's not flowing naturally right now, because of that split-second thought. If I can eradicate that, I think I can live up to my potential and get to that comfort level where I want to be at the plate."
"It looks like he's drifting a little bit," Melvin said. "Some of the video we've seen, he's on his back leg a little more. But you know what? There are a lot of things he's dealing with right now. When you don't get off to the type of start that maybe you would like, swinging the bat, it's tough, because he wants to make a good impression right away."
As for his defense, particularly what was on display Thursday, he believes it was simply out of character, especially since he felt so at ease during the morning's drills.
"I admit that I wasn't well-balanced while I was fielding today," Nakajima said. "The first time I thought I threw a bullet, but then it went way up. The second time, I tried to control it, but then it went into the ground. It was just kind of, overall, an unbalanced day."
"We haven't seen a whole lot of that," Melvin said.
Jane Lee is a reporter for MLB.com. This story was not subject to the approval of Major League Baseball or its clubs.