Balfour expected to make debut on Monday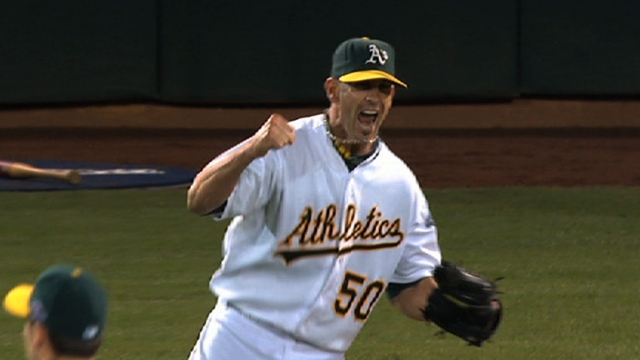 PHOENIX -- Barring any unforeseen setbacks, A's closer Grant Balfour will make his Cactus League debut on Monday.
The veteran right-hander made this known just minutes after throwing 24 pitches to hitters on Friday, marking the second time he had done so since undergoing minor knee surgery four weeks ago.
Balfour followed up the session with a round of running drills, and he said his knee responded to both very well. In fact, "my knee's just kind of a thing of the past now," he said.
"Obviously I have to take care of it," Balfour continued, "but I really haven't been thinking about it. I'm just out there worried about hitting my spots with my fastball and throwing that breaking ball for a strike."
Balfour made use of all of his pitches on Friday, never once inducing a hard-hit ball. That didn't mean he was happy with all of them, though, as his mound manners suggested. More than once the fiery right-hander shared an expletive when a pitch strayed from his target, just as he would during the regular season.
"I treat it like any game and try to get myself fired up," he said. "I'm sure they're not taking at-bats like they would in a game, but for the most part the ball's coming out of my hand good, and I felt like I was getting late swings on my fastball. I even threw it by a couple guys. I like that when they take a pitch that I spot up, I know that I made a good pitch."
Hiroyuki Nakajima was among those who faced Balfour, who he had never seen pitch before. The shortstop said Balfour is "very much intimidating" and he's glad "he's on our side."
"After seeing him pitch, I'm now skeptical he even had surgery," Nakajima joked.
Balfour will have two weeks of preseason action to prepare for the regular season, just as he drew it up following his procedure.
"That's plenty of time," he said.
Jane Lee is a reporter for MLB.com. This story was not subject to the approval of Major League Baseball or its clubs.