Colon, Melvin pleased with latest spring outing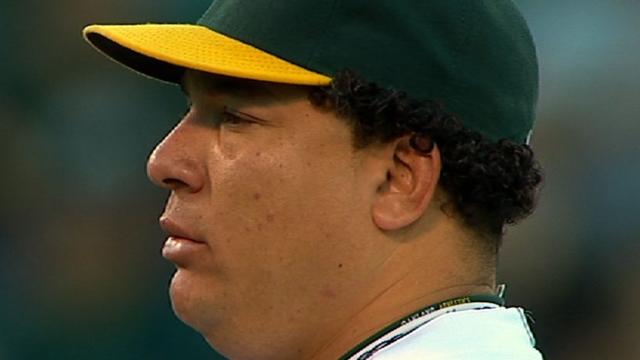 PHOENIX -- No doubt Bartolo Colon is throwing his typical array of strikes this spring. But it seems more than usual are resulting in hits.
Colon's offered up 22, to be exact. That's spanning 11 innings, and no other American League pitcher has surrendered as many in 11 or fewer frames. The White Sox's John Danks is next closest with 16 in 7 2/3 innings.
On Friday, while facing the D-backs, Colon gave up six hits in four innings, allowing two runs to bring his spring total to nine. That's not what the A's are looking at, though.
"They got some decent swings off him," manager Bob Melvin said, "but he used all of his pitches and got his pitch count right where he wanted it, so that's pretty much what we're looking for.
"He looks like Bartolo to me, throwing a lot of strikes, getting his work in, preparing for a season and actually probably throwing more breaking balls at times than I've seen. He's a veteran guy that's always looking to get better, and if he feels he needs to find a different complement, he's not afraid to make adjustments."
Melvin said results aren't as important for such a veteran pitcher as is velocity, and so far there's been no concern in that regard.
Colon, who will turn 40 in May, won't be around the first week of the regular season, as he serves the final five games of his drug suspension. But he is expected to slot into the back of the rotation once eligible to begin making good on the $3 million contract Oakland awarded him this offseason.
Jane Lee is a reporter for MLB.com. This story was not subject to the approval of Major League Baseball or its clubs.