'Green Collar Baseball' campaign enters fourth year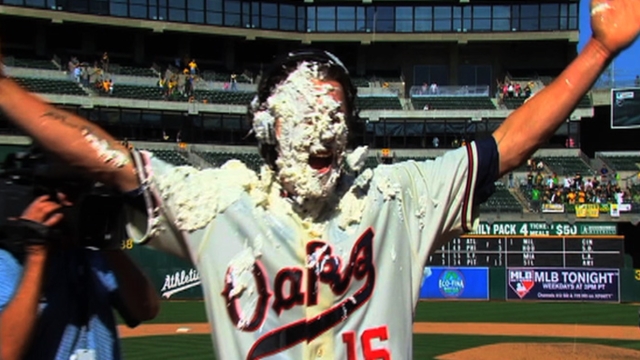 PHOENIX -- The fourth season of Oakland's award-winning marketing campaign, "Green Collar Baseball," officially began Saturday, when the club introduced its new line of television commercials to the media.
"Coming off a season in which the campaign themes of hard work, gritty play, and unconventionality were brought to life so magically on the field, we are excited to continue Green Collar Baseball in 2013," said Jim Leahey, A's vice president of sales and marketing. "This year's advertising will allow fans to connect with the unique personalities on the team that our fans have embraced so enthusiastically."
On Saturday, Leahey was joined at Phoenix Municipal Stadium by DJ O'Neil, who is the creative director and founder of the team's advertising agency, Hub Strategy, to again put in motion these concepts.
Plenty of humor is found in the new batch of commercials, with fan favorites Josh Reddick and Coco Crisp landing the majority of air time. Manager Bob Melvin and coaches Mike Gallego and Chip Hale were also given a good amount of lines, and pitchers Sean Doolittle, Ryan Cook and Jarrod Parker all make their commercial debuts.
Gallego handles a possum in one of the ads and bloopers reveal he also dealt with a tarantula during filming. The tarantula, unfortunately, didn't make it into the final cuts.
Then there's the guru meditating with Crisp, Doolittle, Parker and Reddick in one commercial, and Crisp and Reddick testing out different pie alternatives -- think pizza, spaghetti and ham -- in another. Crisp and Reddick also team up in another ad that features the Bernie Lean, which was brought to life in Oakland last year.
"The A's make up for being a young team with an extra measure of effort, hustle, creativity, and fun -- and what better proof of this than the amazing season these guys had last year," said O'Neil. "Between the Bernie Lean and the walk-off pies, we had some great material to work into this year's TV campaign."
Last year's campaign earned second place in the 2013 National Sports Forum ADchievement Awards, the most recognized advertising competition in the sports industry.
Jane Lee is a reporter for MLB.com. This story was not subject to the approval of Major League Baseball or its clubs.