Anderson feels good after five pain-free innings
Lefty pitches in Minors game, has two more starts before Opening Day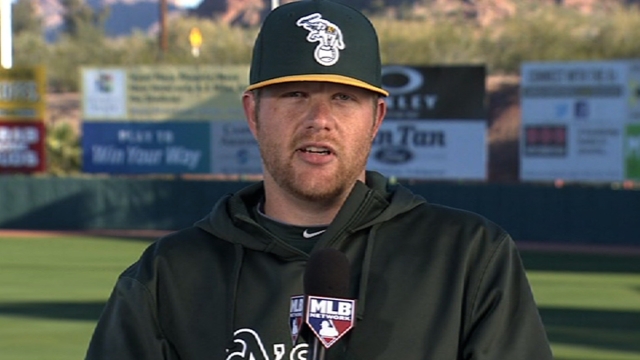 PHOENIX -- The A's can let go of any worry tied to lefty Brett Anderson, who got in five innings in a Minor League game on Saturday just six days after suffering a minor neck injury.
Pitching against a Cubs' Minor League team on the road, Anderson allowed two runs on five hits with three strikeouts and four walks. But those aren't the important numbers for the A's. They'll see he tallied 62 pitches -- all pain-free -- after throwing just seven in his last start before departing early.
"This one was about eliminating all pain and doubt," Anderson said. "It was about making sure my body and arm feel good.
"I was a little rusty, but my body felt good, my arm felt good. Just the fact that I got up and down five times was good. I'm sure I'll be a little sore tomorrow, having made the jump from [seven] to 60-some pitches, but it was good to get my work in and get back on a normal schedule."
Anderson will make two more Cactus League starts in preparation for his April 1 Opening Day assignment.
"Those next two," he said, "just try to hone in on my pitches and make sure everything's starting to get crisp."
Jane Lee is a reporter for MLB.com. This story was not subject to the approval of Major League Baseball or its clubs.