After shaky first inning, 'angry' Blackley settles down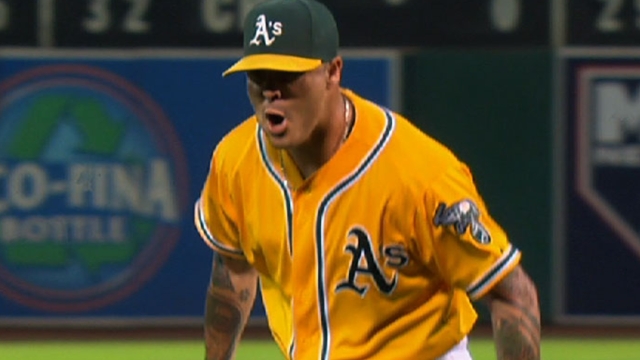 PHOENIX -- Not once has Travis Blackley broke camp on a big league roster. On Saturday, the A's lefty made strides to potentially make that happen.
Inconsistent for much of the spring, Blackley appeared to be in for another forgettable outing, enabling the Angels to score three times in the first inning. Then he retired six of his final eight batters without allowing another run.
The transformation, he said, stemmed from "my intensity behind the pitch."
"I started getting to that fine line of anger, not to the point where I lost it, but angry where I thought, 'C'mon, this has got to change,'" he said. "There was a little more zip maybe, and I started getting that rhythm going, and the trust came along with it, started getting ahead of hitters. And that's how I felt last year. It felt good to finally feel like that. I was very pleased the way I came back after that first inning."
Blackley struck out four overall, including Mike Trout and Albert Pujols, while battling a heavy right-handed lineup. He found he wasn't keeping them honest with his fastball in the first inning, and by doing that in his final two frames, his breaking balls were better for it. His fastball, by the way, has some added velocity this spring, after Blackley put on 8-10 pounds this winter.
"That first inning, I threw a lot of junk early and they were laying off it so I got myself in bad counts," he said. "The second and third innings, I went right at them with the two-seamer and put myself in a better position to succeed and that's what happened.
"Considering it could have been a really bad day after the first, I'm happy with how it turned out. Today was the best I've felt since last year. Normally I'd be upset about three runs in three innings, but I'm actually real happy about that."
Blackley was highly versatile for the A's as a starter and reliever last year and is out of options, seemingly making his chances of remaining on the team as a reliever strong. But manager Bob Melvin wouldn't tip his hand when asked about Blackley's roster status following his Saturday start.
And while Melvin was happy to see Blackley throw all of his pitches for strikes, he noted, "You don't want to go out there and give up three runs in the first inning, either."
Said Blackley: "As for making the team, I'm just trying to put that out of my head and compete. Worrying about it won't change anything. I just gotta show that I'm the same guy I was last year, pitch ahead in counts, pitch to contact … be economical and stay out of those big innings."
Jane Lee is a reporter for MLB.com. This story was not subject to the approval of Major League Baseball or its clubs.