Nakajima becoming more and more comfortable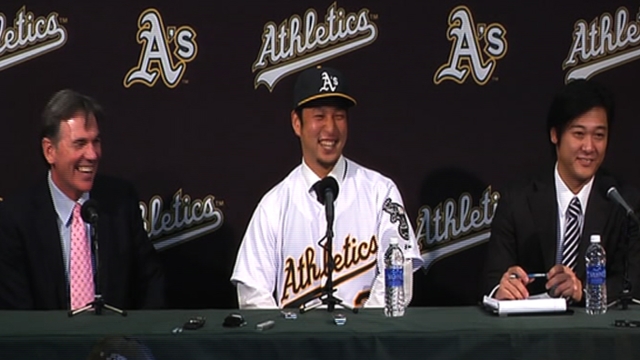 PHOENIX -- Twice Hiro Nakajima stepped to the plate with runners in scoring position on Sunday, twice getting an opportunity in a key situation to show his employers, his teammates and his fans that, yes, his offensive game is improving.
But by day's end, the infielder was hitless in three at-bats, his spring average down to .194. Still, he stood by his locker with a smile after exiting the game and said that his at-bats are indeed getting better, even though he had nothing to show for it.
"I didn't really feel pressure," Nakajima said through his interpreter. "The first at-bat, there were two outs with second and third, and of course there was the internal thought to get them in, but I feel like my swing, making contact, it's getting better.
"I was able to swing the bat without so much thought process going through my mind. With more practice, my feeling is just starting to get there. It's not a concrete thing, but more of a feeling."
Nakajima's struggles to adapt to the big league game have been well documented, and manager Bob Melvin believes they'll only lessen with more experience.
"It's been a tough time for him," Melvin said, "and whether it's part of being with a new team, the whole culture shock, being in a new league, all these things can play into it, and each guy takes it at his own speed, and there's something to be said of getting acclimated. He's probably not there yet."
This process doesn't happen overnight, and the A's are sensitive to that. Nakajima's teammates are also understanding of the many challenges facing him.
"I think it's tough for him," agreed Eric Sogard, Nakajima's double-play partner on Sunday. "He's starting to get a little more comfortable out there, and I think you'll see him continuing to get more comfortable. He'll do his thing."
Whether that will be by April 1, though, is unclear, and the A's will have to decide if he's ready for regular-season play by then or if they're better off plugging Jed Lowrie into the Opening Day lineup at shortstop.
Ask Nakajima if he'll have reached that necessary comfort level by then, and he doesn't hesitate.
"Yes," he said. "I definitely think so."
Jane Lee is a reporter for MLB.com. Read her blog, Major Lee-ague, and follow her on Twitter @JaneMLB. This story was not subject to the approval of Major League Baseball or its clubs.