Straily pleased with outing, Melvin perhaps less so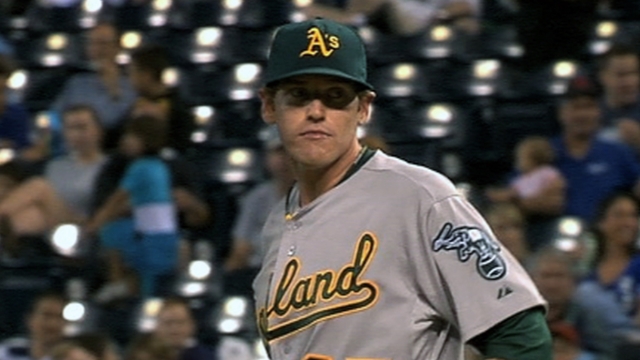 GLENDALE, Ariz. -- Right-hander Dan Straily is being evaluated perhaps more closely than any other member of the club's rotation, for the simple reason that he has the least experience.
But how, exactly, is he being watched?
"You want to see progression, is what you want to see," said manager Bob Melvin. "He's been a little spotty at times, and he's got good enough stuff to be more consistent than he has been at this point."
Straily gave up back-to-back home runs on back-to-back pitches in the first inning on the road in Tuesday's 7-1 loss to the Dodgers before settling in for three shutout frames.
Straily admitted to the pair of mistake pitches but was otherwise very pleased with the way he bounced back, saying, "I feel like today was not that bad at all."
"I felt a big confidence build," he added. "I went out there and felt convicted by every pitch, even the back-to-back home runs. I hung a pitch, and that's what guys do with those pitches. For me to go out there and make two mistakes, it felt like a pretty successful day for me. To throw up three zeros after that, no complaints here."
Melvin wasn't as inspired. Four of the five hits allowed by Straily came with two outs. So did two of the three walks he issued.
"You know, I'm getting tired of saying, 'Yeah, he recovered well and didn't give up anything after the first,'" Melvin said. "He had two outs and nobody on, and he walks a guy on four pitches. You can't do that. You've got to finish the inning."
Straily, who made six big league starts last year, is pretty much assured of at least one start with the A's when the regular season begins while Bartolo Colon serves the remaining five games of his suspension. After that it's almost guaranteed he'll go back to Triple-A.
That was the plan all along, which is why Straily isn't putting too much thought into it. He has a 6.59 ERA with two spring starts to go.
"I'm sure they already knew what they were doing before they got here," Straily said. "I'm sure there's nothing anyone really could have done to change their mind. All I can do is get ready. I'm getting ready for 30-plus starts, whether that's in Oakland or Sacramento. That's not up to me. That's up to the guys up top. I feel like thinking about that stuff would be a waste of time."
Jane Lee is a reporter for MLB.com. Read her blog, Major Lee-ague, and follow her on Twitter @JaneMLB. This story was not subject to the approval of Major League Baseball or its clubs.