Cespedes shows he's learned the benefits of pacing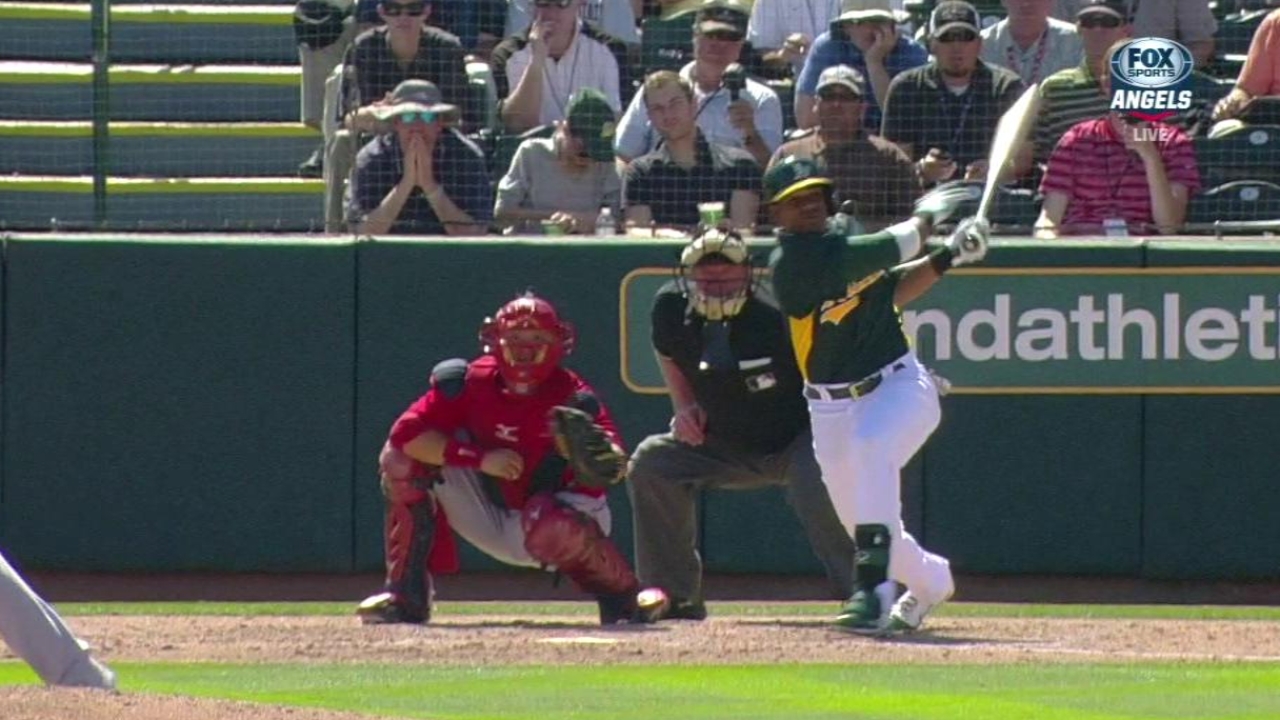 GLENDALE, Ariz. -- "What's with Yoenis Cespedes and his sub-.200 average?"
A local reporter wryly lobbed this question at Bob Melvin on Tuesday morning trying to hold back a grin, and the manager responded with one.
"Oh, I'm not too concerned about that. He's pacing himself," quipped Melvin.
At this time last year, that wasn't the case. Cespedes was spraying balls all over the field and past its walls, eagerly trying to impress his new employers and ease their minds about the $36 million they had just given him.
Looking back, Melvin says, Cespedes may have gone a bit overboard in the early going -- that's just his style, really -- and as a result was worn down by year's end.
"He wasn't as understanding about a 162-game season as he is now," Melvin said. "He was tired at the end of the year. He'll admit that. He was banged up some. We used him at DH some to try to combat that. But I think he now has a better understanding of how to pace himself over the course of a 162-game season."
"Last year I was only in Spring Training for about 15 days," said Cespedes through his translator, A's coach Ariel Prieto. "It was my first year, I didn't know if I could play, and I tried to put out the best of what I had. This year, everyone knows I can play baseball, so I can slow down a little bit."
Cespedes entered Tuesday batting .182, and a 1-for-3 day against the Dodgers, who watched him unleash a home run to left field in the fifth inning, raised it to .194. This, after he spent most of his Monday in Minor League camp, compiling an extra five at-bats on what was supposed to be an off-day.
It was his idea.
"I didn't want the day off," he said. "I want to continue recognizing pitches. I want to hit."
That wasn't an issue in his rookie season, when he led the team with a .292 average and racked up 23 home runs and 82 RBIs in 129 games, finishing second in American League Rookie of the Year voting behind Mike Trout.
Surely, then, he can enter his sophomore season with ease.
"He doesn't ease into anything," Melvin said. "It's kind of who he is. So therefore, it's our job to get him to cut back some. And whether it's early work or late work, he has cut back on that."
Cespedes won't sneak in some at-bats in the Minors on the team's off-day on Wednesday, like he might have last year. Instead he'll play paintball for the first time, with teammate Coco Crisp.
Jane Lee is a reporter for MLB.com. Read her blog, Major Lee-ague, and follow her on Twitter @JaneMLB. This story was not subject to the approval of Major League Baseball or its clubs.