Melvin sees positives in Colon's uneven Minors start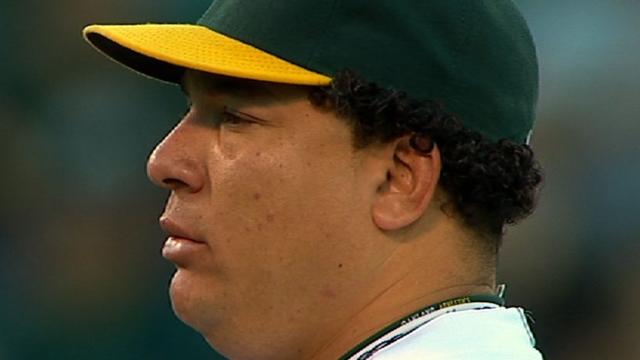 GOODYEAR, Ariz. -- Oakland had a rare spring off-day Wednesday, but Bartolo Colon made an appearance with the Minor League team in order to keep his schedule intact.
Colon's final line -- 10 hits, two walks and five runs over five-plus innings -- is certainly nothing to drool over, but manager Bob Melvin was pleased with the report he received.
Melvin was not in attendance as Colon faced an Angels' Minor League team, but pitching coach Curt Young was on hand and reported back to the manager.
"There were a lot of balls on the ground, his velocity was good -- 90 to 93 -- maybe some poke hits, and [he] got a little tired at the end," Melvin said. "But [he] felt good, and with a guy like him, with his experience, [it's] more important [that he's healthy] and getting the pitches."
The Athletics were hoping to get around 80 pitches from Colon, who finished with 81. The right-hander has a 7.36 ERA in 11 innings pitched this spring, but Melvin is not concerned.
"The one thing about the few veterans we do have is they are serious about what they are doing out there," Melvin said. "He is working on some things. It's not like he's just throwing the ball up there. He's trying to get a good workout out of it and get something out of it."
Melvin said Colon, who threw 89 percent of his pitches for fastballs in 2012, has been working on his changeup and breaking balls.
Colon will miss the first five games of the regular season as he finishes up his suspension for violating Major League Baseball's drug policy. before he joins the team. However, Melvin remains undecided on when Colon will be worked into the rotation and make his debut.
William Boor is an associate reporter for MLB.com. This story was not subject to the approval of Major League Baseball or its clubs.