Nakajima adjusting to Majors and new home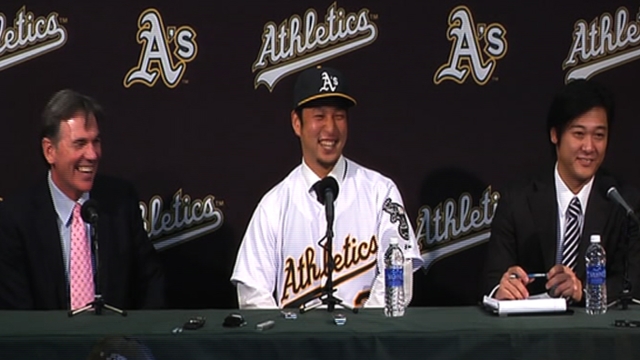 GOODYEAR, Ariz. -- Hiroyuki Nakajima's .176 Spring Training batting average is not where he or the Athletics organization would like it to be, but manager Bob Melvin is being patient.
Melvin is evaluating Nakajima differently than the rest of the players in camp because his situation is, well, different.
"It's easy to sit here and look at his performance … [but] he is having a lot of things he has to deal with that nobody else is," Melvin said. "He is going through a lot more."
The shortstop hit .311 in Japan last season, so the A's know he has talent and potential. However, Nakajima is adjusting to not only life in the Major Leagues, but to life in America as well.
"There's a learning curve for him right now, and everyone handles that differently," Melvin said. "It's difficult to come into this country and have to deal with the things he's had to deal with that aren't just on-field stuff."
While some of the off-the-field adjustments will come with time, the A's are trying to get the 30-year-old shortstop ready for the regular season as soon as possible.
Nakajima was not in Oakland's lineup Thursday, but he will get some at-bats with the Minor League team.
"[We are] trying to combat lack of experience here by getting him some more at-bats, but not overdo it to where we wear him out," Melvin said.
William Boor is an associate reporter for MLB.com. This story was not subject to the approval of Major League Baseball or its clubs.