Anderson will have different approach in final spring tilt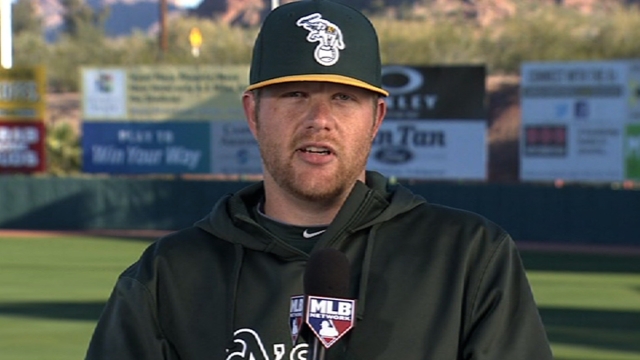 GOODYEAR, Ariz. -- Brett Anderson's stats may not have looked like those of an Opening Day starter, but he was able to take some positives from Thursday's start against the Cincinnati Reds.
"The results weren't awesome, but I take more positives than negatives from this outing," Anderson said. "[I] threw some good pitches, threw some not-so-good pitches [and] threw some pitches I wouldn't ordinarily throw in a regular season game."
Anderson threw 4 2/3 innings, allowing six runs on eight hits and striking out five. He now has a spring ERA of 9.45.
"He got his pitches in," manager Bob Melvin said. "He threw quite a few changeups to work on that, a couple of them got hit."
The left-hander began his outing sharply, striking out two and retiring the side in order in the first. However, that was the only inning in which Anderson faced the minimum number of batters.
In the second inning, Anderson allowed three extra-base hits and three earned runs.
"That was a really long top of the second there," Anderson said. "It took me a little while to get back into rhythm."
Anderson is expected to make one more Cactus League start prior to the Athletics season opener on April 1 and said he will approach that game more like a regular season tilt instead of working on certain pitches.
William Boor is an associate reporter for MLB.com. This story was not subject to the approval of Major League Baseball or its clubs.