A's get Nakajima some work at second base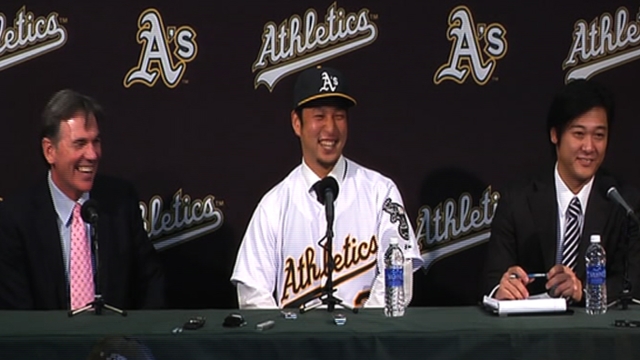 SCOTTSDALE, Ariz. -- In an effort to diversify their new shortstop's skill set, the A's sent Hiro Nakajima over to a Minor League game Saturday to rack up some innings as a second baseman.
"We still look at him as a shortstop. He is a shortstop," manager Bob Melvin said. "Everybody else is playing different positions. It just kind of goes along with that theme. We try to be as versatile as we can, and he's the only infielder who has only played one position this spring, so we'll mix him in at second."
The A's haven't been wowed by any of their leading second-base candidates this spring. All the while, the versatile Jed Lowrie has been very productive, and he's said all along that he feels most comfortable at shortstop, which is another reason why Nakajima playing second base makes sense.
The Japanese infielder was scheduled to play three innings at second base and three at shortstop in Saturday's Minor League game, a setting that also allows him to pick up more at-bats. Nakajima is just 6-for-37 (.162) through 15 games.
Melvin said Nakajima is on board with playing second base, though he was unsure whether the infielder would see time there in a Cactus League game before camp breaks.
"He's great," he said. "All you have to do is ask him, and he wants to please, wants to help out in any way he can. He understands, too. He even said to me the first day I met him, 'I understand we're moving around a bit. I'm willing to do anything.'"
Jane Lee is a reporter for MLB.com. This story was not subject to the approval of Major League Baseball or its clubs.