Sizemore hopes big outing is his breakthrough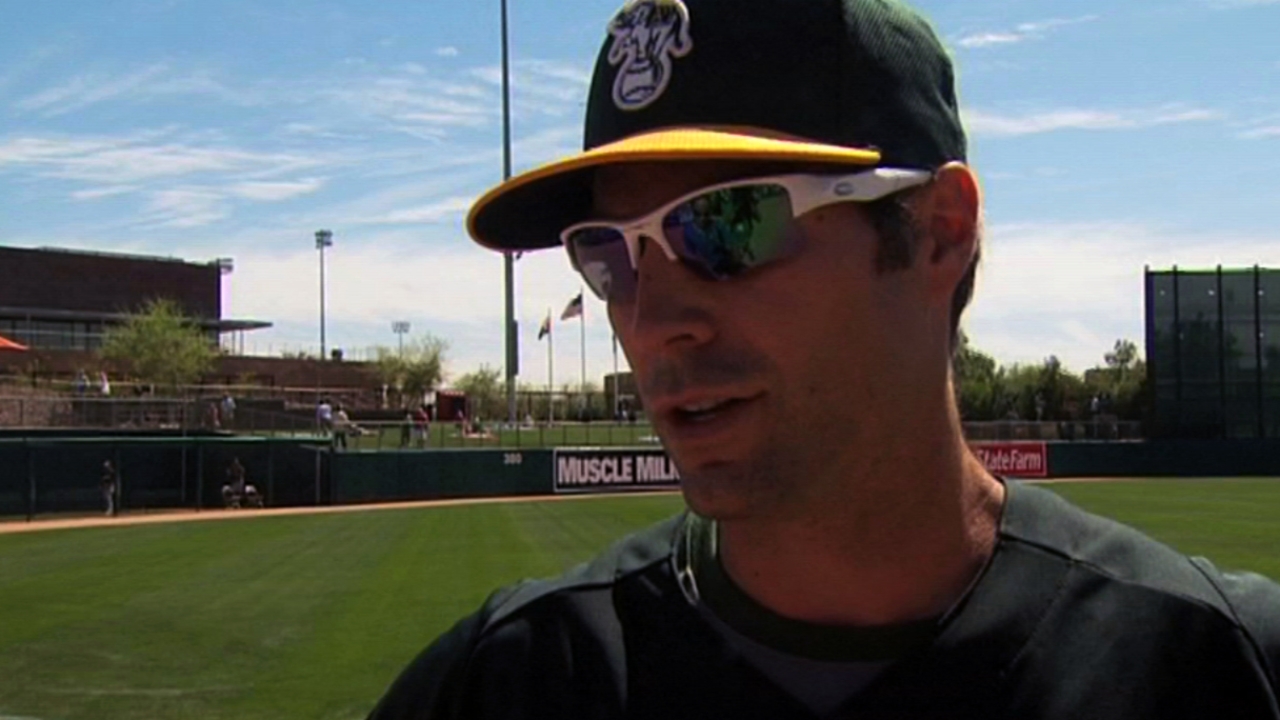 PHOENIX -- See ball, hit ball. Scott Sizemore, who has struggled for much of the spring, did this four times in as many tries and drove in two runs Monday.
"I've been seeing the ball a lot better the last four or five games, and now I'm kind of putting the timing together, getting some results and gaining some confidence, which is also allowing me to kind of trust my swing," Sizemore said. "I still have some work to do, but I definitely feel like I'm making strides."
Monday's performance was just what Sizemore needed not only to aid his own chances of making the club, but to help validate the A's decision to option Jemile Weeks to Triple-A on Sunday, with a week still remaining before rosters must be set.
With Weeks out of the picture, Sizemore has the opportunity to stake a claim on the second-base job. Adam Rosales and Eric Sogard are still considered strong candidates, but continued production from Sizemore could put this battle to rest.
Sure, it was just one day, but manager Bob Melvin believes that is all Sizemore ever needed to get going. He entered Monday's game with just seven hits in his previous 41 at-bats.
"I think just getting him out there and getting him a lot more at-bats, he's feeling a lot more comfortable, and that's the way he swings the bat," Melvin said. "That's all it takes, and that's kind of what we're talking about with [Hiro] Nakajima. It takes one of those games to get you going, get your confidence up and start thinking positively and doing your thing."
Sizemore acknowledges that he perhaps lost some of that confidence while sidelined for a few days after getting hit by a pitch on his hand early in camp. Sitting on the bench gave him too much time to watch teammates like Rosales and Sogard hit away.
"Those first few games back, I was struggling and striking out a ton," Sizemore said, "and I just had to take a step back and relax and worry about the process and not be so result-oriented."
Sizemore is very familiar with the practice of patience, having sat out all of 2012 while rehabbing his surgically repaired knee.
"Obviously you can only say things are going to click for so long before you begin to doubt it a little bit," he said. "I feel like I've been making progress, and today was kind of a good indicator of that, that I'm making strides. I just hope I can have more days like this.
"It's a breath of fresh air to have some success and feel like I know what I'm doing up there again. It's not easy to come back and have it all click, that's for sure."
Jane Lee is a reporter for MLB.com. Read her blog, Major Lee-ague, and follow her on Twitter @JaneMLB. This story was not subject to the approval of Major League Baseball or its clubs.