Bullpen spots still up for grabs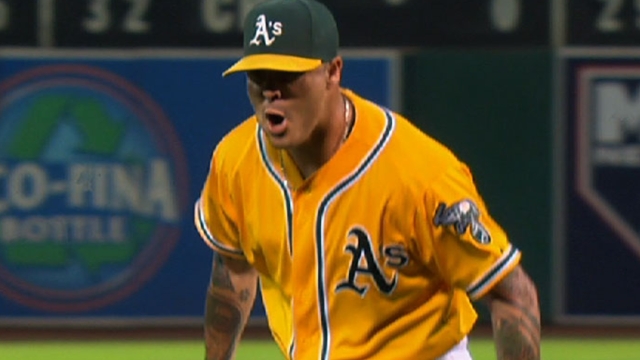 SAN FRANCISCO -- The A's have 12 relievers on their roster and just three more days to narrow that field to seven.
"That's a good problem to have, yet there will probably be a few guys that deserve to make the team that don't," manager Bob Melvin said. "There's usually a couple of guys every year where that's the case, but probably a few more this year, based on the depth that we do have in the bullpen. The last few cuts will be difficult."
But perhaps the actual decisions won't be. Closer Grant Balfour and his set-up men, Ryan Cook and Sean Doolittle, are locks to make the team. That leaves four open spots, and there just so happens to be four relievers -- good ones -- who are out of options.
That group includes lefties Jerry Blevins and Travis Blackley and right-handers Chris Resop and Pat Neshek. Blevins' spot is seemingly secure, and Resop and Neshek don't have much to worry about, either, especially after producing zero ERAs this spring. Blackley, meanwhile, has a 14.21 mark, though his contributions to the 2012 club may end up outweighing those struggles when it comes down to decision time.
"Options always come into play," Melvin admitted. "That doesn't mean that that's the way it's going to go, but certainly when you do have depth and you try to keep everyone in the fold, that sometimes happens. Whether that's the case here, I'm not sure yet."
Blackley is perhaps the most versatile of any pitcher on the A's roster, having pitched effectively as both a starter and reliever for the team last year. Should he make the team, he'd be mostly used in a long-relief role. Melvin said Thursday that he's not committed to carrying a long reliever, but hinted that the job could be done by several others in the event Blackley is not on the team. He dropped the names of Pedro Figueroa, Jordan Norberto, Evan Scribner and non-roster invitee Mike Ekstrom, who, like Hideki Okajima, could all be the odd men out.
Of Blackley, Melvin said: "He hasn't pitched as well as he'd like to this spring, but he did do some very good things for us last year, whether it was starting or long relief, so that plays into it.
"We have a pretty good idea [ultimately], other than maybe one spot," Melvin said. "Maybe two, but maybe closer to one. One and a half. Let's leave it at that. It could come down to some performances these last three days."
Jane Lee is a reporter for MLB.com. Read her blog, Major Lee-ague, and follow her on Twitter @JaneMLB. This story was not subject to the approval of Major League Baseball or its clubs.