Jaso catches another learning curve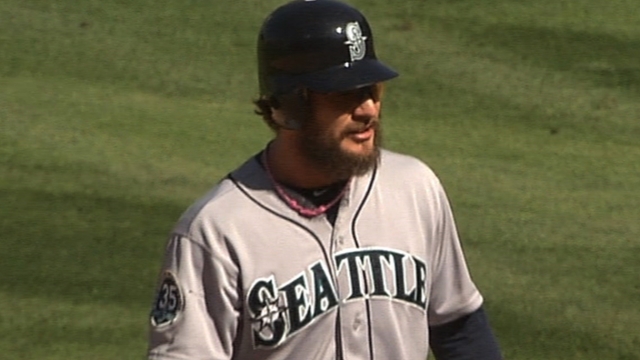 SAN FRANCISCO -- Learning a new pitching staff is simply becoming another rite of Spring Training for John Jaso.
The new A's catcher is in the process of learning his third different pitching staff in as many years, and with four days to go before Opening Night, he feels he's as ready for regular-season action as he'll ever be.
"It's definitely a process, but they've made it easy on me here," Jaso said Thursday. "It's a pretty easy staff to catch, and they're good personalities, so you can talk to them pretty easily if you have suggestions. They're going to listen, and they're going to give me some input, too.
"There's a lot of work that goes into it, but I feel like we've made a lot of progress."
Jaso was chasing plenty of pitches in the dirt during the early going in camp, as he became acquainted with the movement and spin on each hurler's pitches. Finesse pitcher Tommy Milone naturally proved the easiest to catch, Jaso said, while Ryan Cook's two-seamer made him the hardest.
He's found his stride with everyone in between, and the A's are more than confident with his game-calling abilities heading into the season, especially considering his resume. Jaso has already worked with a pair of superb pitching staffs, having caught a 2011 Rays team that compiled a 3.58 ERA and a 2012 Mariners squad that posted a 3.76 ERA.
Now, he's prepared to play catch with a rotation that includes Brett Anderson, Jarrod Parker and Milone.
"At this level, what you do behind the plate is the thing that's most criticized about you," Jaso said. "Coming up through the Minors, it's hitting that's allowed people to jump up level to level. Here, it's all about catching, and going from team to team to team, it's definitely had to become my priority next to hitting.
"Learning a new pitching staff was obviously something I had done before, and I had confidence in doing it. It's a fun challenge, as well."
Said manager Bob Melvin: "First it takes a little while to learn the pitching and subtle movements on guys. There were some balls getting by him early in camp that aren't getting by him now, and I think each and every time he catches a guy he's that much more aware and knows what to expect. I think he's starting to acclimate and get better and better."
The left-handed hitting Jaso is likely to get the start against former teammate Felix Hernandez come Opening Night on Monday. Beyond that, it's not yet clear how Melvin will split playing time between Jaso and Derek Norris, though a platoon may make the most sense. Jaso has no time, or care really, to worry about any of that.
"I don't know what's going to happen with our situation," Jaso said. "I'm just happy someone wanted me on their team. Last year with the Mariners, we were carrying three catchers, and I sat on the bench for almost a month and didn't see any playing time. I was just happy to be there. I didn't feel like complaining or that I was mad at anyone. I feel like I worked too hard in the Minor Leagues and spent too much time there to be mad."
Jane Lee is a reporter for MLB.com. Read her blog, Major Lee-ague, and follow her on Twitter @JaneMLB. This story was not subject to the approval of Major League Baseball or its clubs.