A's debating when to bring back Colon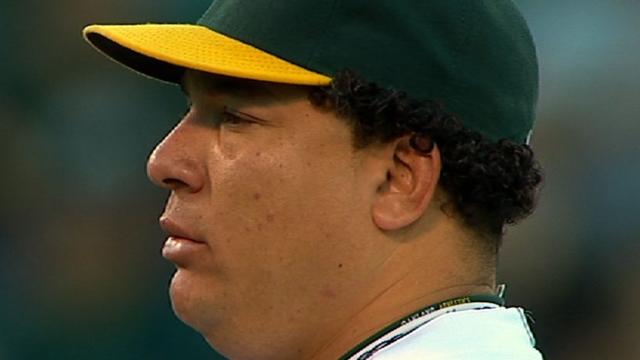 OAKLAND -- Bartolo Colon becomes eligible to pitch in the Major Leagues again April 6, when the Athletics are in Houston for an American League series with the Astros.
Right-hander Dan Straily is penciled in to start the series opener in Houston on Friday. So, what happens the next day?
Colon does not currently count against the A's 40-man roster, but a move will be needed if he pitches against the Astros.
"I could fit him in the sixth day and let everybody else get an extra day," A's manager Bob Melvin said. "I'm not sure yet. He could get a couple of innings [in the Minors] if he needs it."
Straily could be pitching to keep his spot in the rotation and Melvin said his last exhibition start, Saturday vs. the Giants, may help decide the process.
"The last game before the first start you want to ramp it up," Melvin said before Saturday's game. "There's a difference today from regular Spring Training. Arizona can be a tough place to pitch. This is more like a regular-season game."
Melvin mentioned the stadium size and intensity levels as important indicators.
"You want to leave a good impression going into your next start," Melvin said.
Rick Eymer is a contributor to MLB.com. This story was not subject to the approval of Major League Baseball or its clubs.