A's honor Jackson, '73 World Series champs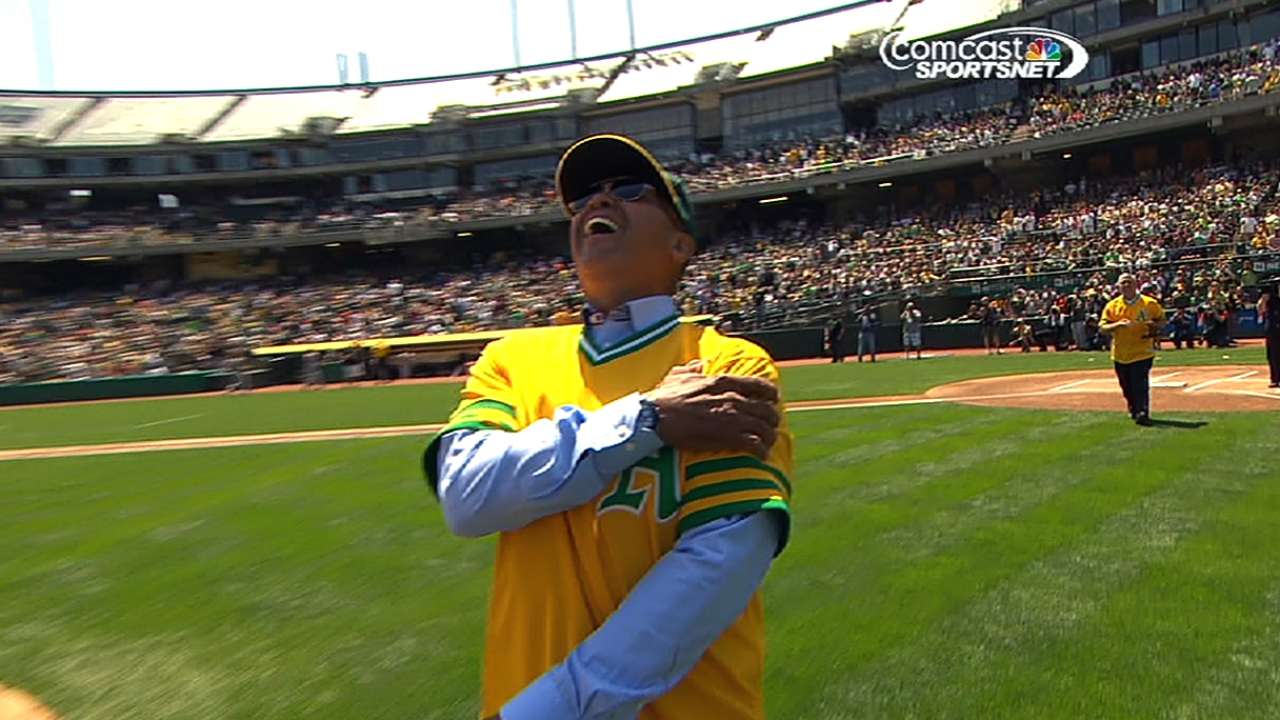 OAKLAND -- Wearing the green and gold 1970s-era jersey, an A's hat and his trademark aviator sunglasses, Reggie Jackson was happy to back where his career began.
The Oakland Coliseum is where Mr. October started to gain his reputation, and it is where the 1973 World Series champion A's had their reunion Saturday.
Asked for his most memorable moment as a member of the A's before going to the Yankees, Jackson said the bonds he had with his teammates were the most special.
"The relationships that I built with Sal [Bando] and [Joe] Rudi and [Jim] 'Catfish' Hunter and Rollie Fingers, remembering that, what [former owner] Charlie Finley meant to me and the organization and how he helped," Jackson said.
"Those relationships helped me as a young man and the person I am today. All the memories are good and wonderful."
It is the 40th anniversary of the team, and a special pregame ceremony honored players including Fingers, Vida Blue, Rudi, Bando, Ken Holtzman and Ray Fosse. Jackson also threw out the first pitch.
Ten thousand fans received a Jackson bobblehead, which shows him taking a swing wearing a pair of '70s-style sunglasses.
The 1973 team was the second of three consecutive World Series winners. In '73, the club went 94-68 and defeated the New York Mets in seven games for the championship.
The team was also loaded with stars, featuring three 20-game winners: Hunter (21-5, 3.34 ERA), Blue (20-9, 3.28) and Holtzman (21-13, 2.97). Jackson was the year's American League MVP after batting .293 and leading the league in home runs (32), RBIs (117) and runs (99).
Manager Bob Melvin grew up in the Bay Area and looked forward to the reunion.
"It was a very unique team, the way they went about their business," Melvin said, adding that World Series teams are always welcome back. "When you're around winners, sometimes it rubs off."
Willie Bans is a contributor to MLB.com. This story was not subject to the approval of Major League Baseball or its clubs.