Melvin reflects on Henderson's impact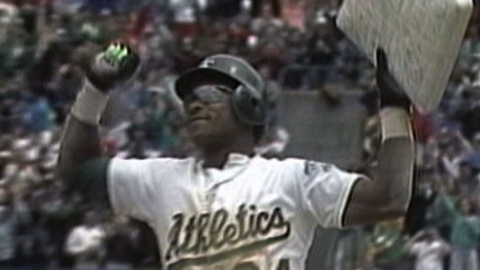 OAKLAND -- Rickey Henderson passed Lou Brock as the all-time stolen-base leader on this date 22 years ago in Oakland.
As a catcher in the American League, A's manager Bob Melvin had his problems with Henderson.
"I actually threw him out in Detroit because he slid past the base," Melvin said. "But it's a guy that when you're a catcher, if ever there's a guy that gets your attention and you want to put down -- fastball, fastball, fastball and away, and hopefully high, and it's the only chance you have to get him."
Henderson stole third base for the record. He ended up with 1,406 stolen bases. He was been thrown out a record 335 times. Henderson is also the all-time runs leader with 2,295, and he accumulated 3,055 hits.
"He didn't care if you were quick to the plate. He had that kind of speed where he felt like if he got his jump, it didn't matter," Melvin said. "So as a catcher, you were very aware that he was over there and it affected the game in so many ways."
Henderson, a Spring Training instructor for the A's, recorded three seasons of at least 100 stolen bases and drew over 100 walks seven times.
"It wasn't just his baserunning. A lot of times it was the fact you knew you couldn't walk him. He walked a lot," Melvin said. "You had to throw the ball over the plate, and a lot of times it ended up in the left-field seats. [He was] one of the more impactful players in the history of the game."
Rick Eymer is a contributor to MLB.com. This story was not subject to the approval of Major League Baseball or its clubs.