Melvin gives the lowdown on injured A's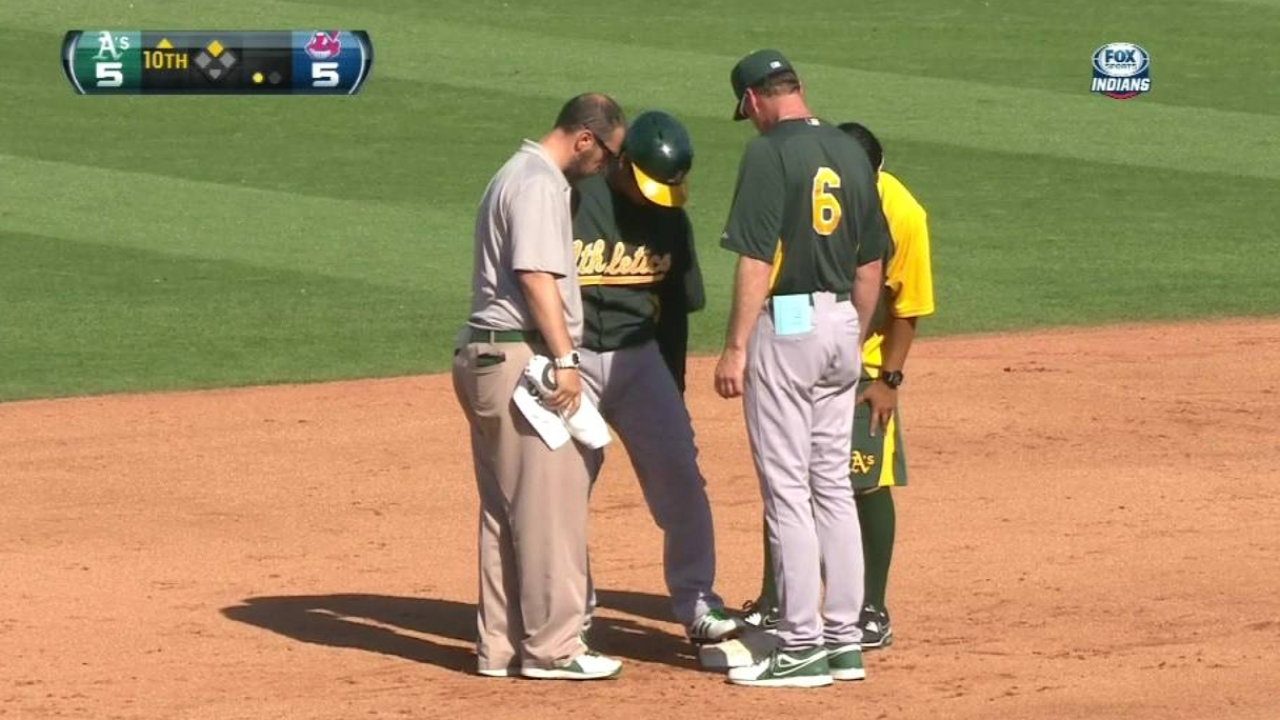 CLEVELAND -- Without a doubt, the A's are thankful to have a healthy Yoenis Céspedes back in their lineup. They're still waiting for a few players to get better, though, and manager Bob Melvin provided updates on some of them on Monday.
Infielder Hiroyuki Nakajima, who's nursing a strained left hamstring, feels "much better," according to Melvin, and is on his way to Memphis, where the Triple-A River Cats begin a series on Tuesday. Left-hander Brett Anderson, who has a sprained right ankle and hasn't played since April 29, was supposed to run on Monday, and if that goes well, he'll come to Cleveland for a bullpen session.
"There's a good chance of that, but again, it has a lot to do with how he does today, running and putting some weight on the foot," Melvin said.
Outfielder Seth Smith hasn't missed significant time this season, but he has been dealing with tonsillitis recently. In his last 15 games, he has hit .180 and racked up 20 strikeouts.
Melvin, who joked about not wanting to shake Smith's hand, called Smith a "tough guy" and doesn't seem worried about his ailment.
"Certainly, any time you have some sort of an illness or something like that, it can take a little of the focus off what you're doing at the plate, but I know he's feeling quite a bit better today," he said. "But it's not like he wanted out of the lineup."
As for Coco Crisp, who has a strained left hamstring, Melvin is unsure whether he is able to run yet.
Outfielder Chris Young is out, too, with a strained left quad.
"When Yoenis was out, we were down a little bit. He has quite the impact on our lineup," Melvin said. "We're missing our leadoff guy, but we have other guys here to hold the fort down."
With Céspedes in the starting lineup, the A's are 13-4. Without him they're 5-10.
Mark Emery is an associate reporter for MLB.com. This story was not subject to the approval of Major League Baseball or its clubs.