Reddick placed on DL with wrist injury
A's bring up Barton from Triple-A Sacramento to fill roster spot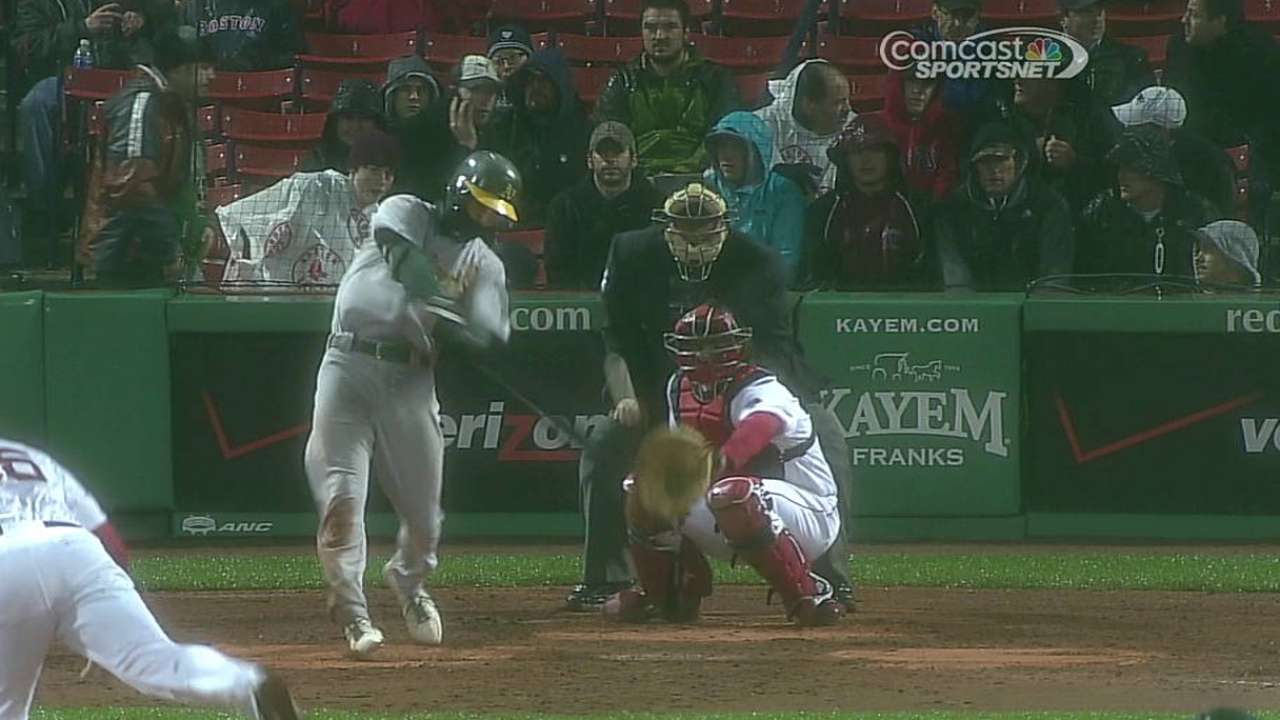 CLEVELAND -- One look at the A's lineup for Tuesday's game against the Indians and it may have appeared that outfielder Josh Reddick's name was absent because of his poor performance at the plate lately. But manager Bob Melvin decided to give Reddick the night off after the outfielder aggravated his right wrist in Monday's 7-3 loss to the Indians.
On Wednesday, the A's placed Reddick, diagnosed with a sprained wrist, on the 15-day disabled list following Tuesday's 1-0 loss to the Indians. Daric Barton was called up from Triple-A Sacramento on Wednesday to fill the roster spot.
"The last few days have been pretty rough," Reddick said on Tuesday. "Obviously, it's not helping my swing any. I had trouble getting to that inside pitch with the wrist hurting."
On Tuesday, Reddick received a Xylocaine shot, took a few modified swings and received a cortisone shot. He believes he injured his wrist when the A's were in Houston from April 5-7. An MRI revealed inflammation.
For exactly how long the injury has plagued Reddick at the plate is unclear, but there's no denying his struggles. Through 29 games, he's hitting .152 and getting on base at a .266 clip. He has just one home run and 14 RBIs.
Reddick was visibly frustrated on Monday, flipping his bat in disgust when he was called out on strikes with the bases loaded in the sixth. The inning came to an end, and so did Oakland's threat.
In his first at-bat, Reddick singled to left, but he followed that with two strikeouts and a flyout.
"The first time up, it looks like, all right, this is what we've been looking for," Melvin said after Monday's loss. "And then the next two at-bats weren't as good."
Last season, Reddick received American League Most Valuable Player Award votes after slugging 32 home runs and 85 RBIs. His .152 average this season is the third lowest in the AL.
Mark Emery is an associate reporter for MLB.com. This story was not subject to the approval of Major League Baseball or its clubs.