Melvin not surprised by MLB's statement about call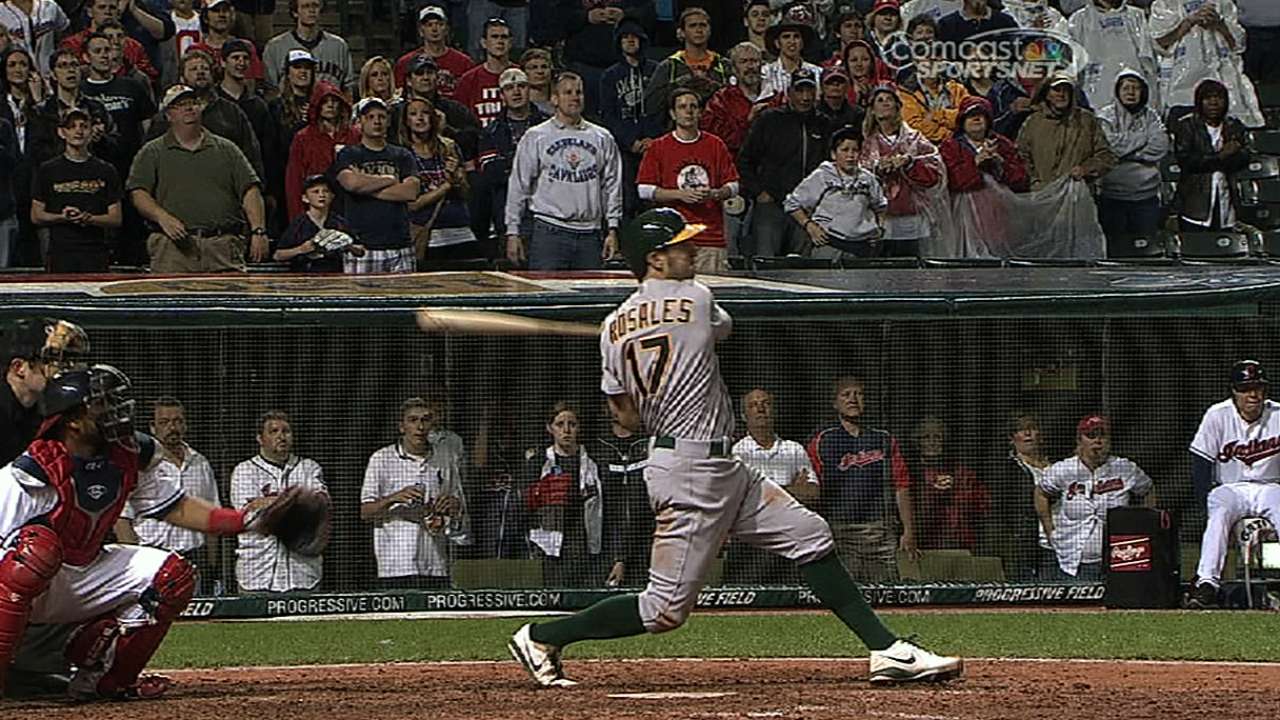 CLEVELAND -- Prior to Wednesday's game -- a 4-3 defeat that will bother A's fans for quite a while -- manager Bob Melvin said, "You always feel like there's a game or two or three that maybe you could have done a little differently and won."
The A's certainly put themselves in a position to win on Wednesday.
With Oakland trailing by one run in the ninth, Adam Rosales smacked a ball that hit off the railing above the fence in left-center field -- which would have made it a home run. However, the umpires ruled it a double because they thought it hit off the top of the wall, and they stuck with the original call after reviewing the replays.
Melvin came out to argue and was ejected by Angel Hernandez, the game's crew chief. The manager addressed the issue Thursday morning.
"You talk about expanding replay," Melvin said. "Well, if you have replay and you can't get a call like that right, then why would you expand it?"
The manager said he did hear from the league regarding the call, but he would not disclose what he was told, other than, "It's probably in what the majority saw."
"To me, just looking at the reaction of the fielders right away, it was like, 'Well, we might as well pick it up.' And then continuing to play," Melvin said . "There were a lot of things after the fact you can look at. I think there was even an Indians fan that was up there like, 'Oh, no!' because it hit the railing. After the fact, you can dissect things that at the time you didn't know as much."
Joe Torre, Major League Baseball's executive vice president for baseball operations, issued a statement during the Indians-A's game on Thursday regarding the instant replay review: "By rule, the decision to reverse a call by use of instant replay is at the sole discretion of the crew chief. In the opinion of Angel Hernandez, who was last night's crew chief, there was not clear and convincing evidence to overturn the decision on the field. It was a judgment call, and as such, it stands as final.
"Home and away broadcast feeds are available for all uses of instant replay, and they were available to the crew last night. Given what we saw, we recognize that an improper call was made. Perfection is an impossible standard in any endeavor, but our goal is always to get the calls right. Earlier this morning, we began the process of speaking with the crew to thoroughly review all the circumstances surrounding last night's decision."
"We saw what we saw last night," Melvin said of the statement. "Before the statement was made, we had a pretty good idea that was the case."
Melvin wasn't expecting the call to be overturned and the game replayed from that moment, although some in the media had discussed the possibility of that happening.
"You can't do that," Indians manager Terry Francona said. "I understand it, but you can't do that. It's not because we won. The rule is in place, and you can't change rules.
"I respect Joe and his statement. I'm glad it stands. All you can ask is for guys to do the best they can. They went and checked. Obviously, it wasn't conclusive on what they saw, so you move on. Those things have a way of evening out. There's plenty of nights where I know I'll go home and not sleep. Sometimes, those things happen."
The loss on Wednesday was Oakland's third in a row. The streak extended to four after the A's dropped the series finale on Thursday, 9-2. They've now lost 14 of their past 20 games.
"It doesn't mean we were going to win the game. It means the game was going on," Melvin said. "And at the time, we're in a little better position than they are, bullpen-wise, with them having used their closer, and we haven't used our closer yet.
"You don't know how the game's going to go. It just looked like it should be going on later than it did."
Mark Emery is an associate reporter for MLB.com. This story was not subject to the approval of Major League Baseball or its clubs.