Reddick hasn't ruled out wrist surgery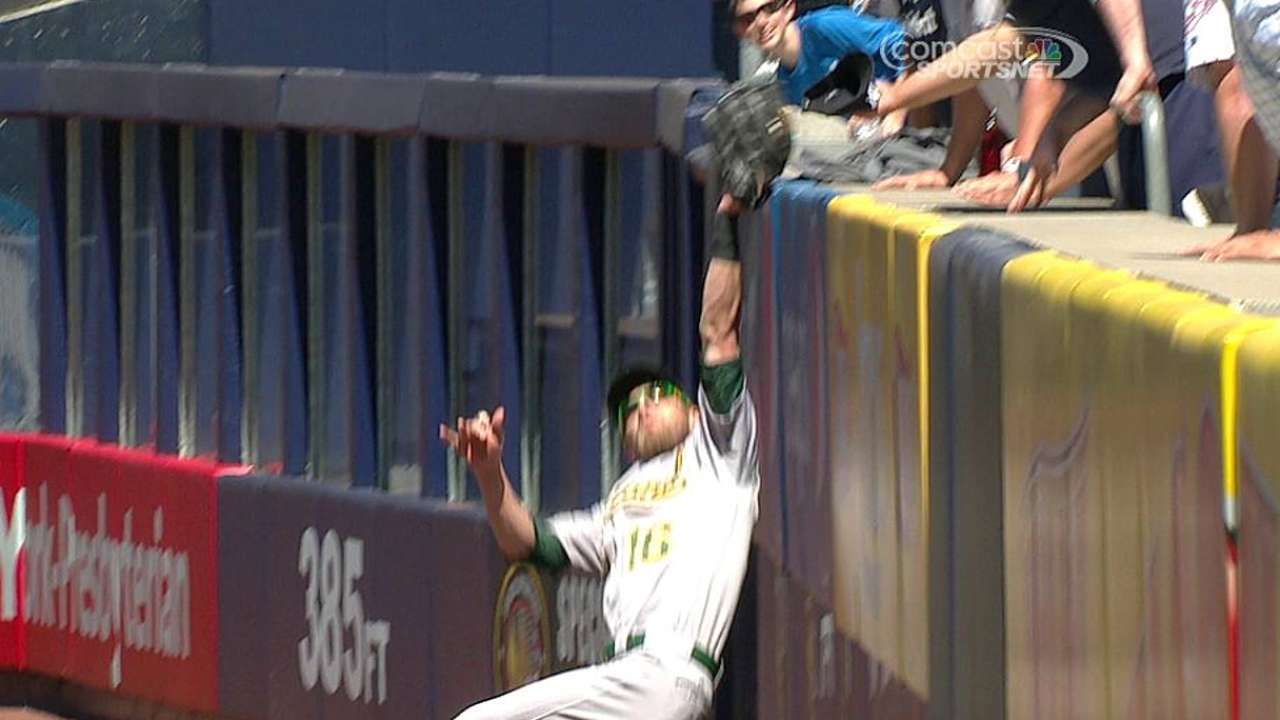 OAKLAND -- Josh Reddick is not ready to commit to right wrist surgery until he attempts to swing a bat, but the A's outfielder is also not ruling it out.
"Obviously I don't want that," Reddick said on Monday, "but it's something that's not out of the question right now."
The fact that Reddick is even considering surgery, which would put him out at least two months, is alarming, particularly at a time when his team is struggling. Entering Monday, the A's had dropped 16 of their last 23 games, with six of their next nine to be played against the first-place Rangers.
Reddick was batting just .152 with one home run when he was placed on the disabled list with a sprained right wrist on Wednesday, after hitting .242 with 32 home runs and 85 RBIs last year. But his Gold Glove defense makes him invaluable to the team, regardless.
The 26-year-old received a cortisone shot in his wrist last week and said he hasn't experienced much pain since, though his ensuing activity has been limited, mostly reduced to strengthening exercises. That's all Reddick will do for at least another week before he'll test his wrist with a bat.
"That's when we'll actually know anything for sure," he said. "I'm not going to make a decision now. If it was torn last week, I would've already been in a cast, but there's no tear so I'm not going to jump to any conclusions and just take every precaution to get it right.
"If it works out, then it works out. But if not, then we may unfortunately have to go down that road [of surgery]. Hopefully there's a road block sign out there."
Reddick sustained the same injury in his left wrist in September 2011, but with his ex-Red Sox club in the middle of a playoff run that ultimately fizzled, he played through the pain -- allowing just one day of rest after receiving a cortisone shot -- and a week into the offseason learned he had a tear, leading to surgery.
"It's in the same spot as the other one," Reddick said, "but I don't know how it's going to project. Hopefully it's something I can manage and strengthen back up."
Manager Bob Melvin, like Reddick, is remaining cautiously optimistic about avoiding surgery.
"I wouldn't say it's out of the realm, but that's a last resort at this point," said Melvin, who is also without injured outfielders Coco Crisp and Chris Young. "We'd like to think that the strengthening that he's doing right now gets better and better to where he can swing the bat. We hope that once he does that he's fine. But I don't think you rule anything out at this point."
Jane Lee is a reporter for MLB.com. Read her blog, Major Lee-ague, and follow her on Twitter @JaneMLB. This story was not subject to the approval of Major League Baseball or its clubs.