A's see high upside in resilient Covey
A's see high upside in resilient Covey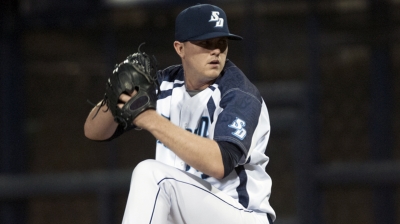 Dylan Covey grew up a Dodgers fan, but he's ready to switch allegiances toward the north. The right-hander from Los Angeles slowly weaned himself off the team in preparation of being drafted. "I knew the likelihood of being picked by my favorite team was pretty slim," said Covey, who was drafted by the A's in the fourth round Friday. "I guess you can say that I'm an Oakland A's fan now."
Covey was a first-round pick of the Milwaukee Brewers in 2010, but when he was diagnosed with Type 1 diabetes, he headed to the University of San Diego to learn how to pitch with the disease.
It's now under control, and Covey entered this year's Draft as, once again, a legitimate prospect. The A's made him the 131st overall pick.
"That definitely was a surprise when I was drafted the first time," Covey said. "I had a 100 percent intention of signing the first time I was drafted, but then I found out I had diabetes and things didn't fit into place like I thought they would.
"I definitely think that going to college taught me a little bit more how to pitch. I grew up a little bit, matured a little bit. I figured out who I was as a pitcher. I think I'm definitely a better pitcher now. Mechanically, I'm not as sound as I was out of high school. But I think that the A's understand that."
Covey can run his fastball up to 94 mph, and it regularly sits in the 90- to 91-mph range with some heavy life. His power curve is an average offering with the potential of being an out pitch, and his changeup gives him a third usable weapon. A slider, though not as developed, is another option for Covey.
He goes right after hitters and is especially effective when he can keep his fastball down in the zone. His control has been an issue at times, as he has led USD in both wild pitches and strikeouts each of the last two seasons.
"He was on every team in baseball's radar," Kubota said of Covey's draft stock two years ago. "There's a lot to like there. … We think his best days as far as performance are ahead of him."
Jeff Kirshman is an associate reporter for MLB.com. This story was not subject to the approval of Major League Baseball or its clubs.