Bombing survivor throws out A's first pitch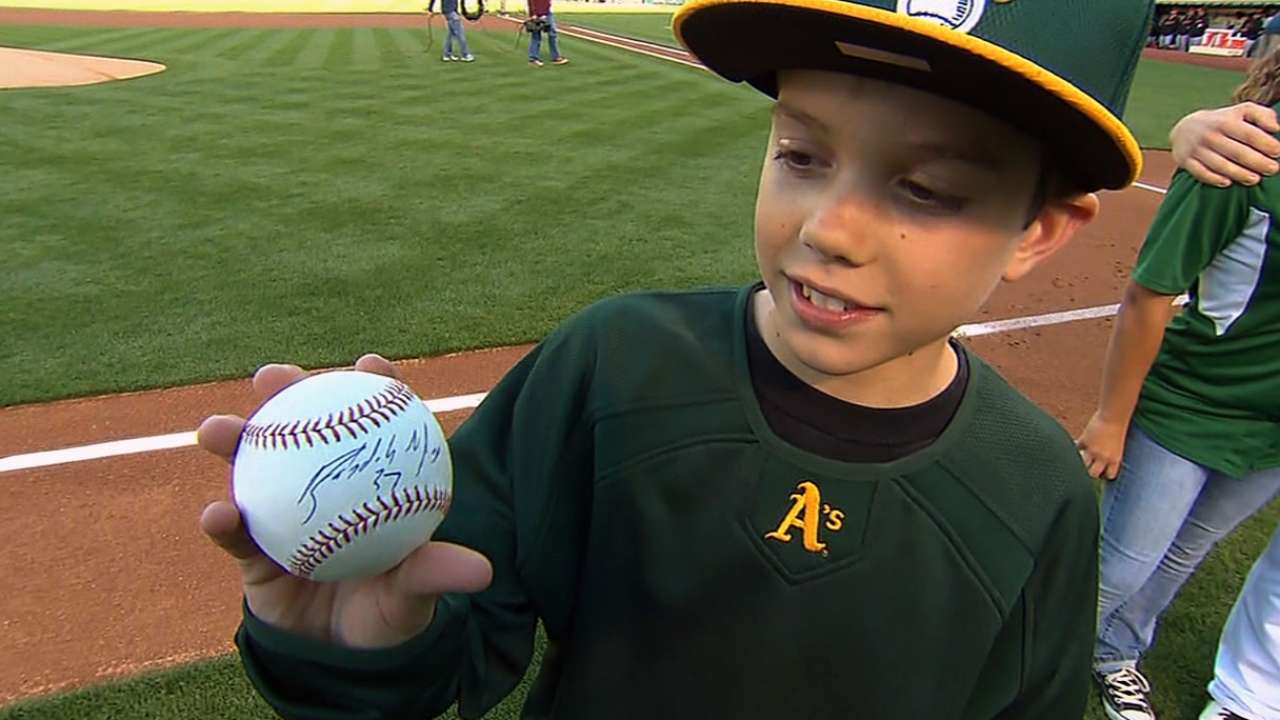 OAKLAND -- One month after a trio of A's attempted to make a tragic situation just a little bit better, Aaron Hern, who was injured in April's Boston Marathon bombings, threw out the ceremonial first pitch at the Coliseum before Tuesday's matchup against the Giants.
Hern, a 12-year-old Bay Area native, was in Boston on April 15 to watch his mother, Katherine, compete in her first Boston Marathon. Hern was one of nearly 200 people injured in the bombing's blasts; he was struck by shrapnel waiting for his mother to cross the finish line. Surgeons at Boston Children's Hospital removed the shards of metal from his leg and he was released from the hospital April 24.
Two days prior, A's outfielder Josh Reddick, first baseman Brandon Moss and first-base coach Tye Waller paid him a visit while the A's were in Boston to play the Red Sox.
"To see his face light up that soon and to see him doing so well so soon after an explosion like that is unreal," Reddick said at the time. "I thought I got more out of it than him. I'm just so grateful for everything in this life. He really put that into perspective for us today."
Hern's first pitch came one day after Staff Sgt. Dale Beatty, a recipient of a Purple Heart and veteran of Operation Iraqi Freedom, threw out the ceremonial first pitch before the Memorial Day matinee between the Bay Area adversaries.
"You always can draw inspiration from that. I don't think it needs to transfer to the field -- just life in general," A's manager Bob Melvin said before Tuesday's game. "Yesterday was quite a story as well for the first pitch. Both these two days, you kind of take a step back and realize that there's more than just baseball."
The Aaron Hern Recovery Fund has been established to assist Hern's famiy with hospital costs. Donations can be made at any Wells Fargo Bank location nationwide.
Jane Lee is a reporter for MLB.com. Jeff Kirshman is an associate reporter for MLB.com. This story was not subject to the approval of Major League Baseball or its clubs.