Reddick apologizes for incident in Houston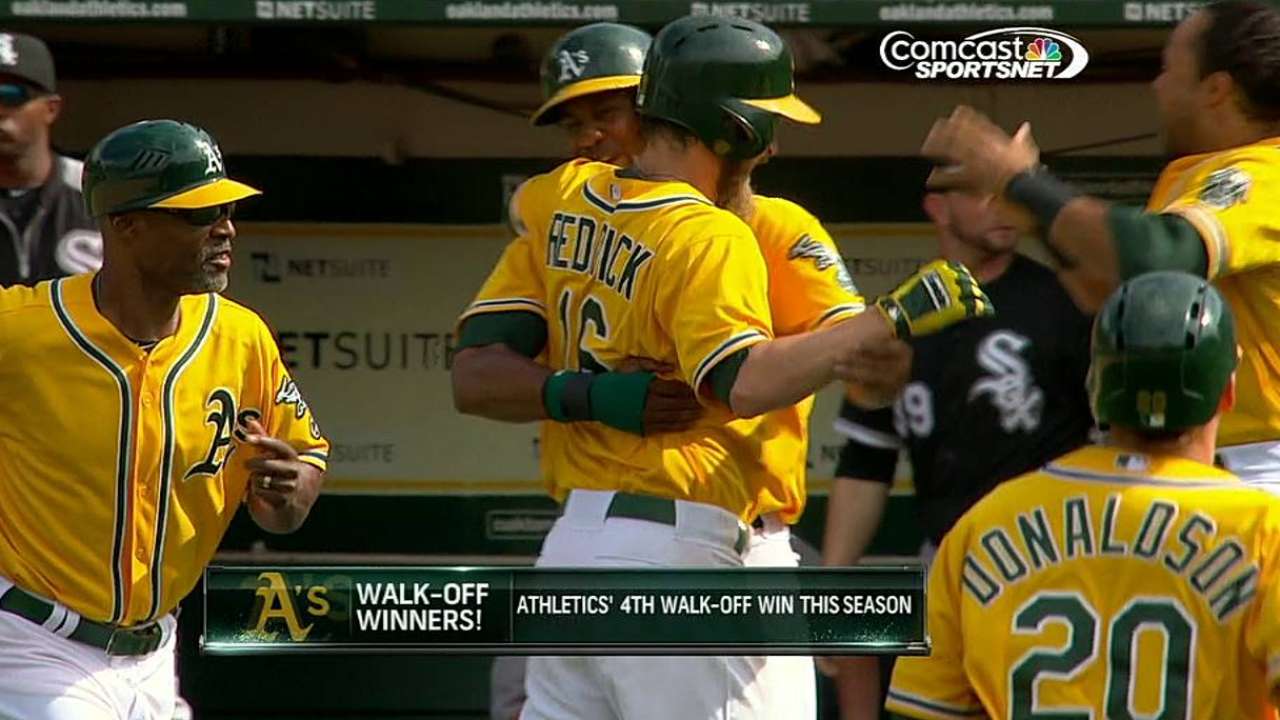 MILWAUKEE -- Josh Reddick routinely throws sunflower seeds at opposing mascots on the road. But a few happened to hit the face of an Astros employee in Houston last weekend, leading to an apology by Reddick on Tuesday when the woman publicized a letter expressing her anger at the incident.
The employee insinuates that Reddick intentionally hit her in the face with sunflower seeds while she was tossing free T-shirts into the stands from the top of the visitors' dugout on May 25.
According to Reddick, "I was doing what I do in every ballpark, messing around and throwing seeds at a mascot," he said Tuesday. "She was complaining about being hit in the face when she's doing her job and facing the other way."
The Astros employee said she informed the A's of the incident and was told by public relations director Bob Rose that the matter would be handled internally. Rose confirmed this, and manager Bob Melvin said he indeed spoke to Reddick about the issue the day after it happened.
"It had come to my attention [by a clubhouse manager], so we had spoken about it," Melvin said Tuesday. "He feels bad about it. Nothing was done maliciously. He's just trying, in his way, to have a little fun, and based on where we were and the proximity of it, he didn't know he was going to hit somebody. But he feels bad about it. It wasn't intentional.
"I had not heard anything since my conversation with him, and he expressed his remorse to me. This is now coming up again, and I had no idea it was coming up again."
That's because the employee, still waiting for an apology from Reddick, opted to release the same letter she wrote to Rose to the public in the last day.
In it, she states, "I am sure hundreds of kids witnessed Josh hitting me in the face with sunflower seeds and that makes me more upset than anything. Where I come from, men don't treat women like that, so I was shocked and appalled that any man would, much less a notable professional athlete. … I don't care if he is fined or even penalized. Quite frankly, the only resolution I wanted from the entire ordeal was an apology from him, even if it was forced by the A's organization."
Though this letter was sent to Rose shortly after the club returned from Houston, Rose had not spoken to Reddick about it directly as of Tuesday, instead taking it to his bosses.
Reddick said he found out about the letter via Twitter, and that's when he decided to tweet this apology: "For all of you who know or have heard about my sunflower seed incident in Houston. All I was trying to do was have fun with the mascot. I flip seeds in every stadium at the mascot. It was just unfortunate that I hits n employee throwing tshirts. I am deeply sorry for what I've done. It will not happen again"
Rose said he was going to encourage Reddick to speak to the employee when the A's return to Houston in July. But when asked if he had any plans to, Reddick replied, "Nope."
Jane Lee is a reporter for MLB.com. Read her blog, Major Lee-ague, and follow her on Twitter @JaneMLB. This story was not subject to the approval of Major League Baseball or its clubs.