Doolittle to remain setup man despite recent troubles
Doolittle to remain setup man despite recent troubles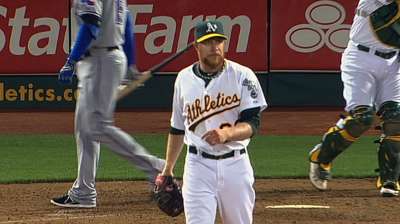 MILWAUKEE -- On the same morning Sean Doolittle identified a small mechanical problem that may be contributing to his recent struggles, his manager gave him a vote of confidence and said he has no plans to remove the lefty from his setup role.
Bob Melvin said he spoke with Doolittle on Wednesday morning, not much more than 12 hours after the second-year reliever gave up three runs on only four pitches in the eighth inning, allowing the Brewers to tie a game they would eventually win in the 10th inning. It was the third straight outing Doolittle had allowed at least two runs, the same number he surrendered total in his first 23 appearances.
"I don't know that we avoid him today or want to," Melvin said. "He feels good, we still feel good about him. You're constantly looking to make adjustments when you have tough periods, and he will, and he has. I'm sticking with him.
"Like any pitcher that's ever pitched, you're never going to be perfect over the course of your entire career, and I think going through something like this gives you experience, makes you better, makes you find out different ways to do it. He'll be better on the flip side for it."
Doolittle believes he has already bettered himself, as he watched video of his recent outings early Wednesday morning that showed mechanics that "weren't even the same two weeks ago," he said.
"I'm flying open just a touch," said Doolittle, who didn't pitch in Wednesday's 6-1 win over the Brewers. "My hips were coming open a little bit too soon, and I think I was showing them the ball a little bit too early and it was taking away some of the life that I have on my fastball, because I wasn't staying behind it as long. So we did some mechanic work this morning, felt really good throwing, so I feel really confident if I get in there today.
"Any time you can identify the problem, especially to have it be a relatively easy fix, that's big."
It's mostly a relief for the 26-year-old converted first baseman, who took up pitching after injuries derailed his career as an infielder less than two years ago. Just as important is the trust he's been awarded by Melvin, whose decision to stick with Doolittle proved rather easy.
"You take into consideration what kind of guy he is," Melvin said. "Is he a confident guy? Is he someone you need to give a break to? He's not that type of guy. He wants the ball and he wants it today."
"That's always really reassuring," Doolittle said. "I think my track record up to this point has been pretty good, but it still kind of reinforces the confidence you have in yourself when your manager backs you like that. I really appreciate it."
Jane Lee is a reporter for MLB.com. Read her blog, Major Lee-ague, and follow her on Twitter @JaneMLB. This story was not subject to the approval of Major League Baseball or its clubs.