As starter or reliever, Wahl can help A's
As starter or reliever, Wahl can help A's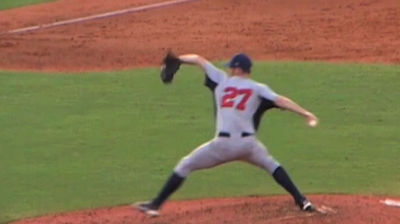 Wahl had an impressive sophomore season as a starter at Ole Miss then had a successful turn pitching in relief for Team USA over the summer. He returned as Ole Miss' Friday starter and continued to use his power repertoire successfully.
Oakland took the physical right-hander in the fifth round, which Kubota said was a steal considering where the industry expected him to go.
"He was very highly regarded going into the draft, and for whatever reason he went a little lower than expected, but we're very happy to have him," Kubota said.
USA Today rated Wahl as the 16th-best pitching prospect in the draft, but more than 80 pitchers were picked ahead of him.
"Scouting is a very subjective business," Kubota added. "You'd have to ask every club to get a real answer on why it happened. It's just one of those things that sometimes things happen, and we were happy to be there and take advantage."
Wahl has a good pitcher's body and plenty of arm strength, cranking his fastball up to 95 mph with good life to it. He couples that with an average to sometimes plus curve, more than enough for the bullpen. Throw in a feel for the changeup and any team that takes him should probably send him out as a starter when he enters the pro game.
The only thing that could hold Wahl back is his command and control and any team taking Wahl can take comfort in knowing he does just fine in short relief. But that might just be a backup plan because many think he'll be just fine to start.
Kubota said whether a pitcher ends up a starter or reliever often plays itself out in the minors, but noted that they'll try to see if Wahl can make it as a starter.
Jeff Kirshman is an associate reporter for MLB.com. This story was not subject to the approval of Major League Baseball or its clubs.