Teammates tout Cespedes for Home Run Derby
Teammates tout Cespedes for Home Run Derby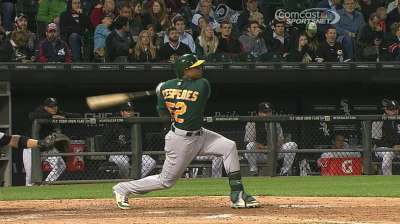 OAKLAND -- The crack of the bat is louder coming from Yoenis Cespedes.
The A's barrel-chested left fielder dazzles fans and teammates alike at batting practice and during games, leaving outfielders with nothing else to do but abandon haste for the ball -- straining their necks like owls as they follow the ball soar into the stands.
"You see him hit balls off scoreboards and walls and places that you get people telling you that they've never seen a ball hit that far," closer Grant Balfour said.
"Those guys hit it out pretty much whenever they want in batting practice,' rookie first baseman Nate Freiman added.
Cespedes could have the opportunity to strut his powerful stroke on a national stage if selected to compete at this year's Home Run Derby, scheduled for July 15 at Citi Field as part of the All-Star weekend festivities in New York.
Robinson Cano and David Wright were announced as Home Run Derby captains Tuesday and hold the responsibility of choosing three teammates each to fill out the competitors for the American League and National League, respectively.
Cespedes stands tied for 10th in the American League with 13 home runs. Baltimore's Chris Davis leads all of baseball with 20.
Hitting coach Chili Davis would prefer if his slugger avoided competing in the spectacle.
"Right now, we've gotten to the point where we've taken some of the length out of his swing," Davis said. "He's got ungodly power, he can hit some balls and amuse some fans in the Home Run Derby, but I don't want him to create an animal that we have to fix in the second half."
Davis said it's up to the individual to decide whether they participate. He'd feel more comfortable if the player possessed a more natural home run swing. In Davis' eye, Cespedes does not qualify.
"For any of my hitters, my biggest concern would be trying to fix something that was created in the Home Run Derby. I try to eliminate it in batting practice because you tend to get out of yourself and start creating bad habits."
Jane Lee is a reporter and Jeff Kirshman is an associate reporter for MLB.com. This story was not subject to the approval of Major League Baseball or its clubs.