Crisp returns in pinch; Cespedes kept out of lineup
Crisp returns in pinch; Cespedes kept out of lineup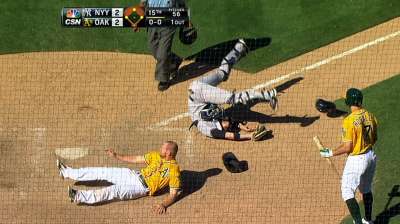 OAKLAND -- The A's earned a three-game sweep over the Yankees on Thursday afternoon, posting a 3-2 victory in an 18-inning marathon without the help of outfielders Yoenis Cespedes and initially Coco Crisp, who are recovering from injuries.
Crisp entered as a pinch-hitter in the 15th inning and recorded two singles, his first nearly winning the game when Brandon Moss attempted to score on his single in the 15th but was nailed in a collision at home plate, where Yankees catcher Chris Stewart held on to the ball.
"They're not in there today," manager Bob Melvin said before the finale, "but each day they get a little healthier."
Oakland's ailing outfielders suffered injuries in Tuesday's contest, with Cespedes experiencing left hamstring tightness while running out a grounder and Crisp dealing with heel pain.
The A's are typically cautious with any leg injury, so there's no timetable on Cespedes' return, or how much Crisp is expected to play in this weekend's Mariners series.
Seth Smith made his second straight start in left field in Cespedes' stead Thursday, while Chris Young maintained center-field duties.
Jane Lee is a reporter for MLB.com. Jeff Kirshman is an associate reporter for MLB.com. This story was not subject to the approval of Major League Baseball or its clubs.