Chavez preserves A's bullpen in marathon win
Chavez preserves A's bullpen in marathon win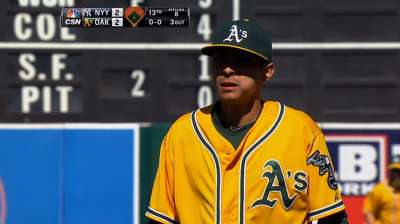 OAKLAND -- Jesse Chavez was the only reason Sean Doolittle remained so calm by the time the 16th inning of an 18-inning, 3-2 A's victory over the Yankees on Thursday rolled around.
At that point, Doolittle was the lone reliever left in Oakland's bullpen, and that's where he stayed. Manager Bob Melvin didn't want to use the lefty, who had thrown 37 pitches in the past two days, and he didn't have to.
Not when Chavez, who earned his first win of the season, was on cruise control.
Going on eight days' rest, Oakland's long reliever struck out seven and allowed just one hit in 5 2/3 innings in helping his club complete a three-game sweep of New York.
"I understand they might have been trying to give me a day off because I've thrown a lot lately, but the competitor in you just wants to contribute, and the only way I didn't go insane was because Chavez did so well," Doolittle said. "That was really fun to watch. It was huge for him. Huge for us."
Chavez kept his game plan simple, opting to "just keep the ball down in the zone, make quick work of them."
The 29-year-old needed 71 pitches in the heroic effort that led to Nate Freiman's walk-off hit in the 18th off Yankees closer Mariano Rivera, after having not pitched more than 3 2/3 innings in a game in any of his other nine outings with the A's this year.
But Chavez was used as a starter in Triple-A Sacramento -- where he may be heading Friday to allow the A's to call up a fresh arm -- and was ready to go the distance.
"I was going to tell Bob I wanted to go until we scored," he said. "I knew we didn't have anyone else. I didn't want to burn one of our starters."
Jane Lee is a reporter for MLB.com. This story was not subject to the approval of Major League Baseball or its clubs.