A's ready for long stretch against right-handers
A's ready for long stretch against right-handers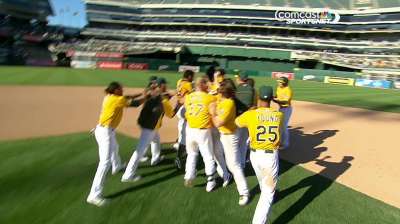 OAKLAND -- A's infielders Nate Freiman and Adam Rosales were spectators at the start of Saturday's game, a role they'll play plenty over the next couple of weeks. Derek Norris, too.
Beginning Saturday, Oakland is set to face 16 right-handers in a row, meaning the right-handed platoon players will have the challenge of staying ready off the bench.
Freiman, Rosales and Norris are a combined 18-for-144 (.125) against right-handers this year.
"I think, similar to what we did with some of our lefties, if a pinch-hit opportunity comes up, then you try to get them that at-bat," manager Bob Melvin said. "But it's tough. As a role player, you have to find ways to keep yourself ready, and to this point, certainly guys like Freiman have."
Melvin knows the role all too well, having fulfilled it himself during most of his 10-year playing career.
"I was continually struggling to find that," he said. "I actually did like to find a batting practice pitcher or a machine somewhere that kind of simulated game speed, to where you weren't jumping at the ball. It's always going to be more difficult to stay ready for breaking balls, but if you can combat the speed where you don't feel like you have to jump at it, that's half the battle. It's as much mental as it is physical."
Jane Lee is a reporter for MLB.com. This story was not subject to the approval of Major League Baseball or its clubs.