Donaldson, Crisp back in action after day off
Donaldson, Crisp back in action after day off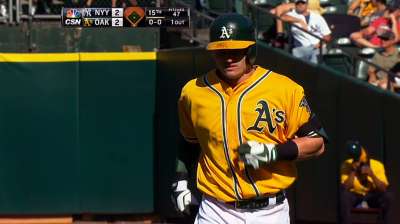 OAKLAND -- Just in time to greet Mariners ace Felix Hernandez, Josh Donaldson and Coco Crisp both returned to the A's lineup on Saturday.
Donaldson, who suffered a right hamstring cramp in Thursday's 18-inning marathon, was only forced to miss Friday because of the injury, marking just the second time all season the third baseman wasn't in the lineup.
Crisp, returning from a sore right heel, was out of action in two of the last three games.
"I think it was important to give them a full day off yesterday," manager Bob Melvin said. "I think it is key you don't try to overextend somebody. Our training staff is very good about evaluating those types of things, being vocal about when they think a guy needs a day off or when they need to get out of a game. They're really good about that, trying to catch those things and nip them before they become a bigger problem."
Joining Crisp and left fielder Yoenis Cespedes in the lineup was Chris Young, rather than Josh Reddick, who was given a scheduled day off. Young, who has struggled to the tune of a .184 clip this season, is coming off a three-hit night.
"Any time you have a really good night like he did last night, it's nice to try to get some carryover," Melvin said. "Granted, they have a good pitcher on the mound today, but any time you have a good game it's nice to get rewarded."
Jane Lee is a reporter for MLB.com. This story was not subject to the approval of Major League Baseball or its clubs.