Moss feasting on A's run facing right-handers
Moss feasting on A's run facing right-handers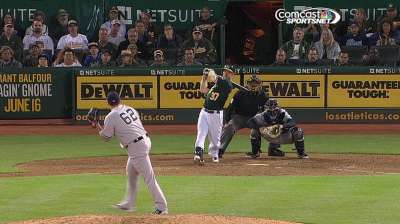 OAKLAND -- When Brandon Moss smashed a three-run home run against the Brewers on June 5, its significance extended past that day's 6-1 victory.
It was Moss' first hit against a left-handed pitcher since May 11. It's also the last time he's faced a left-hander.
Moss, who is batting .186 against lefties this season, has been the beneficiary of an A's schedule that has pitted them against a plethora of right-handed starters lately. Moss' bat has responded with five hits -- and two home runs -- in his last 15 at-bats. The surge -- all against right-handed pitching -- is Moss' best stretch since late April.
"He's been seeing the ball a little bit better and seeing some righties," said A's manager Bob Melvin, who penciled Moss into the cleanup spot Sunday for the 11th time this season. "We've seen quite a few lefties and he was getting his lion's share of at-bats against left-handers, which can be difficult at times.
"Now that we've seen some righties -- not that they've been easy righties -- the fact that he's just a good hitter, when you go through a dry spell, you're going to come out of it."
Moss collected two of Oakland's five hits against Felix Hernandez in the 4-0 loss Saturday. He slugged two home runs in Wednesday's 5-2 win over the Yankees. Nine of his 11 home runs have been against right-handers in 2013.
"It seems like he's had better swings and better balance right now," Melvin said.
Andrew Owens is an associate reporter for MLB.com. Follow him on Twitter @OwensAndrew. This story was not subject to the approval of Major League Baseball or its clubs.