Jaso's odd play kick-starts A's big inning
Jaso's odd play kick-starts A's big inning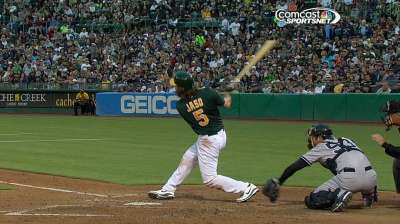 ARLINGTON -- John Jaso felt he was safe on a strange play in the fourth that started a six-run inning on Monday.
Yoenis Cespedes hit a ground ball to third that bounced off the Rangers' Adrian Beltre. Shortstop Elvis Andrus fielded the ball and threw to Beltre as Jaso took off from second to third. Despite two tag attempts by Beltre, third-base umpire Jordan Baker called Jaso safe.
"I hesitated, 'Maybe I should go back,' but it was a split-second hesitation," Jaso said. "I was already going, so I kept going. I know Beltre caught the ball, but I did some weird swim move over the top of his glove. I was safe by a fingertip."
Jaso scored on an RBI single from Brandon Moss on the next at-bat. The A's knocked out Rangers starting pitcher Nick Tepesch in that inning on an RBI single from Coco Crisp to give Oakland a 6-4 lead.
"A crazy play like that could get some momentum going," Jaso said. "It's one of those plays where it went our way. If it went the pitcher's way, it could've been totally different. It could've been a shutdown inning. I don't know what would've happened, but I like to think that it maybe gave us momentum."
Manager Bob Melvin feels better about his lineup given the results of the last two games, during which the A's offense has produced 17 runs on 25 hits. They scored just 19 runs in the previous seven games with a .206 batting average. Melvin felt some of his left-handers like Moss and Seth Smith have looked better at the plate. Moss is 8-for-24 with three home runs and six RBIs in the last five games. Smith has recorded multiple hits in consecutive games.
"I feel better about our lineup," Melvin said. "You saw it [Monday] and you saw it the other day on Sunday. They know they're going to be in for a stretch here. We have some left-handed hitters here that can really produce."
Master Tesfatsion is an associate reporter for MLB.com. This story was not subject to the approval of Major League Baseball or its clubs.