A's seeking more production from third spot in order
A's seeking more production from third spot in order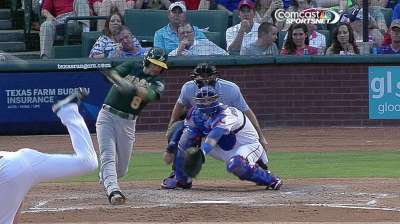 ARLINGTON -- The third hitter in a lineup is normally one of the most productive, someone who ideally can hit for both power and average. But the A's have not gotten much production from that spot in the lineup this year.
Those hitting third for the A's this season are batting a Major League-worst .220. In 33 games there, Yoenis Cespedes is hitting .260, while everyone else is batting .190. The only spot in the lineup where the A's have been worse this season is the ninth spot, where they are hitting .202.
"I think they pitch you differently in the third hole," infielder Jed Lowrie said. "You see more offspeed [pitches]. I think you're right in the middle of the lineup where there are more guys on base and more situations to drive runners in."
Lowrie started at shortstop and batted third in Thursday's series finale against the Rangers. Entering Thursday, he was hitting .219 in 18 games batting third. He was hitting .316 in all other spots in the lineup.
"I can't really put my finger on why the batting average is lower," Lowrie said. "It's situational. I don't think it's necessarily exactly where you are in the lineup."
Christian Corona is a contributor to MLB.com. This story was not subject to the approval of Major League Baseball or its clubs.